By Cassidy Helier
Pet-friendly holidays are becoming increasingly popular and for families, the family unit only feels complete when their pets come along too. But travelling with a pet isn't as simple as it seems, as there is a lot to consider. From pet-friendly accommodation and vaccinations to restricted pets and pet-free areas. Luckily, Germany has a number of hiking trails that are fun for the whole family, including Fido.
Pets are beloved additions to our families and it often requires a tremendous effort to just leave home for work. The feeling of loss is only exacerbated when leaving on a trip, which is why 37% of pet owners decide to travel with their pets. Luckily, there are tons of options when travelling in Germany.
Sightseeing and trails combined for the whole family
Sightseeing tours in Germany are filled with natural splendour and historical delight, with architecture considered the heart of Germany. The Potsdam Architecture Walking Tour is designed to capture all the best scenic details that Brandenburg has to offer.
This route is considered a must-add to any travelling itinerary. It's an easy loop-style trail that covers 4.7 kilometres and dogs are welcome, however, need to be on a leash. There is a slight elevation on the route but it is considered to be wheelchair-friendly. Sights to see include the Brandenburg Gate, Sanssouci Castle, plenty of Prussian architecture, and the stark relics of the communist past.
If you're into hiking, you may also like to read about:
Deep in the heart of The Black Forest
The Black Forest exudes a romanticism that only nature can achieve with moss-covered logs and stones, tall trees that create a whimsical canopy, and a soft light that hits the walkways as the sun fights through the dense leaves. For travellers, revelling in the perfection of nature is a must and thanks to a number of well-marked trails, hikers with varying fitness levels can enjoy all the Black Forest has to offer. There are demarcated areas that are dog-friendly, and dogs are required to remain on their leashes.
Karlsruhe is a warm, friendly city that offers plenty of pet-friendly amenities and those who happen to have the Karlsruhe Card, this includes a trip to the palace gardens and a ride on the steam train. There are a number of street cafes and pubs that allow pets, but for those that only have a designated area outside for pets, it's best to pack your furbaby's treats and toys while you enjoy the local fare.


Something a little more extreme
While a number of trails lead into the more commercial areas of Germany, there are those trails that allow travellers to lose themselves right in the belly of nature. The Saar-Hunsrück-Steig trail offers travellers various hiking intensities that ensure that everyone has the opportunity to experience the wonders of nature.
Those who require something a bit more challenging will want to attempt the Baybach Gorge Dream Loop which is towards the Hunsrück Mountain range. This 5km loop is considered difficult, and while pet-friendly, pets are required to be on a leash. Those who wish to take the adrenaline rush even further should consider visiting the Geierlay Suspension bridge which is just a short distance away. The bridge offers a spectacular view of the Mörsdorf and Sosberg villages to either side of the valley below.
For pet owners, this might be the ideal time to strap your furry friend in their pet carrier for safety reasons as vertigo can get the best of them.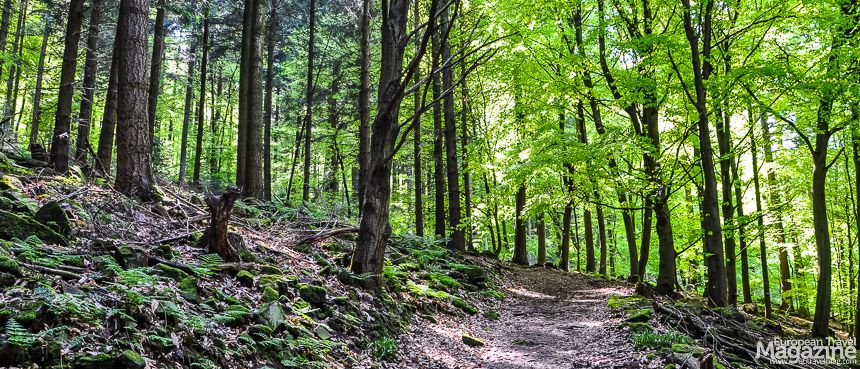 Germany offers a smorgasbord of adventures for you and your furbaby, from nature escapades to relaxing coffee shops and sightseeing. Hiking in Germany can range from the easy footpaths and trails that weave in and out of local communities, to those distant places that require some climbing and effort. There is no shortage of trails in Germany, which makes it the ideal on-the-go holiday destination.
More info
Learn more