By Ankita & Mohit – https://trailstainedfingers.com
Most of the best things to do in Zurich revolve around the Swiss city's waterfront and old town. But further away from the main city, mesmerizing mountain views await. Zurich is also a world-class destination for shopping, dining and museum-hopping. Zurich holds many distinctions. It's featured on multiple lists of wealthiest cities in Europe and the most liveable cities in Europe. Though not the capital of Switzerland, it is its financial hub, and home to some of the best banking institutions in the world.
With an area of 87.88 km2, Zurich is very walker-friendly and easily explored on foot. For attractions that are far from the city centre, you can take trams or buses. Getting a tourist pass for the duration of your stay is a good idea to avoid forking out change each time, and also get a few perks and discounts.
People mostly speak a local dialect of Swiss German in Zurich. But you should be able to find tour guides who speak fluently English. When you roam through Zurich's business districts, it's easy to forget that the Romans lived in Zurich as far back as 2.000 years ago, but in the Altstadt, you will come face to face with history.
16 Best Things To Do in Zurich
1. Do a walking tour of the Altstadt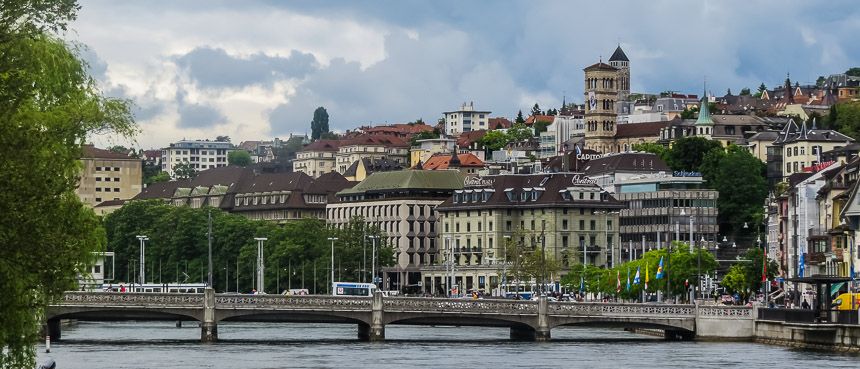 A holiday in Zurich usually begins with a walking tour of the Altstadt, which is the Old Town or the city centre. Here, you will find quaint neighbourhoods with beautiful old buildings, the Limmat River, shopping streets, and many picturesque churches. You can opt for one of the free walking tours or pay for a guided one and enjoy an overview of most of Zurich's major attractions. Don't miss Kunsthaus, Zurich's best repository of art and the Swiss National Museum.
2. Feed the swans and go on a boat ride at Lake Zurich
Lake Zurich is one of the city's best known landmarks and the perfect place for enjoying glorious views and taking a breather. The most famous stretch of the lake is Bürkliterasse, with the statue of Ganymede at its centre, and many plump swans swimming near the banks. You can feed them if you like! It's also a good idea to take a short motor boat ride from the harbour to see the Alps in the distance.
3. Climb Uetliberg and have a scenic lunch on top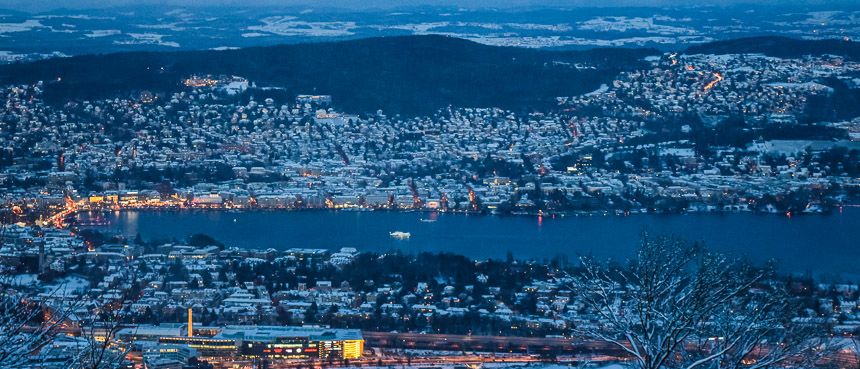 Zurich may not be a resort town like Interlaken and Montreaux but it does have its very own mountain. And the view from the top is nothing short of spectacular. A train will take you to the base of Mount Uetliberg and from there, it's an enjoyable hike to the top. At the summit, there's a beautiful restaurant where you can have a meal or just a drink. The experience is very different during the day and in the evening, when the city is decked up in twinkling lights.
4. Go shopping at Viadukt in Zurich West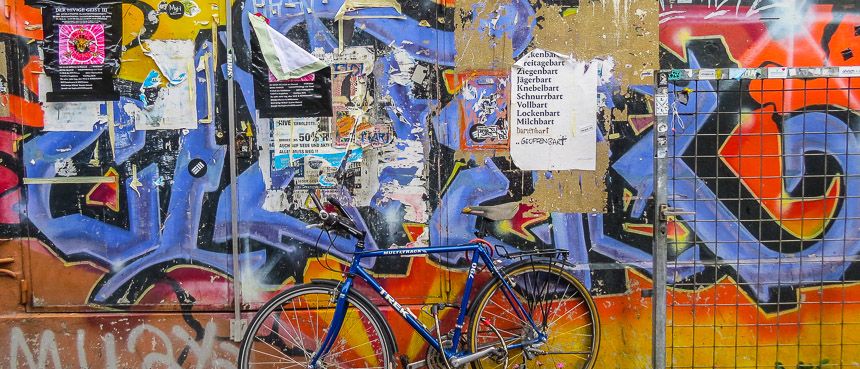 Zurich West is the city's underground shopping district with a distinctly edgy aura. Once full of decrepit warehouses, it is now home to upscale brand outlets and interesting bars and restaurants. Located beneath the arches of the erstwhile railway viaduct, these establishments are one of a kind. If you like recycled goods, make sure you check out FREITAG. Among the eateries, Frau Gerolds Garten and Rosso are held in high esteem.
5. Try the famous Zurich-style veal with rösti
Switzerland may be famous for fondue, but Zurich has its own signature dish. It's a delicious gravy preparation consisting of strips of veal in a creamy white wine and mushroom sauce. Zürcher Geschnetzeltes is served with rösti, the Swiss version of potato cakes. Where can you get this treat? It's served at various restaurants both big and small, but for an authentic experience, try it at Kindli or Kronenhalle.
6. Walk along the Limmat River and/or take a cruise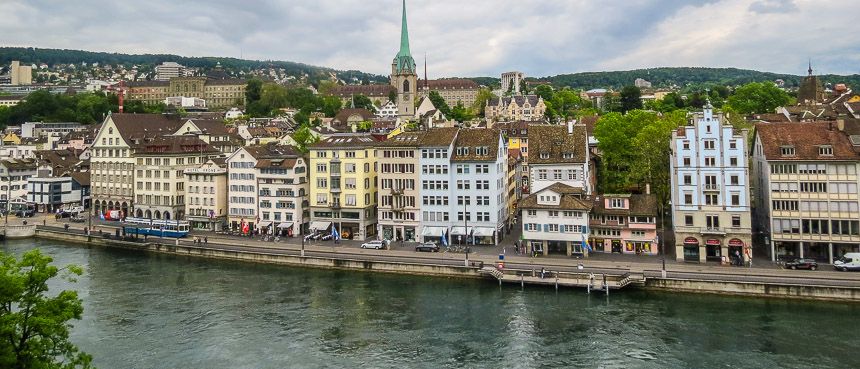 The banks of the Limmat River are lined with beautiful historical buildings and shops selling colourful flowers and artefacts on both sides. After your tour of the Altstadt, spend some time getting to know Zurich's main river better. Between April and October, you can also go on boat rides to enjoy serene views of the Old Town and pass under seven different bridges. The boats depart from the quay at the Landesmuseum.
7. Sample chocolates at Café Sprungli on Bahnhofstrasse
Café Sprungli has cult status as THE best chocolate shop in Zurich and it has been around for over 150 years. Located at Paradeplatz, the café displays its chocolates in a glass shelf downstairs. There's also a chocolate of the day every day, and many in Zurich have it without fail! Upstairs, there's a café serving delicious hot chocolate, among other treats. You could also visit the Lindt factory in Zurich to see how chocolate is made.
8. Enjoy a meal at the world's oldest vegetarian restaurant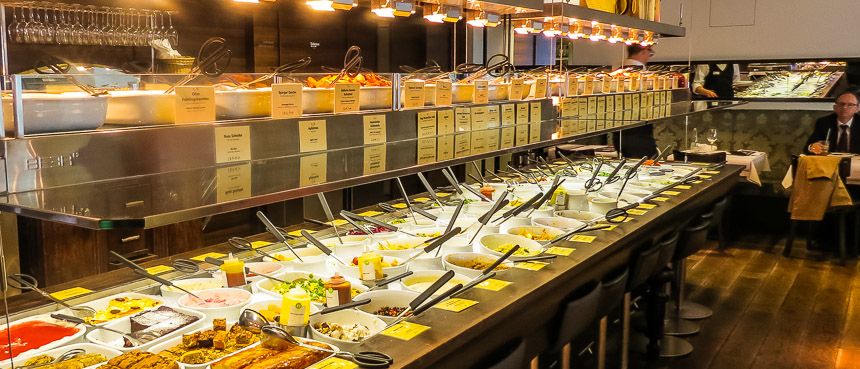 Haus Hiltl holds the distinction of being the world's oldest vegetarian restaurant, as per Guinness World Records. Even if that's somewhat disputable, it's definitely a paradise for vegetarians and vegans. The food is fantastic in terms of quality and variety, and you will find cuisines from all over the world represented at the buffet. Payment is as per the weight of your plate; so you only pay for what you eat.
9. Take in breathtaking views from Lindenhof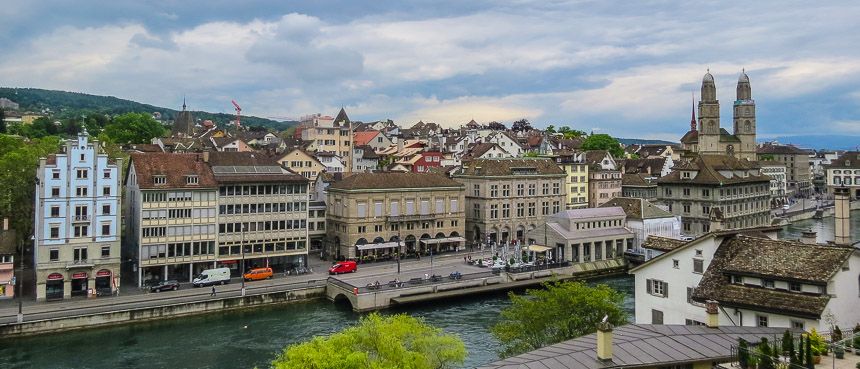 Close to the Altstadt is the Lindenhof hill, on top of which a Roman fortress used to sit. Now there's a beautiful park and a terrace from where you can look over the Limmat River, the Grossmunster, the City Hall, and the hills beyond. Getting to the top requires some uphill walking but you can relax beneath the shade of the lime trees once you get there. Look out for a giant chess board busy with players even in the middle of the day.
10. Discover world art at Rietberg Museum and Park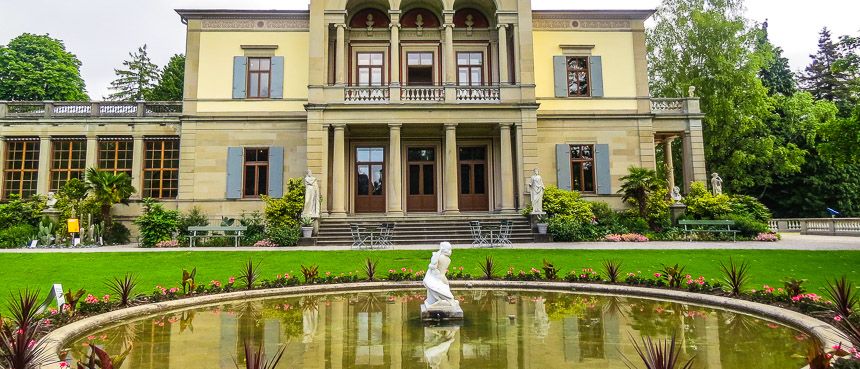 There are many museums worth visiting in Zurich, but our personal favourite is the Rietberg Museum which is surrounded by the sprawling Rieterpark. Located in a quiet neighbourhood, the park is an oasis of peace and greenery. The museum is housed within a group of stately villas that are filled with ceremonial relics and artworks from Asia, Africa, Oceania, and America. Look out for intricately carved Swiss masks as well.
11. Visit the Beyer Clock and Watch Museum
Switzerland is synonymous with watches and how can you leave Zurich without visiting the famous Beyer Clock and Watch Museum? Located in Bahnhofstrasse, the building houses a store as well. At the museum, you can ogle at 260 rare timepieces, that depict their evolution from 1.400 BC to the present era. It is a private collection that even includes automatic watches in operation, apart from pendulum clocks and pocket watches.
12. Explore Zurich's churches: St. Peter, Fraumunster, & Grossmünster
All three of Zurich's most famous churches are located in the Altstadt. Fraumünster Church is worth a visit for its beautiful Chagall windows designed by Marc Chagall. The five stained glass windows are each in a different colour scheme and depict various stories from the Bible. The twin towers of the Grossmünster, a Romanesque church, are visible from various points in the city. Meanwhile, the tower of St. Peter features the largest clock in Europe.
13. If it's summer, go swimming at Frauenbad or the Strandbads
The citizens of Zurich love to go swimming in the open air during the summers, and there are many public swimming pools where you can do so. The crystal clear waters of Lake Zurich and the Limmat River make it really hard to resist! Frauenbad is an excellent women-only swimming pool, while there's one that's just for men at Schanzengraben. There are also many Strandbads (beach pools) with scenic environs.
14. See tropical plants at the botanical garden
The Botanischer Garten der Universität Zürich is famed for its three domed greenhouses full of tropical plants. From alpine roses to plants from the Mediterranean, you can see a variety of flora in the garden. Best of all, there is no entry fee. In total, there are around 8.000 plants in the garden. Some are indoors, while others are outdoors. The arboretum is a wonderland of historical and medicinal plants.
15. Take a cable car to the Felsenegg lookout
An offbeat but very rewarding thing to do in Zurich is to take a cable car to the Felsenegg lookout. From this forested place, you can gaze upon all of Zurich and the curves of the Alps, with the buildings looking as tiny as toy houses! There are many trails that hiking enthusiasts can explore. And when you're tired from all the exertion, sit down for some coffee and refreshments at the café.
16. Meet exotic animals and birds at Zoo Zurich
Zoo Zurich is one of the best zoos in Europe and definitely worth a visit. Around 4.000 animals live in the zoo, housed in enclosures that resemble their natural habitats. You can get an idea of how old the zoo is by looking at its oldest denizen, a 70-year old Galapagos giant turtle called Nigrita! Notable features of the zoo include a rainforest, elephant park, Australian enclosure, Mongolian steppe and aquarium.
So these were the 16 best things to do in Zurich. But if you walk around without a plan, you might discover many more gems, including odd works of art that might leave you puzzled! The city also comes alive with vibrant clubs and parties in the nights, many of which go on till the wee hours.
With its diverse combination of cultural, historical, natural, and modern attractions, Zurich is truly one of the most versatile destinations in Europe. Don't leave Switzerland without making the most of this marvellous city!
About Ankita & Mohit
Ankita and Mohit are Indian expats based in Bonn, Germany. While Ankita used to be a journalist, Mohit's an IT engineer. They like to explore destinations on foot and work hard to create self-guided walking tour guides on their blog, www.trailstainedfingers.com.
Currently, they're on a mission to discover the best of Europe. You'll find 24/48-hour travel guides and free things to do lists for many major European cities on their blog.
More info 
Learn more