Although skiing might have originated from Sweden and Norway, it's the southern ski destinations, that have gone over in history. From Ernest Hemingway in the 1920's and James Bond in the 1980's to the snowboarders of today, the mighty Alps provide both framework and backdrop for skiing in France, Italy, Austria and Switzerland.
Here's our pick of some of the Grand Old Dames of ski-resorts in Europe:
Val d' Isere, France

Val d' Isere lies in the eastern corner of France, bordering Italy. Skiing in the area became popular in the mid 1930s. In itself, it's not the largest ski resort in France, but as it has collaborated with neighbouring Tignes and established the Espace Killy Ski Domain, one now gets access to 300 km of lift served runs with slopes extending from 1.850 to 3.456 vertical metres. The area is the choice for the advanced to expert skier and snowboarder. And it's pricey.
St. Moritz, Switzerland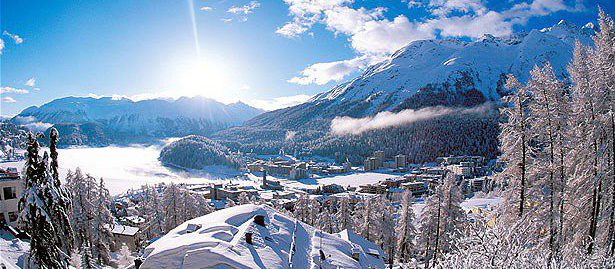 St. Moritz is located in the eastern corner of Switzerland and claims, that Winter Tourism was born here in 1864. Having been the host for a couple of Winter Olympics and several Alpine Skiing World Championships, they know what it's all about! Enjoying over 300 days of sunshine each year and having 350 km of prepared pistes ready, is not bad either! From medium to advanced skiers and bobsleigh enthusiasts.
St. Anton, Austria
St. Anton is probably the most homely ski destination of our 5 picks, although some might call it provincial. It's definitely a cheaper place than the others. It has a varied terrain for adventurous intermediates and 280 km of perfectly groomed slopes. The town is (in)famous for its lively after-ski scene, so if you're looking for pistes and parties, you've come to the right place.
Chamonix, France
Chamonix or Chamonix-Mont-Blanc as it's really called, might give you a hint towards why this destination has the most breathtaking view. It's located extremely close to both Switzerland and Italy and is a town steeped in alpine traditions. Now, with the Chamonix Le Pass ski pass, you get access to 110 km of pistes in the area, but with the Mont Blanc Unlimited ski pass, you have a whopping 410 km of slopes in 3 different countries (France, Switzerland and Italy) at your feet.
Cortina d'Ampezzo, Italy
Cortina d'Ampezzo is without doubt the most chic of our 5 picks, but that comes as no surprise; it's Italian! And while the Italians prefer to parade the main street with their furs, mobile phones and mini-dogs, the slopes are available for skiing enthusiasts!
The town is picturesque and the car-free city centre is full of high-end shops. The skiing options are high-end too; The Valley ski pass introduces 140 km of slopes close by and The Dolomiti Superski ski pass provides free use of 1.200 km ski runs in 12 ski resorts. There are options for all levels, but the restaurants and town might get too overcrowded in the holidays.
For more information about ski resorts in Europe (and North America ) visit The Telegraphs splendid Ski Resort Guide.
Learn more