By Justin Stevens
Portugal is fast becoming Europe's tourism hot spot, with millions flocking to visit cities like Lisbon and Porto. A vibrant culture, friendly people and great weather combine to entice visitors back, year after year. But, as any traveller knows, such popularity can also cause the allure of a place to fade.
It was with the desire to visit lesser known places that saw me enter the sleepy town of Mira de Aire, which borders the Parque Natural das Serras de Aire e Candeeiros. Although only an hour north of Lisbon and twenty minutes from the world renowned surfing destination of Nazare, there are no tourist throngs to contend with; no lines of hotels or souvenir shops selling 'local' items made in China. Centered around the tall-spired church of Nossa Senhora do Amparo, Mira de Aire instead boasts an untouched, authentic feel that could once be found in Lisbon ten years ago. Cobbled alleyways twist around muraled walls of Catholic images, passing the occasional café where English might be known but will be rarely heard.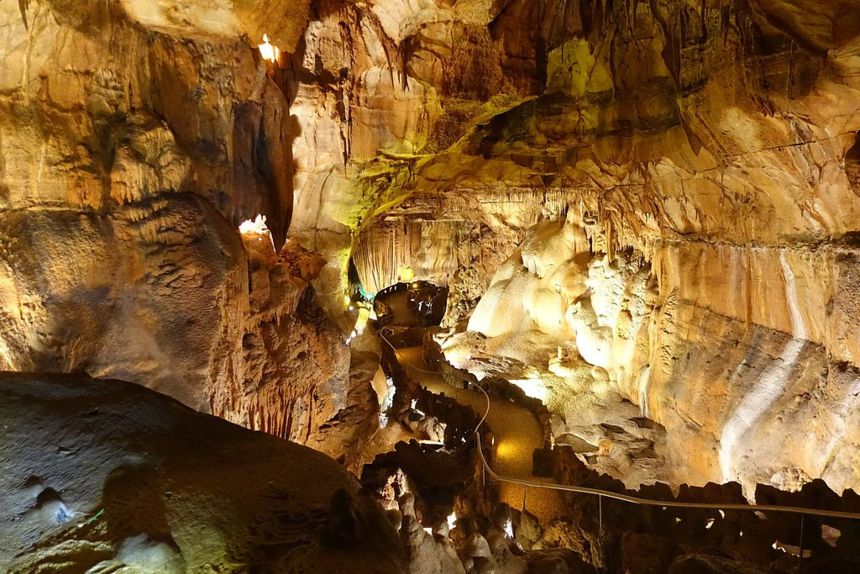 The town is best known by visitors for its huge cave system, discovered in 1947. Perhaps, when you think of a cave, a vision of some dark and wet place comes to mind – haunted by spiders and the occasional bat. In actual fact, the 'Grutas' of Mira de Aire are like entering a subterranean world. It is so deep that, by the time you reach the end, you have to take an elevator!
Rivers and waterfalls play a haunting symphony as you wander through a landscape that, 70 years ago, people did not even know existed. Strange geological formations burst from the walls, sparkling mysteriously. It could be some Gothic cathedral, with shapes that resemble gargoyles or sublime sculptures, as dark corridors recede into the unknown. In fact, these caves are part of a network that spans some 11 kilometres, although only 600 metres are open to the public.
Some day-trippers come from Lisbon just to visit these caves, maybe stopping off to marvel at the mountainous cleft that overlooks the town. Few know that there are actually three other cave systems barely minutes from the town – the grutas of Alvados, San Antonio and Moeda – with even greater levels of natural beauty.
Then there is the National Park itself, denoted as a protected area since 1979, and boasts remarkably diverse landscapes. Here you can overlook an outstretched horizon of olive groves, or be dazzled by the sparkle of a calcite crystal formation creeping from limestone bedrock, then an hour later be standing before a waterfall surrounded by – well, nobody.
With numerous well-marked walks and bike trails, the National Park is perfect for adventurers. From Mira de Aire, you can simply pick a road and walk. Quickly the road becomes a path, which turns into an ascending trail that will take you over the mountainous cleft of Candeeiros (Candles in English, for the rock is white and can 'shine' at night). For those looking for less exertion, there is the option of taking one of the many paths that weave across the 'O Mar de Minde'. This is actually a flood plain, and in some winter months you need to dodge many puddles. Even in summer, there are ponds and lagoons: too shallow and mirky to swim, but an oasis for birds and frogs. To the east is the neighbouring town of Minde; to the west and south, just countryside.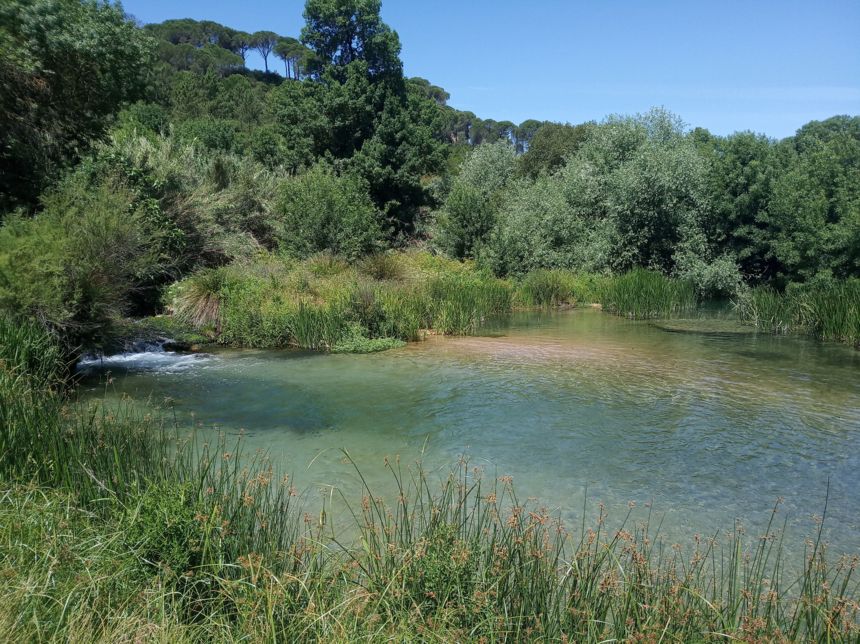 Plunging deeper into the National Park, there are paths that take you to places like Olhos de Agua – a river beach of crystal water, which bursts from a rocky canyon and subterranean river. On summer weekends many local people go here, but a little walk downstream will take you to other hidden beaches and waterfalls. There is another cave system too, though this one is unguided and should only be explored with caution and prior caving experience. From Mira de Aire, the area can be reached on foot in three hours; by bike, in just one. The best route gifts views that could fill an Instagram account, or memories to see you through marriage.
When I first ascended the path into this landscape, I came across something that would send some people scuttling back into the town. It was a giant snake skin – just over a metre long. But you have little chance of actually encountering these animals, who are far more scared of humans than you could be of them. The most dangerous aspect of the park is not being prepared for heat: in the summer months, temperatures can peak 35 degrees celsius. The months of March-June and September-October are the best times to visit if you are not looking to bake.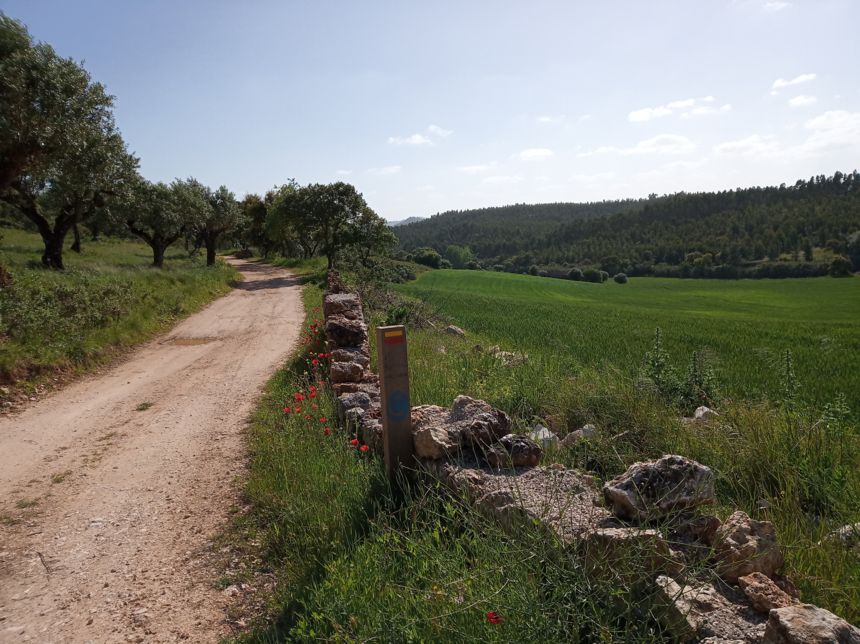 The south-east corner of the park also intersects pilgrimage trails leading to Fatima and the famous Santiago do Compostela. Fatima itself is ranked in the top 10 of Catholic pilgrimage sites globally, with frequent visits from Popes since the first half of the last century. It all began in 1917, when three local children claimed to receive visitations by the Virgin Mary, culminating in an event known as the 'Miracle of the Sun'. Thousands of people were reported to witness strange solar activity, with the sun being said to emit multiple colours, after being predicted by the children. To this day people are not entirely sure what happened, with various different explanations. Whatever you choose to believe, a visit to nearby Fatima is definitely worthwhile. The tall, white spire of the Sanctuary of Our Lady of Fatima with its huge square would not look out of place facing St Peter's Basilica in Rome. Only here there are no security cordons or rows of people. Certainly, if you are looking for a place of spiritual tranquillity and prayer, this is it.
As day crosses into night, another kind of mystery reveals itself. From the cleft of the Candeeiros, looking south, you can easily see the bright arch of the Milky Way. Millions of suns, shining light-years away, might whisper of other worlds waiting to be discovered. Or perhaps you are looking up into the roof of a cave, speckled with veins of crystal.
More info
Learn more