By Anita Palada, Croatian Travel Journal – https://croatiantraveljournal.com
Travel journalist Anita Palada travels back in history, to the cradle of the Croatian region of Dalmatia. The imposing fortress of Klis is tied to the origins of Dalmatia and has served as stronghold for kings and last defence against Ottoman forces that lay siege of Klis for decades. It commands the mountainous hinterland of seafront Split and has a history and heritage that far supersedes its imaginary role as Meereen in Game of Thrones. The true facts and faces of Klis are way more interesting than fiction.
Kliss Fortress – a journey back in time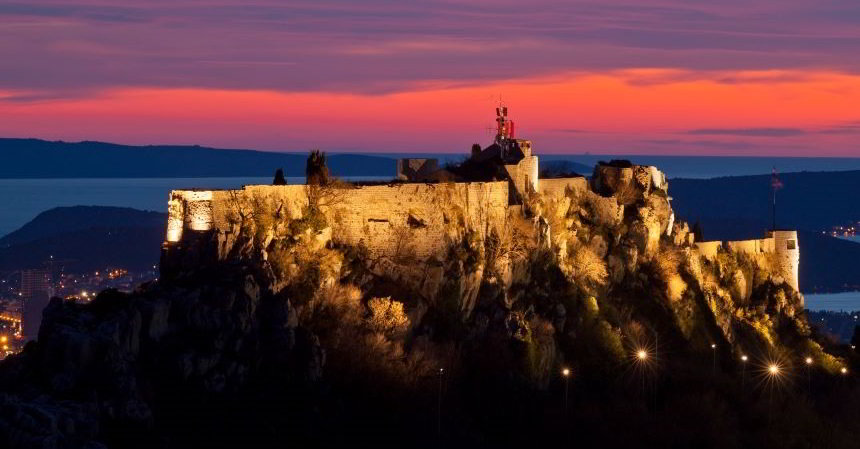 A new day dawns. The light of the rising sun breaks through over Mosor mountain and spreads towards Klis. Within the ramparts, a temporary peace . Soldiers watch the surroundings, overseeing the city walls. Women light fires inside stone houses and knead bread, and men are already in stables and feeding cattle.
But not for long. The deafening thud of horses' hooves shakes the ground. Peace is broken, once again! The soldiers know what it means for them. Tired of the constant Ottoman campaigns, they are sure that this battle will be as ruthless as those before, if not worse.
The assailants in the ominous assault have only one goal – to take over the fortress! The swords are ready and the visors lowered. No retreat! The sun-scorched Dalmatian land also suffers from cannons on horses, and dense clouds of dust announce great danger. The angry cries of the assailants echoes off the mighty Dalmatian mountains, Kozjak and Mosor, creating an eerie echo and announcing a fierce battle. They are almost there! Who will triumph? Will the attackers be luckier this day? Will anyone survive, or will their bodies remain scattered across this wasteland, motionless at the foot of the Klis, like many past assailants before, who wished to conquer it?
Arrows burned the scattered hay. Swords were crossed. Firelocks smoked while bullets exited the gun barrels in small explosions. Heavy maces flew, shattering even the strongest armours. The ominous sound of metal rang all around, and the force of the attackers finally languished with bursts of hot oil pouring down the wall. It was over! Tall, powerful, brave and proud Uskok soldiers repelled the attack, defending their Klis once again.





Filip Ninčević and Damir Žura; "modern" Uskok soldiers masterfully reconstructed one of the historical battles.
They perform with such zeal and artistry, along with other members of the historical unit "Kliški Uskok", the battle every year at the end of July and make it seem so authentic. So true to the region's gory history.
"This is our story. During a long and uninterrupted two-thousand-year history, our ancestors, here at their hearthstone in Klis, fought tragic, victorious, happy and unhappy battles. They had victories and defeats. We are grateful to them for handing over this land and fortress of today. But that also means they obligated us. That is a pledge of the past for the future. Here, at this fireplace, our tradition and culture was born. This is where our roots sprouted. The cherished spot for Klis people, the cradle of our survival'',  sais Jakov Vetma, the first man of Klis.
Prized position
The Klis Fortress is located at the top of a steep, rocky and inaccessible gorge with a heavenly view beyond the surrounding towns of Solin and Split, Kastela, Trogir and the islands of Ciovo, Solta and Brac. To the distant horizon, the glimmering islands of Hvar and Vis.
During the long and often threatened historical construction, the Klis Fortress has left a lasting mark on this place and its people. Casual travellers and people from Split and Trogir have also been emotionally moved by the fortress' history.
No wonder! The intense sunshine, views of Mosor, Kozjak, and Biokovo mountains, along with the beautiful ridged landscape, framed by an azure Adriatic Sea. The Croatian kings, along with many conquerors, couldn't resist the natural attractiveness, mild climate, and strategic position of this land.
Dishes rooted in history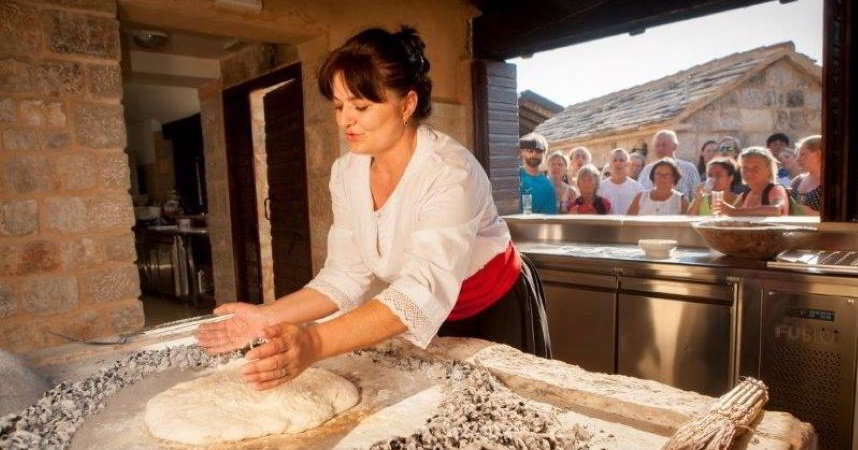 Dishes served on the tables of the natives were prepared in open fireplaces. The special taste of food mixed with the smoke of the fire evokes the flavoury taste and aromas of the famous Klis lamb, breads and uljenjak, which are pies made from homemade chard, grown on sunny slopes and watered with the crystal clear water from the nearby Jadro river.
Creative and hardworking Klis women still, like their great-grandmothers a long time ago, make desserts according to a special recipe. They use homemade figs, raisins, lemon and orange peel, olive oil, rosemary, lavender and almonds, tickling the palate and satisfying the most picky gourmets. These special Mediterranean scents spread throughout the kitchen just as they did hundred years ago. All thanks to the enthusiasm of the wise women who prepared the sweet recipes and left them as a legacy for the future.
Taking ancient recipes to new levels
Deana Miletić went a step further in her gastronomic work. In a romantically decorated kitchen, surrounded by white handmade lace curtains and pieces of antique furniture, filled with a collection of antique ceramics and glasses, she experiments curiously and boldly. "I like to explore. When I am in a creative ecstasy, my thoughts flutter, I imagine and combine essences and flavours,'' says Deana Miletić, owner of OPG Miletić SPARA, enthusiastically.
In such ecstasy, the cakes Uskočka pogača, Kliška štruca and Spara were created. Every day she kneads, fills and bakes these cakes with the help of her junior partner Ivana Perić, to deliver them to the tables of true aficionados. In these cakes, she successfully captures the abundance of Mediterranean aromas and the taste of homemade virgin olive oil. And the jams!! It is just a special taste, that should be savoured because they encom the flavours of all kinds of earthly treasures; homemade figs, apples, oranges and lemons, plums and peaches, and many other combinations. "It is a significant challenge for me," she admits; "but also a pleasure to combine the flavours and aromas of Mediterranean plants into a completely new, yet undiscovered gastronomic unity, with the desire to one day become the traditional heritage of this region."
Stella Croatica – at the crossroad of contemporary and traditional
On the other side of Klis, on the Stella Croatica estate that belongs to the Polić family, the synergy of modern and traditional production is imaginatively blended. It is reflected in modern decorated office buildings and several reconstructed stone houses that form a unique image of a traditional eco village. The stone construction and interior design of the living space, rooms, open fireplace, tavern and cattle barn evoke memories of past family life in this Dalmatian hinterland.
"In these stone houses we welcome guests during the season and bake bread by the fire. Our guests taste the best cheeses from the surrounding estates, sample our extra virgin olive oil and satisfy their sweet tooth with homemade desserts made from my wife's family recipe," says Andrija Polić. His wife Melita joins the conversation: "This is our house, our home and I want to welcome our guests in the most beautiful way possible, to make them feel like they have come to visit their best friends. Offer them delicacies of special taste, introduce them to traditional culture and show them – through our desserts and natural preparations – how powerful the plants of this region are. We not only use them in gastronomy, we also put them in the service of beauty and health every day."
According to locals, this rocky area has a special energy that is captivating. It's a region that hypnotically calls you to dedicate yourself to it. Rugged, but in many ways lovely and magnificent. A piece of land that combines the life of modern and past times in the most cordial and charming way, uniting nature, tradition, culture, customs and gastronomy.
A fortress worthy of Game of Thrones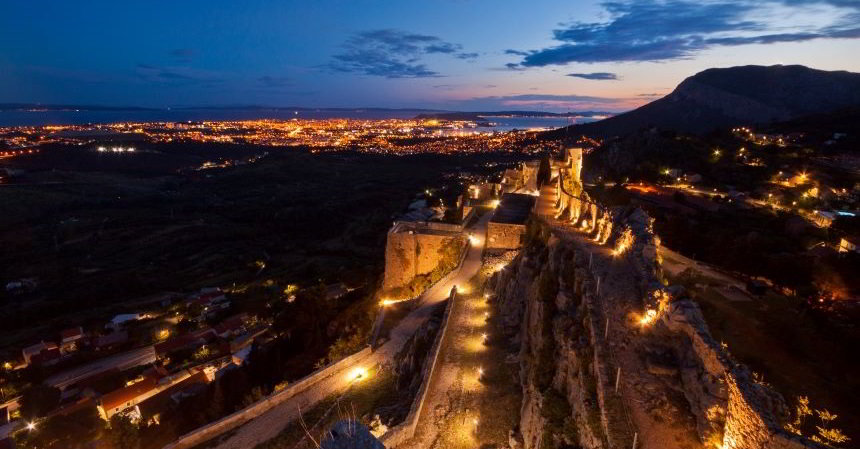 The imposing Klis fortress was also the site of the popular Game of Thrones TV series. Actors Emilia Clarke and Iain Glen starred in their roles at Klis Fortress and spread its name around the world. The fortress appears in the scene when Daenerys Targaryen and her army enter the city of Meereen, intending to free the slaves.
Follow in Daenerys' footsteps to find many more undiscovered treasures in this Dalmatian paradise. Like Bunari rajčice that translates to "tomato wells" and are a unique karst phenomenon of Dalmatian hinterland. Ten ancient wells that even today hold water, which quietly shimmers in the silence of carefully arranged stones, glimmers and plays with the sun.
About Anita Palada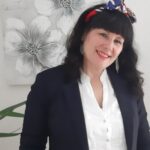 Anita Palada is a journalist from Croatia,  specialized in travel and tourism. She writes the most about her country Croatia, especially about different picturesque places along the Adriatic coast, like Terra Madre. But not only from Croatia!
She also travels, explores, and talks with people worldwide to convey exciting stories about interesting destinations, heritage hotels, good restaurants, traditional food, and tasty wines, like this article about Croatian Wine.
Read more on https://croatiantraveljournal.com 
More info
Learn more