For 10 days in May the Nikola Tesla EV Rally 2023 celebrated its 10th anniversary by showcasing green mobility while presenting the beauty of Croatia to the rally participants. From the charming seaside village of Rovinj on the Istrian peninsula to the historic city of Split in Dalmatia, the contestants could test their driving skills, parade their superb and silent electric vehicles and experience the best of Croatia's cultural heritage, natural beauty and enogastronomy.
Croatia is the best of both worlds
"Croatia is the best of both worlds. Like Switzerland, it has an interesting history, beautiful nature, nice food and lots of water. Switzerland doesn't have sea access, but big lakes like here. However, this lake is very special. It's our first time in Croatia, and we are really surprised that it's so nice," Marie and Paul Meeusen from Switzerland exclaim enthusiastically. Like 95% of the rally contestants, this is their first time visiting Croatia, and they are delighted by its natural beauty, panoramic roads and local delicacies.
The first, but not the last: it only took Marie and Paul one day's beautiful drive through Austria and Italy to get to the Nikola Tesla EV Rally's starting point in Rovinj from their home in Switzerland. They're ready to join the rally again next year – and even to visit Croatia again in the meantime, to explore more of the country.
Blown away by the beauty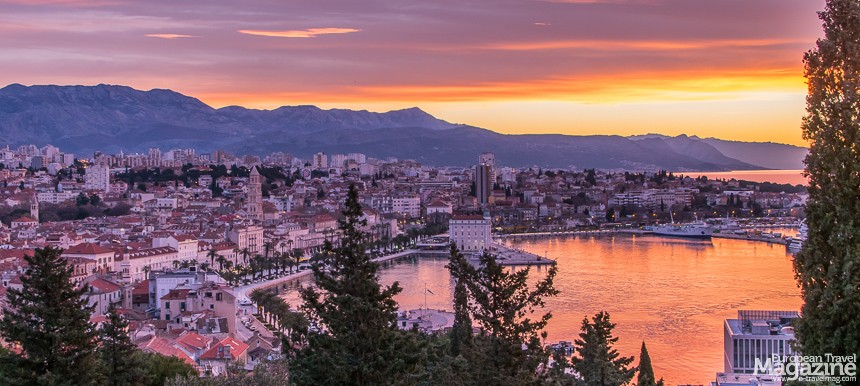 That the beauty of Croatia is addictive, another participant can attest to. Michael Schmid loves to compete in the rally: "It's my third time to Croatia – and the third time I've participated in the rally, so the rally is how I got to know Croatia. And I'm impressed. Every time I come back, also this year, we're travelling in a different part of the country and I'm amazed. It's spectacular. It's an amazing way to get to know the country, the people, and you get to see hidden spots, like the one behind me, which I've never heard of, and I'm blown away."
Michael stands with his back to Modro Jezero; Blue Lake, as he encourages others to join the rally. Throughout the day the rally contestants have been moving through an ever-changing Croatian countryside and have drove around the island of Pelješac. After this visit to the third largest sinkhole in the world, the competitors return to their 5-star hotel in UNESCO World Heritage city of Split to enjoy yet another delight of Croatia: its food and wine.
Want to read where the Nikola Tesla EV Rally 2023 has taken place? Check out this year's version of
Friendly Folk and Extraordinary Cars
Two of the other contestants, Anita Lučić from Sweden and John Elvins from the UK, are also crazy about the Croatian cuisine: "The food is amazing, the seafood especially," they declare, after they've talked about the different parts of Croatia they have experienced during the rally. When asked what they think about the rally, they are unambiguous: "Amazing. You've got to do it. You meet people from all over Europe. And Croatian people are really friendly."
Hospitality, friendliness and food are the 3 things they like best about Croatia, and they are also surprised how nice the May weather is at the Adriatic coast. John has driven his Tesla all the way down to the Croatian summer temperatures from the UK, and has had a chance to check out the other cars in the rally as well: "Some of the cars are pretty rare as well, a couple of the early Teslas are here. There is a model X that has run more than 300.000 kilometres, which is amazing. It has only lost 20 kilometres in total since new."
That is good news for those of the contenders that drive a Tesla: they've had several chances to test their own and their cars' driving skills during the rally, and it's always positive to hear that your favourite car has many miles left in the motor. Because that means, that you can drive it again in the Nikola Tesla EV Rally 2024.
John Elvins came in second in this year's Nikola Tesla EV Rally, and Michael Schmid finished in third place. They were both outrun by Dinko Samardžić who finished first in his Renault Zoe. Because even though the rally is named after the famous Croat Nikola Tesla, everyone with an electric vehicle – and a sense of adventure – can join.
The Nikola Tesla EV Rally 2023 was supported by HTZ (Croatian Tourist Board), FZOEU (Environmental Protection and Energy Efficiency Fund), local municipalities and tourist boards such as TZ Šibenik, TZ Zadar, TZ Vodnjan, TZ Grožnjan, city of Crikvenica and others.
More info