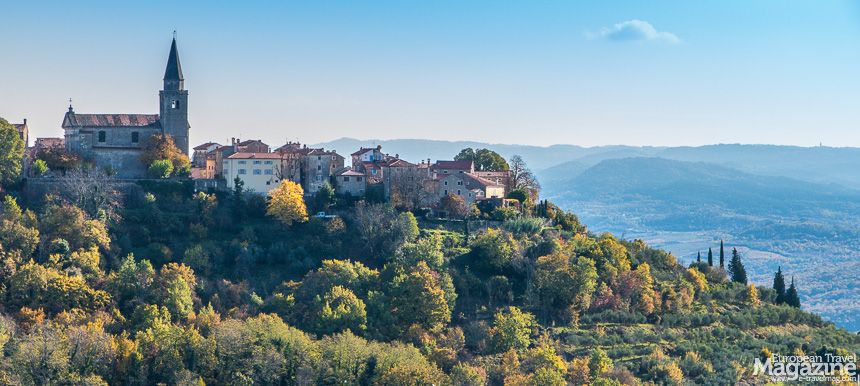 Many of the hill towns of Istria are prettiest when approaching them. They crown the hills with their medieval walls and pencil shaped clock towers, looking like an indexfinger stating: "Here we are. We conquered this hilltop." Grožnjan is more than pretty on the outside, it's an artist colony inside as well. Despite its relatively small size, you can both get lost in its labyrinthical cobbled streets and enjoy gorgeous views of the hilly landscape of Central Istria.
Saved by the artists
If it hadn't been for the artists that settled here in the 1960ies, Grožnjan would probably just be another hill town filled with dilapidating medieval structures and the sense of abandonment. Instead it's a nicely restored village, blissfully free from traffic in its historic centre, that has an artistic presence about it. The artists succeeding in connecting Grožnjan to the present, otherwise it would have succumbed to the past.
Like many other hill towns of western Istria, Grožnjan had strong ties to Venice, that took over Grožnjan in 1358 and ruled until its demise in 1797. The Venetians immediately rebuilt and strengthened the walls, and Grožnjan became one of the important links in the defence system of Venetian Istria. After the devastating plague in 1630, the Grožnjan area became almost completely deserted. In order to revitalize the area, Venice brought in Italian families from neighbouring regions, and to this day around 39% of the region's population has Italian ethnicity.
After the fall of Napoleon's Empire in 1813, his Illyrian Provinces became part of the Austrian Empire and Grožnjan flourished. But only for around 100 years. As the Austrian Empire came to an end after WWI and the Great Depression took its toll, people started to emigrate, looking for work in Italy and overseas.
It was a village on the verge of depredation, that saw a group of artists settling in the abandoned houses. In 1965, Grožnjan was declared "Town on Artists", and they managed to transformed a town of decay into an art colony which has since become a place of residence and work for many of them.
Now, during the summer months, sound of music echoes among the renovated houses, the loggias, the cobblestone streets and in the little squares, making sure that Grožnjan will not be forgotten again.
Top5 Things to Do in Grožnjan
Enjoy the view from the ramparts
And the outdoor collection of model boats that are made from scrap metal parts
Have some local wine and olive oil
Grožnjan is part of the "Citta del vino" AND Olive Oil association, attesting to its quality
See the Venetian Town Loggia
When you pass through the 15th century gate, the first building you encounter is the Renaissance loggia from 1587
Visit some of the artists' studios
Go on a treasure hunt in the labyrinthical streets and discover Grožnjan's artistic treasure
Listen to some music during the summer months
Grožnjan hosts a Jazz Festival in July and as Centre of Croatian Musical Youth, they arrange workshops and performances during the entire summer
Learn more