By Jerry Olivas
If you go to La Rioja region of Northern Spain for the wine, you certainly won't be disappointed. If you go for the food that's terrific also, but there is so much more to La Rioja, including charming medieval villages, cathedrals, castles and dolmens. Follow Jerry and his wife as they discover the many attractions of the region.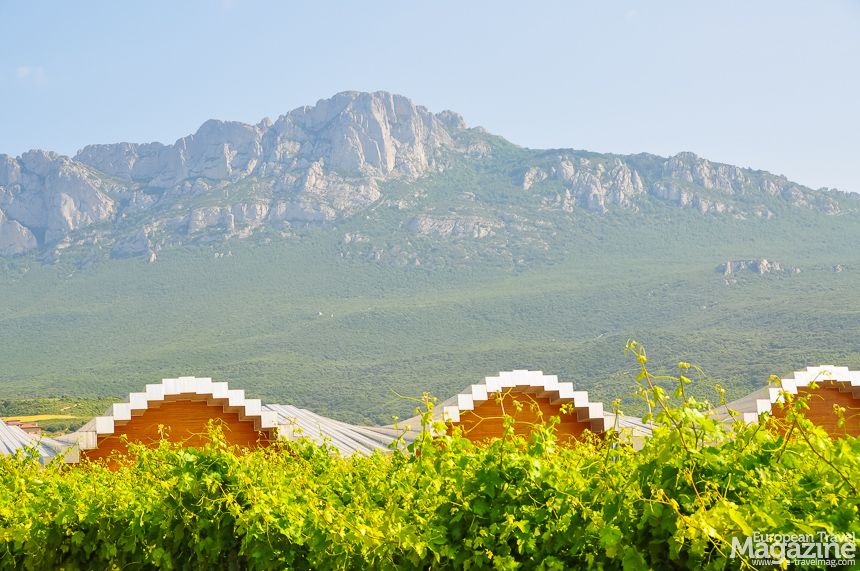 The Región
La Rioja is not far from the North Atlantic (Bay of Biscay) in Northern Spain. The word Rioja is a combination of two Spanish words, rio for river and Oja after a southern tributary river of the Elbro river.
Some portions of the Elbro river mark the divide between the more northern autonomous Basque Country (Euskal Herria) and the more southern Castile and León areas. However, no worries about understanding the Basque language because it's mostly bilingual Basque and Spanish. Also, you know when Basque is spoken and written because when you hear or see it you momentarily pause and say to yourself "what's that?". English and French are widely spoken and written, like in menus, and there's always Google Translate for text and voice with a Listen feature to help you learn how to pronounce words and phrases.
The Vino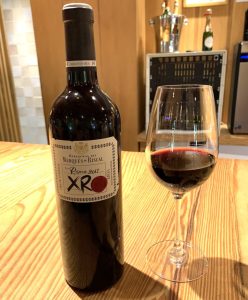 It does not take a wine expert to quickly realize how fabulous the La Rioja wines are, and there's plenty of wine to appreciate in La Rioja. Everywhere you go there are vineyards and wineries. There are a few designated sub-regions which all produce different varieties of wine.
These are Rioja Alta, in the northeast, Rioja Alaveza, in the northcentral (the smallest of all the sub-regions) and Rioja Oriental (formally called the Rioja Baja) in the southeast. In my opinion, all of these sub-regions produce great wines with top wine classifications, such as, Denominación de Origen Calificada (DOC) and Denomination de Origen (DO). These classifications indicate that the grapes are coming from a specific area, even vineyard, within La Rioja.
Wines that are considered top quality are labeled Gran Reserva and Reserva with less quality wines labeled Crianza and Generic. Gran Reserva can be aged in oak for five or more years while Crianza and Generic are aged for two or less years. Anyway, it's all very tasty and nothing seems to be too pricy. Often, my wife and I would just ask the waiter or bartender (camarero or camerera) to select a good quality red (tinto) or white (blanca) for us. The whites mostly used Viura and Verdejo grapes with the reds using Tempranillo and Ganache grapes and almost all wines are blended which helps to make the wine the best it can be. There's some great rosé (rosado) and sparkling wines (cava) in La Rioja too.
The Atracciones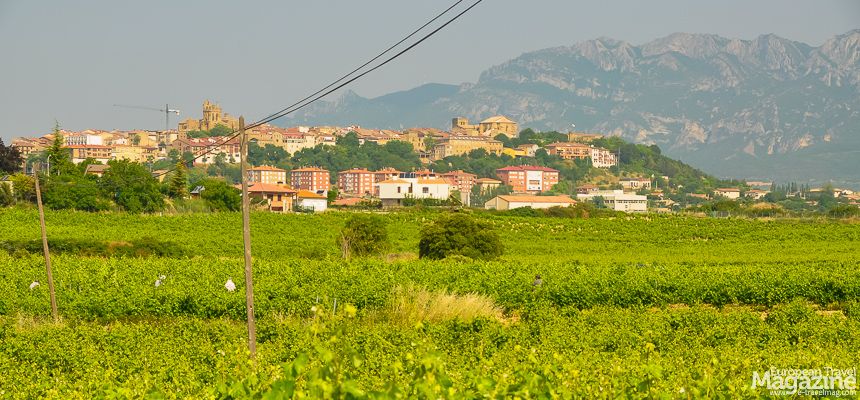 North of the Ebro River
First, having four full days to explore La Rioja is fine, but like many trips, there always that "if I just had one more day I could …".
A good first day excursion is to explore the north side of the Rio Ebro. From Haro this means taking the N-232a rural road in an easterly direction. Along this route, and short distance from the N-232a, vineyards and wineries are everywhere, however generally wineries are not open for drop-in tastings. But that's not a problem because it's easy enough to sample the great wines in small bars and restaurants in the various small towns. Note that the term 'bodega' is often used to mean a place where wine is served and sold, including wineries, a wine bars, and small grocery stores.
About 10 km from Haro, just off the N-232a, is the hill village of San Vicente de la Sonsierra. This is one of those places were you instantly feel like you are stepping back in time. There is an impressive castle at the very top of the village that overlooks the Rio Ebro with spectacular views of La Rioja region.
Going east further along the N-232a, about 20 km from San Vicente de la Sonsierra, is the village of Laguardia. This village is a little touristy but it's well worth an entire afternoon of strolling around on all of the narrow little streets. There's all kinds of medieval history to absorb in this medieval village. Don't miss the old wall clock with its little automaton dancers in the central Plaza Mayor. The dancers come out for a little serenade to bells several times a day.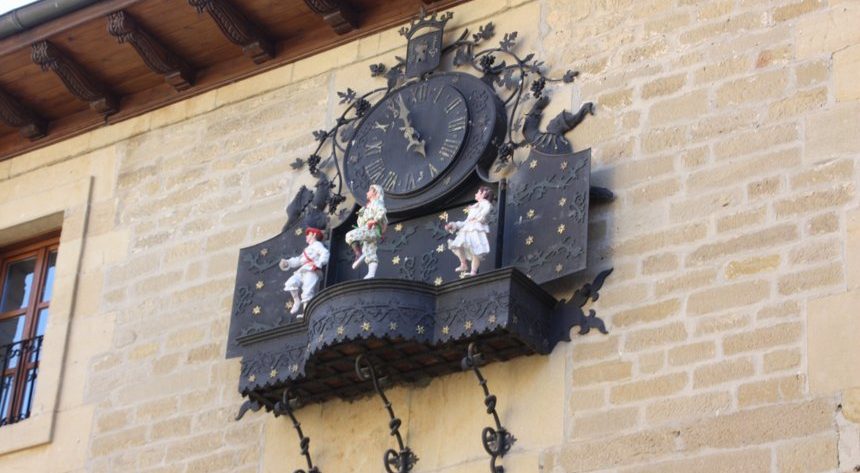 Heading south on the A-3210 about 6 km from Laguardia is the Hotel Marqués de Riscal on the edge of the small village of Elciego (in Basque it's Etziego). The Canadian architect Frank Gehry designed this hotel as well as many other buildings worldwide. The building is a great example of the architectural style called deconstructivism. It is worth a visit for sure, outside and inside. A good plan here is to park at the nearby Bodegas Marqués de Riscal, which is just down the hill from the hotel. You can do a wine tasting there, then walk the short distance to the hotel.
At the Bodegas Marqués de Riscal our favorite wine was XR Marques de Riscal 2017 tinto blend of Tempranillo and Graciano grapes. The bar in the hotel has an inside and outside terrace seating area with a magnificent view of the Parroquia San Andres Apostol parish church in Elciego.
From Elciego you can retrace your drive north back to the N-232a and continue exploring little villages along N-232a. Every village has its cathedral, bodegas and a town plaza to sit and take in the ambiance. Along the N-232a, and just a short drive off the N-232a, there are several dolmens and other interesting cultural sites and there are plenty of places for picnics with a view. We had a nice picnic next to a beehive shaped rock shepherds hut surrounded by vineyards.
South of the Ebro River
Heading southeast out of Haro on the N-232 will take you to more La Rioja villages, castles, and a couple of UNESCO World Heritage sites. For castles, head to Castillo de Briones in the village of Briones. It's a ruined castle but Briones itself has a lot of charm. The Vivanco Museum of Wine Culture is on the outskirts of Briones. The Museum has a gift shop, cellar and wine tasting area as well as a restaurant. My wife and I just looked around for short while, but it looked like you could spend an entire day at this museum.
La Rioja won't disappoint if you like castles. Although most are more in the ruined condition, they are a lot of fun to explore. On the Route of the Castles La Rioja you can find castles and keep an eye out for historical and archaeological signage.
Just south of the N-232 you will cross the French Route (Camino Frances) for the Santiago de Compostela pilgrimage. This goes right through La Rioja from Logrono to Burgos. Between Nájera and Santo Domingo de la Calzada the trail runs very near the N-120 and A-12.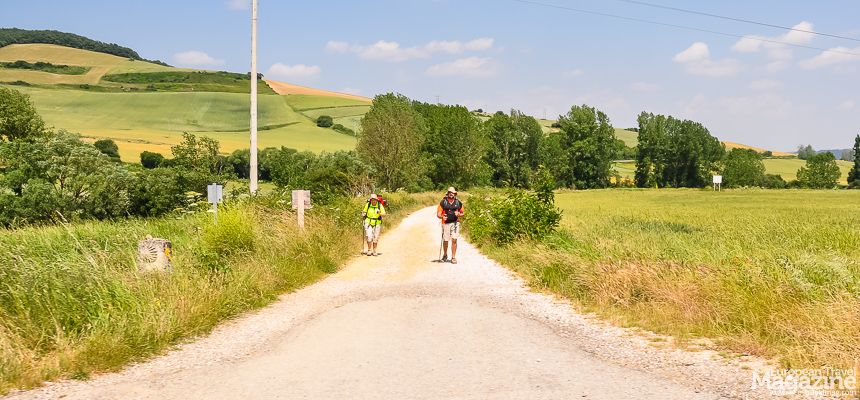 Further on south following the LR-206 you can visit the San Millán Yuso and Suso Monasteries. These are tucked away in a very picturesque valley with the older Saso Monastery up on a hill overlooking the San Millan Yuso Monastery. Pretty much only tour groups go here, so if you see a crowd, wait a few minutes and everyone will be gone. We had a very nice garden lunch just across the street and parking lot from the San Millan Yuso Monastery at the Asador San Millán restaurant.
Both the French Route of Santiago de Compostela and the Monasteries are UNESCO World Heritage Sites. Returning from the Monasteries, a short distance to the west following the LR-204 and LR-111, is the town of Ezcaray. This is a good place to take a stroll on the small streets and to enjoy an afternoon coffee, tea and torta in the local town Plaza del Conde de Torremuzquiz.
Burgos – worth a detour
We weren't sure if we were going to go to the City of Burgos, which is not in La Rioja, but we are so glad we did. Burgos is about 90 km west from Haro. It's an easy drive taking the N-126, and AP-68 and AP-1 toll motorways from Haro. The main attraction in Burgos is the UNESCO World Heritage Site of the 13th century Cathedral of Saint Mary of Burgos.
This is a spectacular cathedral that rivals the top cathedrals in Europe. The French Gothic architecture of this cathedral is breath taking. The inside is interesting but it's the outside that is jaw dropping. We were especially drawn in by the details of the Puerta del Sarmental (Gate of the blessed) of the south transept of the cathedral. This was a long lunch day at the Rincon de Espana just off of the Plaza Rey San Fernando where we had a great view of the Cathedral.
Sajazarra
Towards the direction of Burgos is the medieval fortification village of Sajazarra. This village is considered one of the prettiest villages in Spain. It is just 12 km northwest of Haro taking the LR-202 and LR-209. This village is like something out of a fairytale story book. It has a lot of cobbled streets to explore, a sweet central plaza, a cathedral, of course, and a very well-preserved castle; Castillo de Sajazarra.
Haro
As for Haro itself, a stroll around the centre including the Plaza de la Paz which is a great place to sit and people watch. The Basilica de Nuestra Senora de la Vega and the Parroquia de Santo Tomas cathedrals are worth a visit. And if you have time the Museo de Arte Contemporáneo de Haro El Torreón, in an old fortification building with a tower, that is right off the central Plaza, has some beautiful paintings and sculptures.
The Gastronomía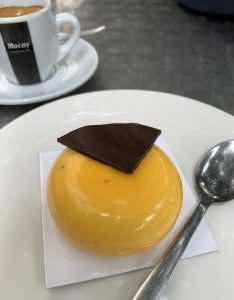 It's hard to not eat and drink well in Spain. The only problem, not a problem really, is restaurant times. For lunch dining it's about 1:30 pm to 3:30 pm and for dinner it's about 8:00 pm to real late. It does seem funny to be finishing up a great meal about 10:30 pm and noticing people just being seated. Check for closing days because it's common for restaurants to be closed a couple of times a week as well as open only for dinner.
With that said, no worries at all with finding great places to eat. The Spanish love to eat out and bring the whole family with them, including their pets, so there are plenty of great restaurants. In the warmer months eating outside on a patio is usually an option. But to avoid the smell of cigarette smoke it's best to eat inside because in Spain smoking is prohibited in public workplaces.
In Haro we had a fantastic splash out meal in a beautiful 14th century convent setting at the Eurostars Los Austinos Gastronomy. The cuisine was fabulous, and we liked how the wine was served here; the waiter brings three glasses; one for myself, one for my wife, and one for the waiter to taste test the wine.
The local supermarket of Mercadona, where it seemed like everyone shopped in Haro, was very well stocked with everything including produce, fresh fish, lots of dry-cured ham (jamon serrano) legs, and a great selection of local wines. This was only a couple of blocks from our small apartment, so it was easy to stock up on everything including picnic supplies.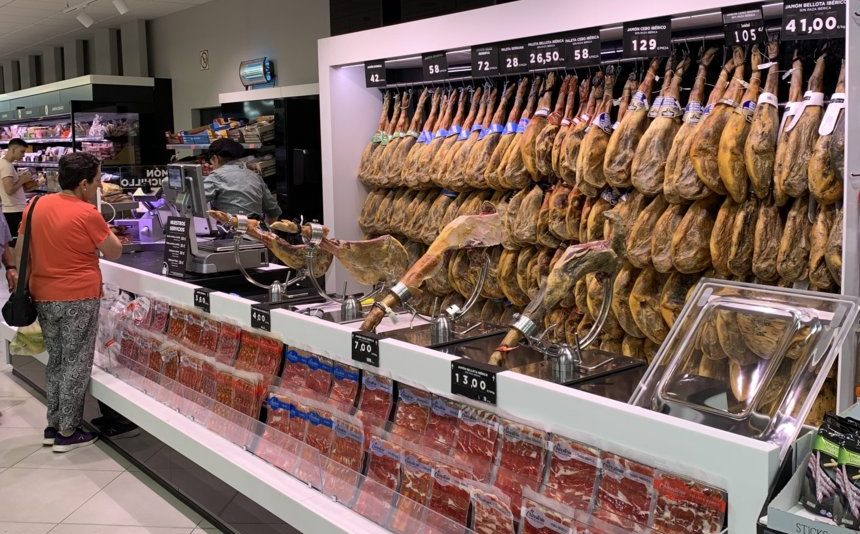 Practical information
Getting there by plane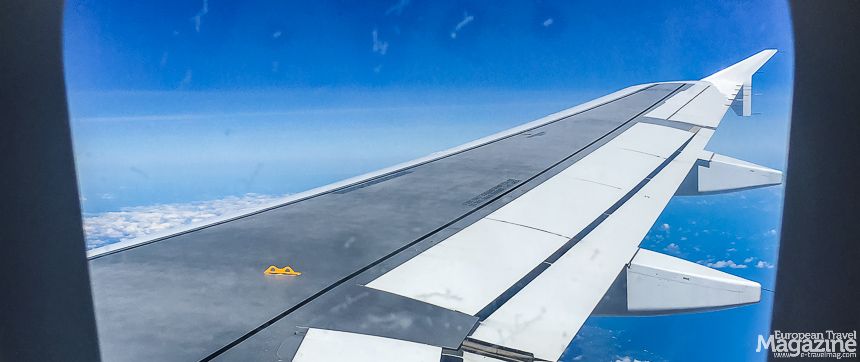 The best options for flying to La Rioja are the airports at Bilbao and Zaragoza, with Logroño having minimal service. My wife and I flew from Barcelona to Bilbao's Bilbao-Loiu Airport (BIO). There are several flights each day in both directions. Madrid's Adolfo Suárez Madrid-Barajas Airport (MAD) also has several flights a day to and from Bilbao.
We chose Volotea, which is a low-cost Spanish based airlines that flies to many smaller cities throughout Europe. We are usually reluctant to fly on so called budget airlines because of frequent cancellations, delays, and all the extra charges. However, Volotea was on-time, with efficient orderly boarding, and very friendly staff and attendants. Also, it's a good idea to pay a little extra so you can pre-select your seat, get priority boarding, and for an extra bag or two.
Getting there by train

As an alternative from, either Barcelona or Madrid, it's easy enough to take a highspeed Spanish AVE train to Zaragoza-Delicias central station. There are several rental car locations in and near the station so no problem with that. West on the AP-68 toll motorway will get you to La Rioja in 90 minutes, with plenty of places to make pit stops along the way. We used Trainline to buy our tickets and to select and reserve our seats. There online interface and app is easy and thorough. There are other options, including online purchases directly from the Spanish train system Renfe. No matter where you buy your ticket, including at a ticket counter, always check for sales and discounts because they can reduce your fare considerably.
Getting there by car

There are plenty of organized tours to and from and around La Rioja but to really get out and explore a rental car is a must. At the Bilbao-Loiu Airport there are numerous rental car agencies to choose from. We chose Enterprise because the rate was slightly less for a midsize car, but as you know rental car rates can fluctuate greatly so do your research. Don't forget to double check for scratches, dents, and chips and cracks in the windows, before driving away.
From Bilbao to Haro, where we stayed, is a straight shot south on the AP-68 toll motorway. It's hard to get lost but a word of warning here. Bilbao has many roads going many different directions, so try to get in the correct merging lanes well in advance or you will be doing some extra exploring and using more expensive petrol. Google Maps is a reliable source for planning and finding your way around, driving and on foot.
Driving directions signage is good in Spain as are the roads with plenty of cautionary signs. Road construction is common so be on the watch for that. For getting some fresh air biking is ideal. But, the roads are not broad enough to fits bikes and cars, so do be careful, especially going around blind curves, and always give way to the bikes.  
Going – and staying – online
Of course, when you are out of range for Wi-Fi, your Cellular Data must be turned-on, so make sure to buy enough Data for your entire trip and bring a charger cable to keep that battery charged. Most rental cars have a charger cable socket.
For this trip, mostly in Spain for about one month, we chose Vodafone with 256GB data allowance. It's easy enough to just swap sims in your mobile phone which will instantly have you all set with voice, data, and Wi-Fi with your new carrier. With the new Apple iPhone 14, which uses an eSim (not removable), you will need to check to make sure your new carrier service has an internal programable agreement with Apple.
Where to stay
When we began searching for a place to stay in La Rioja, it was a bit overwhelming because there were so many choices. We started to think that there must be hordes of tourist that visit La Rioja. But as it turned out, because of the way accommodations are spread out through the entire region, tourist are mostly dispersed.
There seems to be so many options on the web for finding and reviewing accommodations it can be a bit overwhelming to select which one to use. However, most accommodations websites post much of the same accommodations for about the same price. We used Booking.com because the website works very well and provides a great deal of details regarding the property and usually very current reviews. Booking.com's feature of being able to ask a question to the property manager or owner is nice because that way you can get answers to those little but important questions, such as, is there any renovation or construction going on nearby.
We ended up choosing an apartment for five nights in Haro which is in the northwest area of La Rioja. We selected an apartment named Apartamentos Turísticos de La Vega which was a top floor, two bedroom, two bath, fully equipped kitchen, with a nice view from all the windows. It was the first apartment in my travels that had, not one, not two, but three televisions as well as a router modem right in the apartment for wifi. In addition, it was nice to have an elevator and it was only one short block from the Haro's central Plaza de la Paz.
Why to go
La Rioja has it all. It's easy travel with fun things to see and do just about everywhere. When you meet up with other travellers in La Rioja, their excitement is overwhelming; "Did you go there?", "Did you see that?", "We really enjoyed…" and for wine lovers, it's nirvana.
And if you are not a wine lover, La Rioja may just change that.
Learn more