By Ava Kabouchy – Photography & Travel Website
Arriving at one's destination can be a bittersweet experience. Especially when on a pilgrimage or a hiking trail, where the journey is more important than the destination. But then again, every journey must come to an end for a new one to begin. Historically, you were forgiven for your sins after you completed your pilgrimage. Your heavenly slate would have been wiped clean and you'd have a chance at a new beginning.  The scallop shell is a memento of that for those that have made the journey, and a reminder that you can accomplish extraordinary things.
Ava Kabouchy finishes her Camino de Santiago, not in a cathedral but on a beach; at the End of the World in Spain.
Arriving in Compostela
Another pilgrim and I arrived at the gates of the large monastery for pilgrims at the same time. He was Canadian and had just finished all 1515 kms / 941 miles, having started in Puy en Velay in France. I would have liked to talk with him in depth about his experience, but I felt he needed his alone time to let the experience of the Camino wash over him as I also needed despite my shorter distance.
I checked in, then having made the journey, walked to see my destination – The Cathedral of St James of Compostela. The square in front of the cathedral was huge, the space needed for the materials and workers building the cathedral in 1075. I walked to the furthest point on the square without looking to my left as I wanted to take in the whole scene. As I turned to look, the cathedral was as beautiful and awe-inspiring as I had imagined it would be – and to think it has been standing there since the Middle Ages.
The thought of waking up in the morning and all you have to do is have breakfast, reorganize your backpack, and be on your way with no goal other than to get to the next pilgrim inn – what a wonderful way to start a day and what a wonderful way to end such a walk to Santiago de Compostela at the Cathedral of St. James.
Reflections on Angels and Exertion
The metaphor of the Camino being a piece of life is very appropriate, ups and downs, difficult times and good times. People have been kind and angels have appeared when I needed them. One of the angels carried a blue umbrella and helped me find a hotel I was looking for in the rain, well hidden behind a church. The lady with the blue umbrella smiled widely when we saw that this was the right place, I thanked her and said; "Es un angel, Señora." She was an angel, something I have come to believe in.
Being on the Camino was not always easy – there was the first day when I crossed the Pyrenees, the cold, the wind, the mud, the thought I'd never find the end of the forest leading to the monastery in Roncesvalles, but I did, and being there was a new beginning, a looking forward to whatever might come my way over the next weeks.
Personal stories about faith and addiction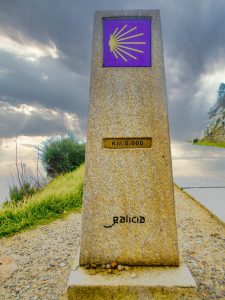 Each person I spoke with those weeks had her or his reason for walking the Camino, many religious, others looking for insights or just the experience itself. I am not a religious person, but not feeling the spirituality of the Camino, I think, would be impossible. It was the feeling that came over me during conversations and how forthcoming others were about their lives, people I will never see again.
An American nurse told me she was walking because she had had access to drugs in hospitals, used them, and finally realized the harm she was causing to herself and her family. She felt that the Camino would keep her from returning to her addiction. Such a conversation would never happen with someone we might meet on any street, but the Camino is not just any street. It is a place of peace, of beauty, of history and of friendliness, and it leads to Compostela, the field of stars, where one can give thanks for having reached it or celebrate one's arrival there as one wants.
Reminder of new beginnings
I miss the Camino, the sound of my trekking poles and greetings of Buen Camino, getting up some days before sunrise and seeing the light and colours change. I didn't at all mind the alone times, and sometimes even preferred them. I enjoyed the uninterrupted time to think, just time to reflect on my life and where I would like it to go.
The scallop shell is the symbol of a rebirth, a new beginning, and I am reminded of that each time I look at mine. As my grandkids have begun to graduate from high school, one of my gifts to each of them is a scallop shell, which I hope will remind them of their new beginning and other new beginnings that will come to them throughout their lives.
The End of the Earth
After Compostela, I took the bus to Finisterre, the end of the earth, and saw the Atlantic on a blustery, windy day.
At Finisterre, I put down a note that a long-time and dear friend of mine in the U.S. had asked me to place for her under one of the peace markers. My token was a stone, light purple in colour, that I had picked up in the desert when I was a teacher of English in Saudi Arabia. I kissed the stone as I placed in on the ground and gave thanks for my time there, the adventures I had, the people I met, the friend and lover I had, and all the memories I now carry with me.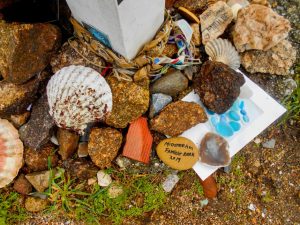 I also left a small, opaque stone in the shape of a heart. It had been on my dresser in my Maine island home, and placing it in Finisterre seemed the right place for it. My eyes welled a little as good memories, past memories, came to mind, ones that will make me smile forever – dreamlike days, magical days, like those on the Camino, in Saudi Arabia, and on the coast of Maine.
Maybe that is the gift that the Camino gave me – a letting go of difficult past times and thinking now only of the good ones and those to come.
.
.
Practical information
When to go:  Spain is very hot in summer; May, September and early October are better times to go.  You will also avoid the 'bed run' then – pilgrim inns open at 3PM and you might have difficulty finding a bed for the night in summer.
Guidebook:  I can't imagine a better guide than the one I had – Camino de Santiago, Moon Publishers, by Beebe Bahrami.  She gives all the information you will need from the size of your backpack to the kind of shoes to buy.  There is a also a removable map at the back of the guide.
Backpack transport:  Each morning I sent my backpack with a transport service, which picked up the packs by 8AM.  Each inn provides an envelope in which to put the four euros or so the service costs.  All you need to do is put the name of the inn where you will be staying that night, and it will be there upon your arrival.
Where to eat:  You will never lack for cafés and small restaurants.  If you feel like having a cup of tea or coffee, it is not far away.  After arriving home to Maine the following summer, a friend asked me why I didn't just hike the Appalachian Trail.  I smiled and answered, "There are no cafés, restaurants, inns, or hotels on the AT."  My friend smiled understandingly in response.
Recommended reading:  The Art of Pilgrimage:  The Seeker's Guide to Making Travel Sacred by Phil Cousineau
And remember  It is your Camino.  Do it as you want, at your own pace, and just take in the experience.
Buen Camino!
֍ ֍ ֍
This was the 3rd and last Part of Ava's Camino conquest! You have read Part I and Part II, right?
About Ava Kabouchy
As a child, Ava was fascinated by world maps, which later turned into travels to many parts of the world. She has worked in several African countries, created a microcredit group for women in Honduras, and did a volunteer photography gig for a clinic for a Mayan community in a remote mountainous region of Guatemala. Recently, she hiked along the Camino de Santiago in Spain and in France, travelled in Morocco, fulfilling a childhood dream of walking barefoot in the Sahara and another of seeing the aurora borealis in Iceland.
Ava is the author of the recently published "Where in the World is Grammie Now?", a book for young readers to teach them about Saudi Arabia, a country not often studied in middle school curricula. She has also authored a book on her four years in Saudi Arabia:  "Wanderlust, A New Lease on Life in the Kingdom of Saudi Arabia".
Ava makes her home in southwest France and on a remote island off the coast of Maine, USA.
Learn more about Ava's adventures on her Photography & Travel Website
More info