By Ava Kabouchy – Photography & Travel Website
Walking Spain's most famous pilgrimage route to Santiago de Compostela is not only about overcoming physical and mental struggles, it's also a chance to come intimately close to an everchanging landscape. From crossing the Pyrenees in challenging weather in the region of Navarre to rolling hills in Galicia. From festivals in Pamplona to World Heritage architecture in Burgos. The 780 kilometre route gives you time and chance to enjoy Spain's landscape, culture and history at first hand.
Continuing her hike on the Camino de Santiago, Ava Kabouchy encounters both pals and pests. She becomes a tramposa, and finds out what a trail husband is..
Magic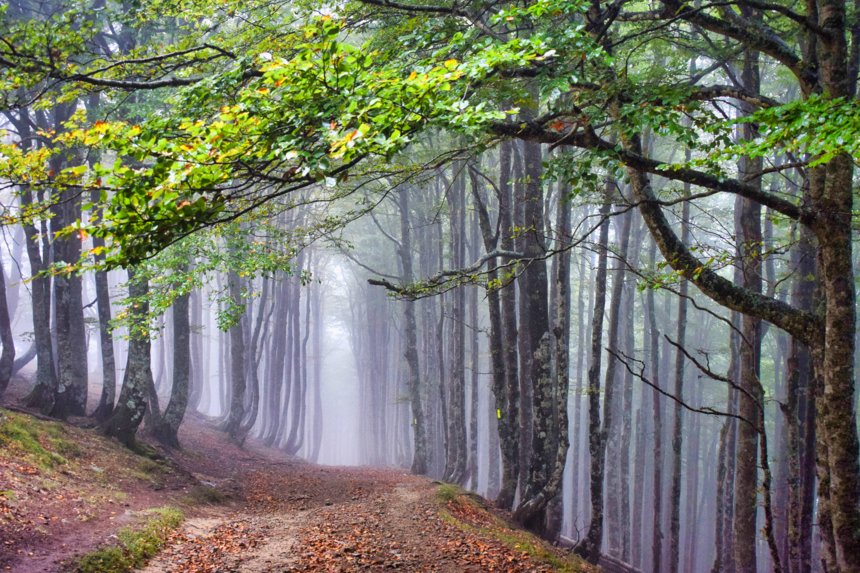 Next stop was the Casa Magica, the Magic House, in Villatuerta, a pilgrims' hostel housed in a building over 400 years old. Some of the hostels provide dinner and I shared a delicious vegetarian meal with two others – a quiet young woman from Korea and a young man from California who said he had become addicted to walking the Camino. He was not able to take two or three months off to do it all, so he returned each year to pick up where he had left off the year before. The Casa Magica is spacious, a place to sit outside in the sunny courtyard or take the time to meditate in the old room entered under an arch, and I stayed there an extra night even though it was not raining.
More Conversation and Another Angel
As I was writing in my journal in Casa Magica, three women came into the room and one of them and I talked, a Brazilian married to an American, living in northern California, and we shared a lot about our reasons for walking the Camino. The next day I walked solo to the fountains in Irache, one with water and the other with red wine, all free for pilgrims and anyone else who symbolically wants to enjoy water from one fountain changed into red wine in the other.
I once again became a tramposa because I took the train from Villatuerta to Sarria for the final 100 kms, 62 miles, and to do so I was helped by an angel. The owner of the Casa Magica told me where the bus stop was to get to the train, but it was a Sunday when fewer buses were available. A man in his car stopped and could easily see not only that was I a pilgrim on the Camino, but that I was a lost pilgrim. He offered to drive me to the bus station, and normally I might hesitate to take a ride from a stranger, but something told me I would be safe. He drove me right to the bus station, another angel on the route.
The Final 62 kms/100 miles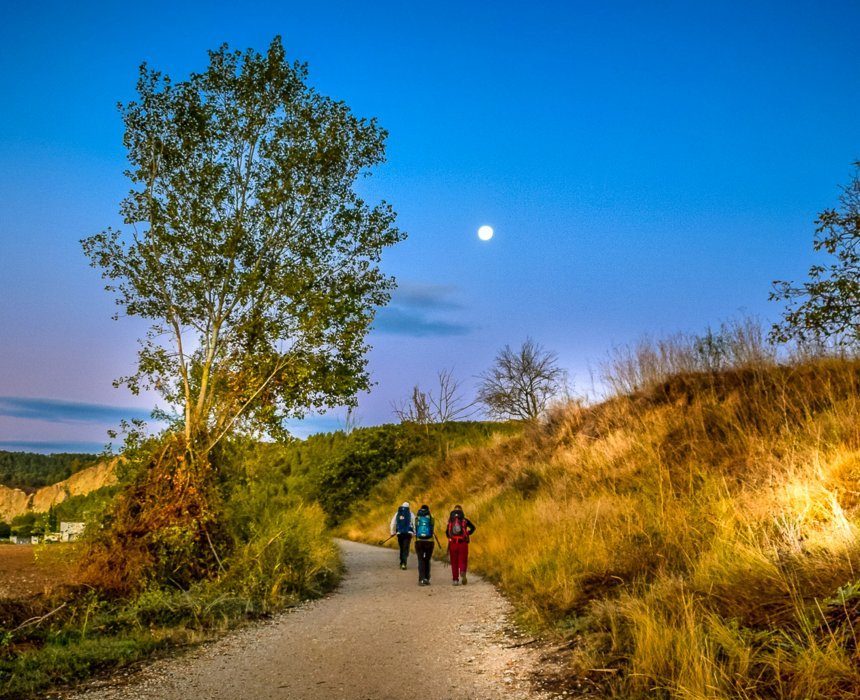 The train to Sarria took most of the day, a nice break from walking, giving me time to enjoy the scenery from a train and to reflect further on what I had seen and done so far. An American, Rachel from Iowa who was also on the train, and I together found the monastery where we planned to stay. Lots of beds, not a lot of pilgrims. When I got up in the dark the next morning, it was raining, and neither of us wanted to spend the day walking in the rain and cold, so we hung out the day, had a delicious lunch with a glass of the local white wine.
Early the next morning, we left before sunrise and spent the next two days together. Rachel was part of an intentional Catholic community, which she explained is a place where people live in close proximity to one another, as she did in a house shared with several others. The main idea is that people need such proximity so that they are better able to help one another when the need arises. Somehow Rachel had gotten ahead of the group she was walking with, and I was glad to have her company for a couple of days. She re-found her group and continued on with them, and I missed her company.
Solo trescientos metros, Señora – Only three hundred metres, Madam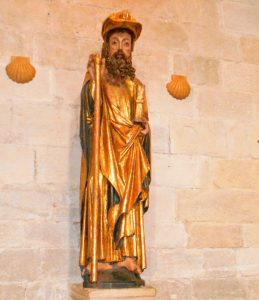 Who needs GPS on a phone when the Camino is so well marked and I had a good map? Somehow on my way to Melide, I ended up on a highway. There wasn't a lot of traffic, but enough cars and large trucks to scare me terribly because the shoulder wasn't very wide. I found someone to ask if I was on the Camino, and he said yes, to continue for 300 metres, and then I'd find a left turn. I kept walking, no left turn; I asked a man in a truck, same answer: 300 metros, Señora I saw a man leaving his house, so I walked up to him, once again – 300 metres. I am sure these people were correct and were often asked the same question by passing pilgrims, and maybe I was thinking in feet instead of metres. Eventually, I saw two pilgrims, crossed a dry ravine, and followed them for a while, and found Melide after walking for 23 kms / 14 miles and feeling good about it.
Off I went before daybreak the following morning, walking only 6 kms / 4 miles, as my feet and knees needed a break from the 23 kms / 14 miles of the previous day. The walk, as it often is on the Camino, was beautiful. I saw the sun rise, walked through a forest of eucalyptus trees, graceful in the early morning light. I also passed through many "tree tunnels" as I called them. People were friendly and the phrase "Buen Camino" was offered by just about everyone all along the way from the Pyrenees to Compostela. I loved stopping in the little churches or chapels, meditating for a while, and lighting a candle for my family. It felt good to feel I was part of something and that something was watching over me even while lost on a busy highway.
How to say bedbug in Spanish: chinche
I entered the village of Ribadiso, a lovely place with yet a medieval bridge by which to enter it. A friend in an email teased that I didn't suffer on the Camino – I used a transport service for my backpack, enjoyed local foods and wine, and stayed an extra day in a hotel or albergue if it was going to rain, as was predicted for the following day.
It was a good time to edit my photographs on my small computer, catch up on some emails and write in my journal. From time to time, I would scratch my right hand and lower arm as I was writing, not thinking much of it. I noticed a tiny spot of blood on the sheet later on and when I stood up, saw a small, black insect. I'd read about bedbugs – chinches – and now I was experiencing them. As I undressed for bed, I saw a line of about bites on my shoulder and verified online that these were, in fact, bites from chinches.
I left a note for the management the next morning, then went to a pharmacy for some kind of remedy because the itching and welts were awful. I was about to show the pharmacist the bites, but he just smiled and said, "No es necesario, Señora". He knew what they were and gave me a salve. So, I could now email my friend and tell her that I, indeed, did finally suffer on the Camino.
"I'm married."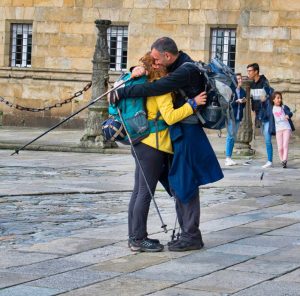 As I was readying my backpack in Pamplona at the beginning of my walk, the man across from my bunk and I began to talk. A frequent question was to ask where one was from. I explained I was from the U.S. and he said he was Dutch. Then he said, "I'm married. My wife is in the shower." "Fine," I thought and wondered why he shared that piece of information. I wished him a Buen Camino and left for my next stop, wherever that might be.
As I was approaching the steep hill leading to the famous sculpture of pilgrims called El Alto de Perdón, the Hill of Forgiveness, I saw a man sitting alone, the only person there. We began to talk and when he asked me where I was from, he said that he was from the U.S. as well and added, "I'm married." I asked him to take a picture of me, as just about all the pilgrims do, within the sculpture. I wished him a Buen Camino and went on my way.
My last evening in Compostela, I took a walk into town and on my way back to the monastery, I couldn't remember the way, so I asked a man on the street corner, also waiting for the light to change. We began walking together and he told me he had walked the Camino as well, that he was from Mexico and that he was married.
When I was back in the U.S., I told these stories to a good friend of mine who has done several parts of the Appalachian Trail. He laughed and said it could be that, like the Appalachian Trail, there are what is know as 'trail husbands', that couples hook up while they are on the trail, and then say goodbye. Or maybe not, I don't know, but I did wonder if the concept of a trail husband exists on the Camino, but I guess I won't find the answer to that question! But my friend's explanation made me laugh.
֍ ֍ ֍
Check out what happens then in Part III of Ava's Camino conquest! You have read Part I, right?
About Ava Kabouchy
As a child, Ava was fascinated by world maps, which later turned into travels to many parts of the world. She has worked in several African countries, created a microcredit group for women in Honduras, and did a volunteer photography gig for a clinic for a Mayan community in a remote mountainous region of Guatemala. Recently, she hiked along the Camino de Santiago in Spain and in France, travelled in Morocco, fulfilling a childhood dream of walking barefoot in the Sahara and another of seeing the aurora borealis in Iceland.
Ava is the author of the recently published "Where in the World is Grammie Now?", a book for young readers to teach them about Saudi Arabia, a country not often studied in middle school curricula. She has also authored a book on her four years in Saudi Arabia:  "Wanderlust, A New Lease on Life in the Kingdom of Saudi Arabia".
Ava makes her home in southwest France and on a remote island off the coast of Maine, USA.
Learn more about Ava's adventures on her Photography & Travel Website
More info