Barcelona is an international tourism destination with world-class appeal. It has unique architecture, exquisite gastronomy and a pleasant climate. With so much to experience and so many people wanting to do so, Barcelona can get pretty crowded. Then what?
We've roamed the countryside and found the Top5 things to do outside Barcelona.
Especially in summertime, the Rambla is bursting with a heated, international crowd, so if you feel like there's an endless line at every attraction and it's impossible to find a free table outside at your favorite restaurant, maybe it's time to venture a bit outside urban confinement and explore the countryside.
Let us present the Five Best Escapes from Barcelona: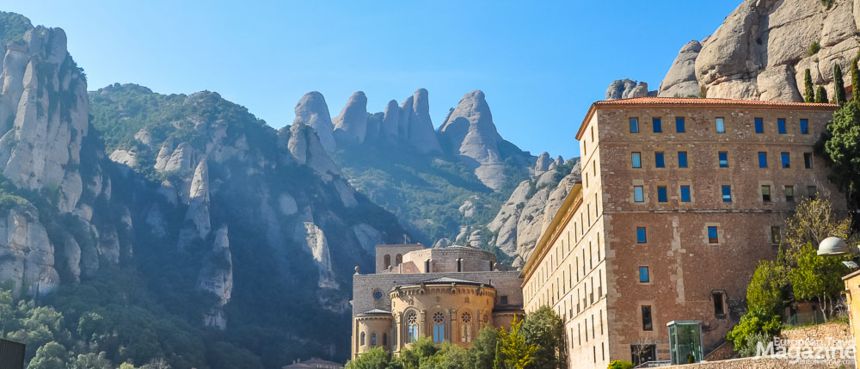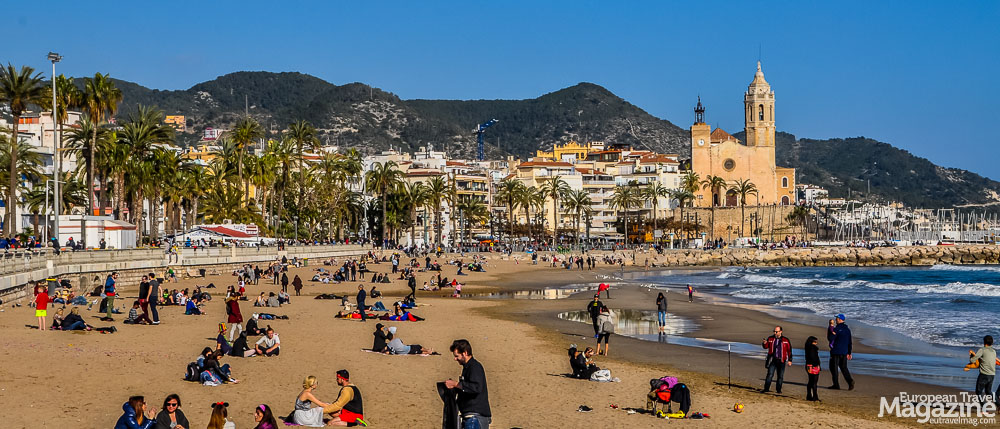 Serenity in Santa Maria de Montserrat Abbey
Hidden in the hinterland of Barcelona, in the Montserrat mountains northwest of the city, lies the marvellous Monasterio de Montserrat, that invites to silent contemplation and nature hikes.
When the car is left at the parking lot and you walk up towards the monastery, you begin to sense the serenity of the place. Maybe it's because no cars are allowed in the monastery area, maybe the volume of the tourist chatter has gone down a few decibel or maybe it's the ancient rocks looking down at you, watching over you, that affords this sense of secluded tranquillity.
Founded in the 9th century, the monastery is home to the statue of the Black Madonna, or the Virgin of Montserrat, which is said to have caused many miracles. She is the patron saint of Catalonia together with Saint George and many Catalonians come to her worship. It was a stronghold for Catalan language and culture during the Franco regime and that still resonates today in the proud Catalan people.
It's free to visit the monastery grounds, church and chapel. However, the Museum of Montserrat, that has an impressive collection of artworks of Picasso, Dalí, El Greco, Chagall, Caravaggio and many others, is 7€.
Parking is a fixed fee of 5€ if you decide to take on the hairpin bends up the mountains with a car on this one-hour drive from Barcelona. Another option is taking the R5 regional train from Placa Espanya to Manresa and then the rack railway up the mountain. It's only 30 more minutes of travel time, but I bet the view is better and the experience is unforgettable.
Crazy creativity in Dalí Theatre-Museum in Figueres
There's nothing holy or serene about this place of worship. Here, we celebrate one man's creativity, artistry and craziness: Salvador Dalí, the enfant terrible of the surrealist art movement. It's colourful, crazy, kitschy – and a whole lot of fun!
He really was very theatrical the dear Dalí, and thus it's very fitting that he converted the previous theatre building in Figueres into an homage to himself, into a museum slash art installation with the star of the show himself buried in a crypt beneath the stage, Always present, always performing – even in his death.
I want my museum to be a unique place, a labyrinth, a great surrealist object. It will be an absolutely theatrical museum. The people who come to visit will leave with the feeling of having had a theatrical dream

Salvador Dalí
And you feel like being inside a labyrinth when you explore the quirky gimmicks and small, decorated rooms. Although it's a huge attraction, it remains a very personal and intimate discovery because the Dalí museum takes you by the hand, guides you through the crazy maze and shows you his creative universe.
Ticket price is a whopping 14€, but then you also get to see his jewelry designs. It's 1,5 hours by car and 2 by train, followed by 15 minutes walk from the train station. Figueres has 3-4 other small museums and a number of restaurants and hotels if you choose to stay the night.
Art Nouveau bubbles at Caves Codorníu
Barcelona is filled to the brim with amazing Art Nouveau architecture – or Modernisme, as they call it in Catalonia. So much architectural beauty is bound to spill over and has luckily done so in a beautiful cava winery in the Catalonian countryside. Caves Codorníu. Now you have 2 reasons to visit!
The parabolic arches speak their own architectural language: Art Nouveau. As a contemporary to Gaudí, Josep Puig i Cadafalch is known for designing Casa Martí in Barcelona, where the legendary pub Els Quatre Gats has quenched the thirst of bohemian Barcelonians for over 100 years (for more information, check out our article about Art Nouveau bars and cafés in Barcelona).
From 1895 to 1920, Puig i Cadafalch created both the winery, with its elegant arches as a Cathedral of Cavas, as well as the owner's white mansion with three distinctive towers, that resembles another of his Barcelonian creations, Casa de les Punxes. But the history of Codorníu goes back several centuries to 1551, where the first documentation of Jaume Codorníu's winegrowing activities puts this winery on the list of the world's oldest family businesses.
In 1872, Josep Raventós Fatjó produced the first Spanish cava employing the Traditional Method and using only local grapes. The bubbles were a raving success and resulted in the fast expansion of the business and subsequent construction of the new winery in Modernisme style. In those days, the winery produced 100.000 bottles ever year. In 1930 this had multiplied to 1 million. In 2010, Codorníu produced 40 million bottles per year.
Caves Codorníu are not just heavyweight wine producers, they are also world champions in wine tourism. They offer a selection of differently themed guided tours and agendas. How about a lesson in pairing cava and cheese, or an outright Puig i Cadafalch visit, where you learn everything about the architecture and the winery. Or simply get a tour of Codorníu, where you're taught about the history and are taken underground to the cellars to ride a little train in what seems like endless kilometres of cava-filled tunnels. Every tour is topped off with a cava tasting. Cheers!
Admission ranges from 12€ for a Codorníu visit to 24€ for a cava and cheese-pairing lesson. It's a 40 minute drive from Barcelona by car, but you can also hop on a bus that leaves Barcelona every day at 9.00 and drives directly to Caves Codorníu for only 4€. There's a wider range of schedules for the journey back til Barcelona.
Medieval Magic in Girona
Girona was a pleasant surprise for us and a welcoming escape from the downtown bustle of Barcelona. Pedestrianised cobblestone streets invites you to stroll the medieval old town, visit the churches, climb the walls and enjoy the view of the countryside.
Historically, Girona is bit of a mess. First inhabited by the Iberians and later the Romans. Then came the Visigoths who were kicked out by the Moors who likewise were kicked out by Charlemagne himself back in 785. For 200 years it repeatedly changed hands until the Moors were at last driven back.
Girona has survived twenty-five sieges but luckily many of the original structures still stand today and lend their historic charm to the city. From the colourful houses standing shoulder by shoulder looking out to the Onyar river to the old town that climbs up the Capuchine hill, painting the area in shades of light grey stone and terracotta.
Our favourite thing to do in Girona was to climb and walk the ancient walls. Dating back to Roman times, Girona outgrew these protective fortifications and demolished most of them 200 years ago. However, part of the wall on the eastern side has been reconstructed and now forms part of the tourist route around the old city that is called Passeig de la Muralla. The many towers are excellent vantage points offering views over the city and the surrounding areas. Its fabulous and free!
Other attractions include the Romanesque Benedictine church of Sant Pere de Galligants, the Arab Baths, the Cathedral built between the 11th and 18th centuries and thus incorporating a myriad of styles, the medieval quarter around the Cathedral and the narrow streets of the Jewish quarter, located within the mighty fortress perimeter of Força Vella.
These are all gemstones, that form part of the treasure that is Girona. But you're not required to visit or venture inside any of the mentioned attractions to feel the charm of this medieval city. You just have to stroll through the streets, wander the walls and take in the atmosphere to feel the ambiance of Girona and discover this pleasant piece of history.
It's approximately an hour's drive from Barcelona regardless if you go by car or regional trains.
Saint-Tropez spirit in Sitges
Only 35 kilometres south of Barcelona, Sitges might be a welcoming surprise even to experienced Barcelona tourists with its 26 beaches, 300 sunny days per year, charming historical centre and lively nightlife. No wonder it's called the Saint-Tropez of Spain!
With the arrival of Art Nouveau artist Santiago Rusiñol in 1891, Sitges became the cultural center of the Modernistas – the Catalan Art Nouveau Movement. This attracted wealthy international visitors, like Charles Deering, an American millionaire who converted Fonollar street, with its characteristic fishermen's homes and the old hospital, into a palace. The Palau de Maricel together with Santiago Rusiñol's home and studio Cau Ferrat – which is now converted into a museum – make up the cultural epicentre of stylish Sitges.
Both museums offer stunning views to the ocean and while Palau de Maricel now houses paintings and sculptures, Cau Ferrat contains the personal – and very eclectic – collection of the Catalan artist Santiago Rusiñol as well as works by himself and his contemporaries. It's a radiant blue Lapis Lazuli gemstone and a definite no-miss if you're interested in Catalan Art Nouveau besides Gaudí.
From this cultural heart, the oceanview promenade takes you either east towards the marina or west towards the many beaches. No matter which direction you go, oceanview restaurants and cafés will tempt you with freshly caught seafood and cool cocktails.
When you're done sizzling at the beach or dining al fresco in a Mediterranean restaurant, you might discover that Sitges has a surprisingly lively party scene compared to its size. The nightlife of Sitges is internationally famed as well as its seven popular festivals throughout the year, like Carnival, Wine Harvest Festival, Festa Major, Vintage Car Rally, a Film Festival and a Gay Pride parade. No wonder it's one of the most popular destinations for the LGBT community! Anyone is invited to the party. Will you go?
It's only 45 minutes by car and 55 minutes by bus from Barcelona and as little as 20 minutes by car from the airport. It has a number of 4-star hotels to choose from, so the question now only remains if Sitges is going to be a Barcelona day-break, or Barcelona is going to be pleasure trip from Sitges..
More info about Barcelona and Catalonia
Learn more