Porto is a treasure trove of Art Nouveau architecture. While other metropoles may have torn down these exquisite buildings as they progressed towards modernity, Portugal was delightedly deprived of those possibilities. And while it unfortunately was because Portugal was in a poor economic state, not actually being able to afford a renovation, fact remains that these beautiful buildings were spared. Now, that Portugal in general and Porto in Particular is blossoming economically, the houses are not torn down but instead carefully renovated. We've found the most beautiful Art Nouveau buildings in Porto and put them on a map for you to find. Come on an Art Nouveau Treasure Hunt with us!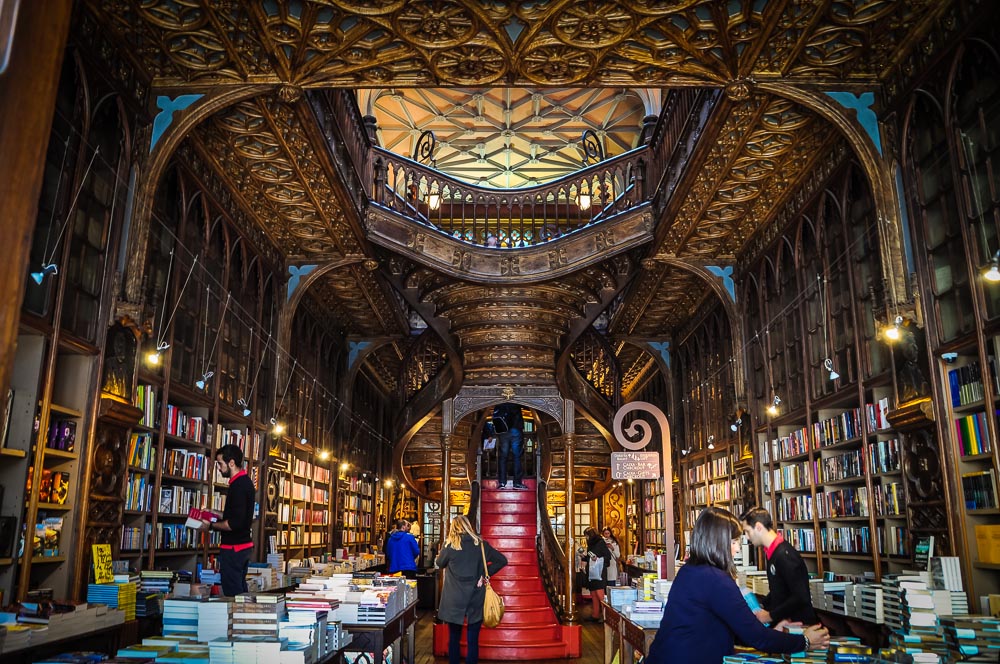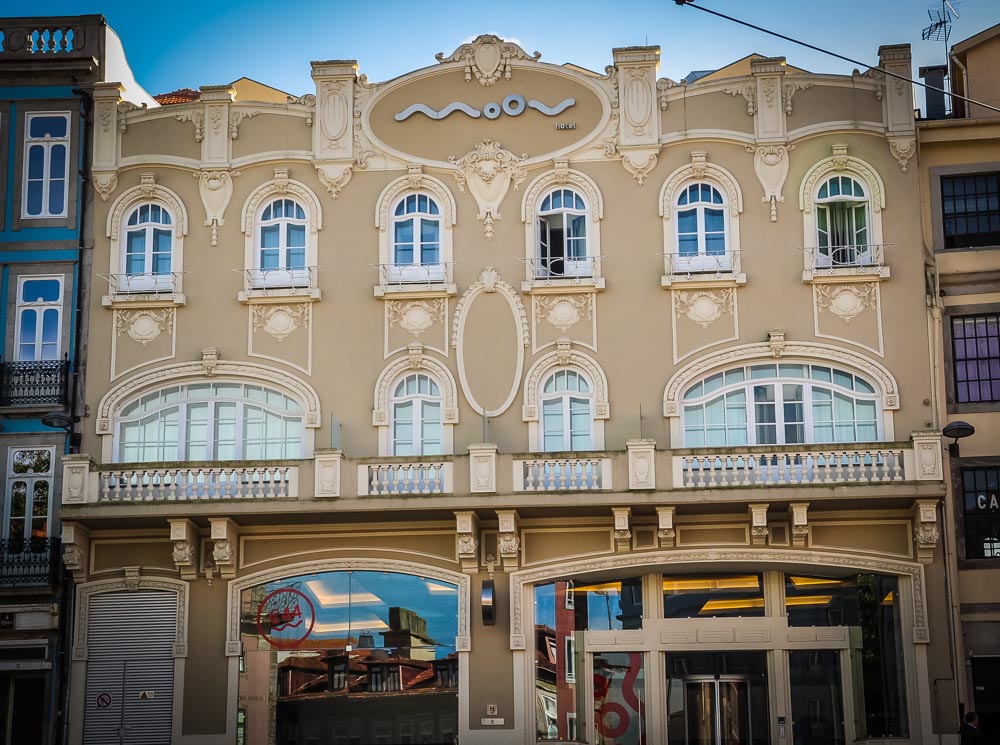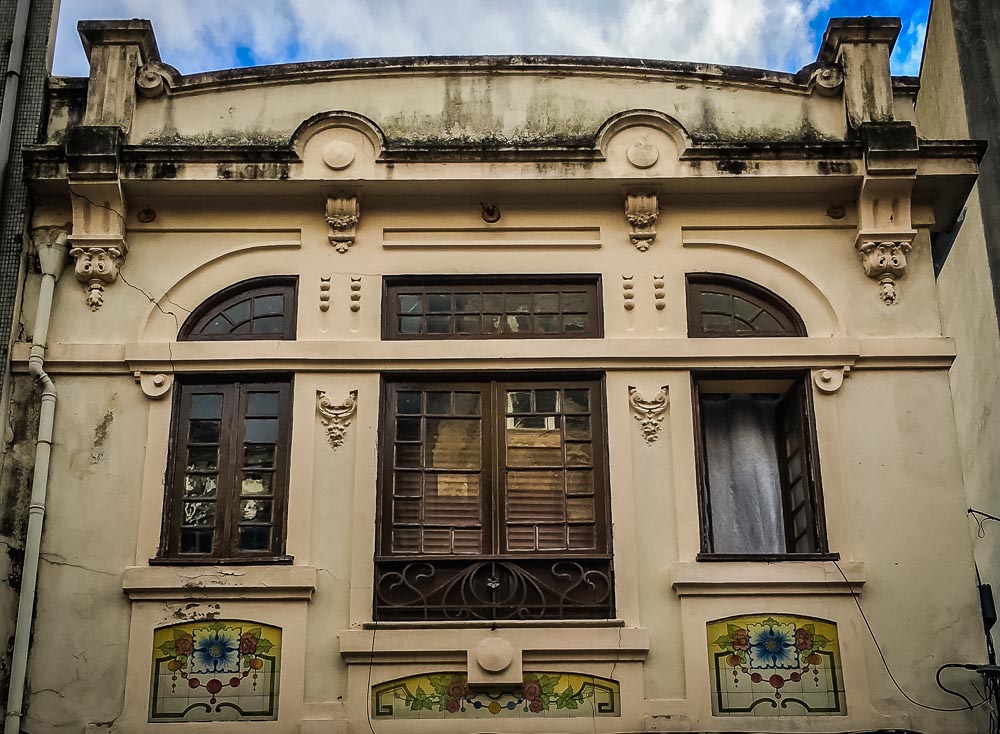 Art Nouveau was an international style that included architecture, interior design, graphic art, textiles, lighting, furniture, jewellery etc. and it can be found all over Europe. Art Nouveau was most popular from 1890 to 1910 and in only twenty years, it gave to the world beautiful pieces of art and architecture, that still shine today in the cities of Europe.
Usually, you can find Art Nouveau houses in certain neighborhoods, following the expansion of a city in the years when Art Nouveau style was in vogue. But in Porto, these architectural gemstones are all over. Follow us in tracking them down on an Art Nouveau Treasure hunt through the streets of Porto.
I'm crazy about Art Nouveau. I love the organic yet industrial architecture, that's a mashup of wild pen strokes and symmetrical patterns. I don't think there has ever been an art movement, that quite has incorporated two so different expressions. So beautiful. Maybe it's the symmetrical lines, that keep the wild nature and flowing graphics in check. And the curves of the wrought iron railing, that softens the composure of the austere architecture.
The craftsmanship demonstrated on Art Nouveau architecture, design and art is also impressive. To make materials like stone, wood and iron look and feel light, curvy, playful, is a feat in itself. There was a kind of playfulness and experimentation defining the art form, that I haven't seen since as an architectural movement.
Art Nouveau was an international style that included architecture, interior design, graphic art, textiles, lighting, furniture jewellery etc. and can be found in most Western countries. It was most popular from 1890 to 1910 and in only twenty years, it gave to the world beautiful pieces of art and architecture, that still shine today in Europe's cities.
In Portugal, the Art Nouveau movement was called Arto Novo and both Lisbon and Porto have many beautiful examples hereof. After spending one lovely month in Porto, searching the city for these overlooked gems, we've made this guide for you with map and all. Now you can go on an Art Nouveau Treasure Hunt yourself. Treasure's in the front, map's in the back:
Around São Bento Train station
We start our tour just near the São Bento Train station, where Casa Coração de Jesus sells religious items. Continue to Confeitaria Serrana, where you shouldn't judge a building by its dull looks. Venture inside to have a look at the amazing interior, and get yourself some pastry to fuel your treasure hunt. Take a walk along the majestic Praça da Liberdade boulevard and marvel at the huge buildings with gazillions of details, like the building of Guarany. And check out the Art Deco parking garage Garajem just up the street.
Head up Rua Sá Da Bandeira and stop by Hotel Peninsular before you reach Danceplanet and A Brasileira, that has undergone serious renovation recently and has emerged as a beautiful Phoenix after many years of careful restoration. Head back down the street and up Rua de 31 de Janeiro instead, where you'll pass the opulent Vicent on your way to the main shopping street. The rest of the Vicent house doesn't look like much, but the sumptuous storefront is worth a mention.
Rua de Santa Catarina
Many Art Nouveau buildings today are shops and cafés. Rua de Santa Catarina, which is the main pedestrianised shopping street in Porto, is no exception. On the corner, you start with Reis & Filhos, a clothing shop for men. Not only its facade is wonderful – the inside as well. Just across, the figurehead of LeYa na Latina bookshop tries to compete with the black austerity of the Reis & Filhos storefront. Further up the street, you have the newly renovated Hotel Moov where only the facade bears witness to its Art Nouveau prelude.
Continuing down Rua de Santa Catarina, the corner bulding which houses Marcolino Relojoeiro has recently been refurbished (just look at the before photos from Google streetview!). The building stands tall and proud, with a daring red colour, details in the window frames beautifully kept. A bit up the street, the Art Deco building Coliseu do Porto is worth a glance as well. Back down the pedestrian street, where Majestic Café offers the most expensive coffee in town. However, it's worth the extra spend to sit inside and marvel at the details in every single item. It's like a mini Art Nouveau museum, like imported directly from Paris.
After a caffeine shot, head down the shopping street to Tezenis, a lingerie store and then to the left, down Rua Formosa past A Pérola do Bolhão, where you can purchase port wine, sardines, olive oil and everything in between. What you can't find here, you can find in Mercado do Bolhão down the street. Surrounding the market are many precious examples of Art Nouveau, some of them still shabby while others are being renovated. Walk inside the market and around on the outside to soak in the ambiance of a time gone by. When done, walk towards Praça da Liberdade boulevard, past it and into the quarter around Galeria de Paris.
Former Carmelite Convent
The quarter around Rua de Cândido dos Reis and Galeria de Paris used to be a Carmelite Convent, that was demolished in the beginning of the 20th century. And because Art Nouveau was the architecture in style at that point in time, the whole quarter is packed with precious Art Nouveau examples like Rua de Cândido dos Reis no. 77 and 129, Rua da Galeria de Paris no. 28. You can find the bar Era uma Vez in Paris at Rua da Galeria de Paris no. 106 – do yourself a favour to pop inside for a 2,5€ fino or 5€ caipirinha and enjoy the Twin Peaks like scenery inside. Restaurante Bar Galeria De Paris at no. 56 has a beautiful renovated façade and quirky interior. Enjoy a coffee or a sangria and take in the scenery.
Step into Fernandes, Mattos & Ca and take a look at the industrial interior, which is a more practical example of the Art Nouveau architecture. You can buy many curious Art Nouveau items and typical Portuguese stuff. Up the road another true gem awaits: Livraria Lello & Irmão. It's like stepping into a Harry Potter bookshop and shouldn't be missed. OK, there's a 5€ entrance fee, but it's subtracted from your purchase in the bookshop. Think of it as a contribution to the retention of this magnificent piece of architecture.
Go weeest
Continuing to the west, head past the charming Art Deco building of Armazens Cunhas and peak at the peacock on top. Turn right at the beautiful azulejos covered Igreja do Carmo and toward another pedestrianised shopping street: Rua de Cedofeita. To the left you pass the former BPI bank with white Art Nouveau windows. If you're game, head further northeast to Maquinas de Outros Tempos, that has a modest Art Nouveau facade and many classic, modern and trendy cameras inside the store.
Or you can turn west on Rua de Miguel Bombarda and look for some cute Art Nouveau buildings, like no. 131 and 596. On this street, many buildings are not yet renovated. Walk past them and dream about your own Art-Nouveau-Fixer-Upper, like me. Before you know it, you are near Jardins do Palácio de Cristal where you can rest your feet and look at the peacocks. When you exit at Rua de Dom Manuel II, check out the charming Art Nouveau building just opposite.
Walk down Rua Jorge de Viterbo Ferreira. At the end to the right you can find a café with amazing views to Porto and the Douro river. Sit there and enjoy the view and let the impressions of a long day seep through. On your way back towards the city centre, you might notice the yellow Art Deco building, an old laboratory, at Rua da Restauração no. 362.

When first you've begun to notice those Art Nouveau features, soon you won't see anything else!
Ready for an Art Nouveau Treasure Hunt? Follow the dots on the map below and spot all the gems of Art Nouveau and Art Deco architecture yourself. The most complete guide to Art Nouveau in Porto:
If you want to discover more of Porto, you might like this Porto City Guide or this Photo-Tour of the Best of Northern Portugal in Pictures.

Learn more