By Lorna Real-Del Rosario, Joey's Lorna Writes Again
Venice (Venezia in Italian) is a major tourist destination in Italy and perhaps tops the list as one of the most charming cities in the world. It lies in northern Italy's Veneto region alongside with other provinces: Verona, Padua, Vicenza and Treviso. The city draws millions and millions of visitors each year. With its enchanting waters, stunning architecture, mysterious passageways, harmonized with clear blue skies, it has all the elements of a perfect backdrop for every romantic setting.
No wonder it was the film location of romantic-comedy movies such as The Tourist, Chasing Liberty and Only You, just to name a few. The calmness of the canals and the soothing gondola rides best characterize love and romance which makes Venice the City of Love.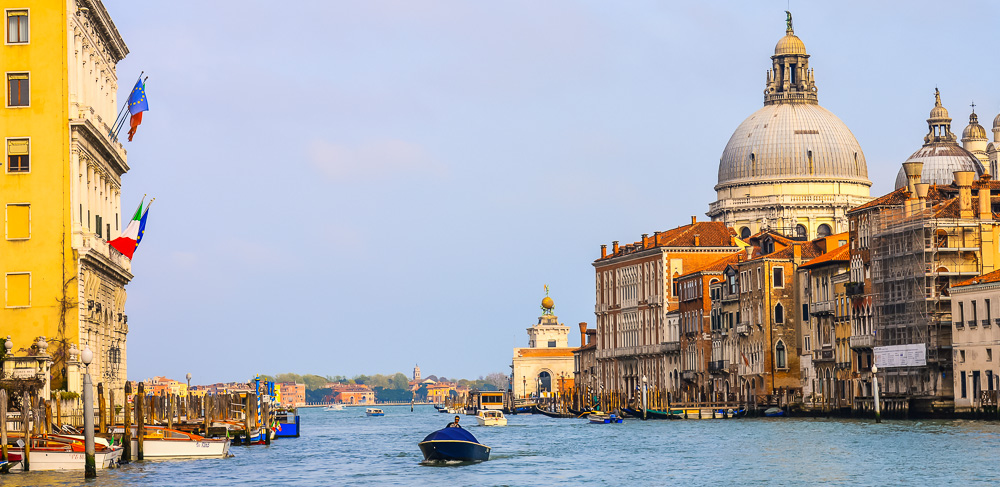 City of Canals
Simply put, Venice is a city built on water; it has no roads. There are nearly 200 canals, with Grand Canal as the largest, separating the city into over 100 islands. To navigate between the islands, there are 400 bridges (Ponte in Italian) while to cross the Grand Canal, there are only 4 bridges. There are no motorized transports allowed in the city; hence, these canals serve as 'roads' in Venice.
Of the 4 bridges to cross the Grand Canal, the Rialto Bridge is probably the most beautiful bridge. Being the oldest bridge, it is one of the most popular tourist spots in Venice. Hence, the area is laden with shops.
The Usual Venice
As with other tourist destinations, there are several things to do and see in Venice. Walking tours and Grand Canal boat tours come in handy but they are quite expensive. When on a budget, a 24-hour ACTV ticket is a good substitute to these guided tours. For €20, it is a hop-on, hop-off type ticket on a vaporetto (water bus) in the City of Venice. The ticket can be purchased at the train or water bus station or even at accredited hotels.
Here's a Top 5 'Usual' list on how to best use your transport ticket.
Visit the St. Mark's Basilica
It is said that in January 828, the relics believed to be the body of St. Mark, the Gospel Evangelist, were brought from Alexandria in Egypt to Venice. Placing his body in the Basilica San Marco
led the way to making St. Mark as the city's patron saint. Photography is not allowed inside the Basilica.
Pose for photos in St Mark's Square (with the pigeons if they are there)
The Square is just in front of the Basilica. This place is always flocked with pigeons and tourists and it may be nearly impossible to pose for photos. Arrive early to get a good view of the square. Take note that feeding pigeons is banned in Venice since 2008 and there are fines for ignoring the ban.
Marvel at the Doge's Palace
The Doge's Palace (Palazzo Ducale in Italian) was the home of the Doge, the ruler of Venice. This was the seat of power and where important decisions concerning the political and public affairs of the Venetian Republic were made. When the Republic fell on 1797, Venice was subjected to French rule, then Austrian, and eventually, in 1866 when it became part of a united Italy. The Doge's Palace was converted as a museum in 1923.
Let the Bridge of Sighs leave you in awe
Located near St. Mark's Square, this bridge was always full of tourists. But what really is this bridge? This bridge connects the Doge's Palace and the New Prisons. Legend has it that the name came about when sighs of desperation were exhaled by captives crossing the bridge as they were taken down to their cells. They sighed because that was their final glimpse of the beauty of Venice.
Step into the mood of art
The "Venice and its Lagoon" was added to the UNESCO World Heritage List in 1987, for its unparalleled beauty. Apart from the city being already an architectural gem itself, it also has a vast collection of numerous artworks. Its galleries and museums are 'haven' for true lovers of art:
Ca' D'Oro Gallerie (Golden House Gallery) – art collection belonging to Baron Giorgio Franchetti
Gallerie dell'Accademia (Academy of Fine Arts) – Venice's painting museum which houses one of several classic Madonna-and-child paintings by Giovanni Bellini
Peggy Guggenheim Collection – Guggenheim was an American art dealer and collector from the 1930s-1950s. Her collection here includes the works by Picasso
The Unusual Venice
Apart from the known attractions, immerse in Venice's rich culture. Here's a Top 5 'Unusual' list:
A different Gondola ride
Venice is famous for gondola and yet again, Venice is an expensive city. A traghetto is an alternative way to experience the gondola without breaking your bank. It is also a public transport and exactly looks like a gondola, but undecorated. For €2, it is technically the "5th" way to cross the Grand Canal. Find the nearest traghetto pier to board it. It is a shared ride so be prepared to stand in case it is almost full.
Be festive in a Venetian mask
Carnival is one of the biggest celebrations in Venice and takes place in the 40 days leading up to Lent when Roman Catholics start to abstain from meat. The word carnival comes from the Latin words carne and vale, meaning "farewell to meat". During the carnival season, stylish, colourful, and elaborate masks are worn in parties and masquerade balls around the city.
Get lost
Traverse the alleys, cross arching bridges and be ready to be in a maze. Look for the Grand Canal to find your way back.
Treat yourself
For €2 a scoop, it is easy to get hooked to mounds of colourful gelato. Or, take a sweet bite of the cannoli. Cannoli is a traditional dessert of Sicily. Shells shaped like tubes are fried and then filled with ricotta cheese but more and more variations have become available like vanilla, or chocolate.
If you're more into salty delicacies, Italy has more than 400 different cheeses, which will cater to your every cheesy desire.
Indulge in a hearty Italian meal
They say you cannot leave Venice without having trying a classic Venetian dish: Spaghetti in Nero di Seppia, which is a pasta with cuttlefish. The ink sack of the cuttlefish is used to create a deep black-coloured pasta sauce. The pasta noodles are handmade and not the typical dried pasta bought from supermarkets. The seafood ingredients are usually the restaurant's fresh "catch of the day".
Arriving in Venice
There are two airports in Venice: Marco Polo Airport and Treviso Airport. From the airports, shuttle buses are available to reach the island; the last stop being Piazzale Roma. A water taxi is also an option when arriving from Marco Polo airport, since this airport is just sitting next to the Venetian lagoon.
Venice, the island, has only one train station, the Venezia Santa Lucia. When searching for accommodation, Venezia Mestre station can appear in booking engines. Hotels near Venezia Mestre offer good value and are decent, but these are in the mainland and nowhere close to Venice island! Venezia Mestre station is another 10-minute train ride to Venezia Santa Lucia station. As there are only 4 bridges to cross the Grand Canal, consider choosing a hotel close to 1 of the 4 bridges.
More info
---
Lorna Real-Del Rosario is software engineer based in Ireland for more than 10 years now. She and her husband have a big appetite for travelling, learning new cultures, and a passion for experiencing varied cuisines. Follow her on her blog.
Learn more