by Linda M. Somma // Travel Designer // Italian Itinerary
As a travel designer who has explored every corner of Italy, I can confidently say that Calabria is a hidden gem that everyone should experience.
I'm Linda from Italian Itinerary, and I'm here to tell you all about why Calabria in Italy should be at the top of your travel list. This region is known for its crystal-clear sea waters and is dotted with ancient villages, castles, and archaeological parks. Not to mention, it's home to three national parks: Pollino National Park (which happens to be the largest national park in Italy), Sila National Park, and Aspromonte National Park.
Okay now, enough of the facts, let me tell you why I really fell in love with Calabria…
Irresistible gastronomy
Often hailed as the spicy heart of Italy, where fiery flavours, spirited locals, and rugged coastlines weave an irresistible tapestry, Calabria is home to some of the best cuisine in Italy. To truly understand the heat of Calabria's cuisine, you must savour the tantalizing flavours of Pepperoncini Calabresi, the famed Calabrian chili peppers that infuse a fiery kick into a myriad of dishes, from pasta to pizza to seafood. Indulging in the culinary delights of this region is a must, especially the renowned 'Nduja sausage, swordfish served with rich tomato sauce and capers, and Butirro cheese that imparts a delicate creaminess to local recipes.
While in Calabria, don't miss the opportunity to savour the ancient Lagane pasta, believed to be the world's oldest pasta. And for those with a sweet tooth, Mostaccioli cookies offer a delightful end to any meal…but don't forget to finish off that meal with a local liqueur, like Vecchio Amaro del Capo, a bitter digestif that many people partake in after a rich meal.
Natural beauty
When it comes to natural beauty, Calabria does not disappoint. Aspromonte National Park is a must-visit for any outdoor enthusiast. The rugged peaks and ancient forests make for a mystical backdrop, leading you through unspoiled valleys and cascading waterfalls. Enthrall your senses as you bask in the untouched landscapes, truly experiencing the essence of Calabria's natural abundance.
My personal favourite part of Calabria is the warmth and hospitality of the local communities. Exploring the quaint Byzantine villages and medieval towns that adorn the Calabrian landscape is truly a unique experience. Engage with the vibrant cultural tapestry that tells the tales of ancient Greek and Roman influences, offering a glimpse into the region's rich history and contemporary identity.
Coastal charms
Now let's not forget about the Calabrian coast! Tropea is a picturesque town perched on a cliff overlooking the clear blue waters of the Tyrrhenian Sea. It's the perfect place to relax and soak up the sun, and the town itself is full of delightful shops and restaurants.
Scilla is a charming fishing village, located on the coast and known for its beautiful beaches and excellent seafood. It's a great place to relax and enjoy the slow pace of life in Calabria.
Another must-visit coastal destination is Scalea. This town is famous for its stunning beaches, ancient churches, and charming old town, which is also perched atop a rocky outcrop overlooking the sea. Don't miss the 13th-century Palazzo dei Principi, a fortress that was once the seat of power in Scalea. Whether you're looking for relaxation, culture, or adventure, Scalea is a destination that is sure to captivate your heart and soul.
Wine estate with Michelin-starred restaurant
Last but not least, a visit to one of Calabria's many vineyards is a must. I had the pleasure of visiting Ceraudo Winery, located in Strongoli, in the southeast of Calabria, and situated atop a hill in the Crotonian area, offering breathtaking views over the entire Ionian coast. I tasted the most exquisite Italian rosé wine during my visit. It was more than a simple tasting; it was an immersive experience. From the luscious wine to the robust olive oil and the unexpected delight of a Michelin-starred restaurant, Ristorante Dattilo at Ceraudo Winery effortlessly captures the true essence of Calabria.
As a slow travel enthusiast, I highly recommend taking the time to explore Calabria at a relaxed pace. There is so much to see and do, and the region's natural beauty and delicious food are just waiting to be discovered. So, what are you waiting for? Add Calabria to your travel list and experience all that this hidden gem has to offer!
More info
About Linda M. Somma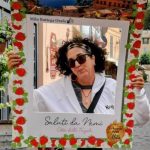 Linda M. Somma, a seasoned travel enthusiast and entrepreneur, boasts an 18+ year professional career in Italy. With dual citizenship in the USA and the EU (Italy), bilingual fluency in English and Italian, and over 18 years of residency in Italy, Linda has cultivated a deep understanding of the country's rich cultural tapestry and diverse landscapes.
As the founder and director of Italian Itinerary, Linda expertly crafts tailor-made travel experiences, offering a unique blend of local insights and cultural immersion. Linda's extensive experience and profound understanding of Italy's cultural intricacies have equipped her with the ideal foundation to flourish as a respected travel designer.