The Italian lakes stretch like Azurite gemstones, guarded by noble mountains in the southern frontier of the Alps. Everyone has their favourite. Some prefer the family-friendly Lake Garda, others the exclusivity of Lake Como, but British-based traveller Pete McDonnell fell in love with Lake Maggiore. Using its pleasant town of Stresa – The Pearl of Lake Maggiore – as a springboard, he discovers the majestic landscape of Italy and Switzerland by boat and train.
By Pete McDonnell
The Big Lake
The lake was named Maximus (or Maggiore) by the ancient Romans, as it was the largest of the pre-Alpine lakes.  Its shoreline reaches the Swiss canton of Ticino as well as the Italian regions of Piedmont and Lombardy.
Previous to our visit to Stresa (population 5.000), that sits a third of the way up Lake Maggiore on its west side, I had spent three days in Lezzeno on Lake Como with my mum, auntie and uncle.  All three are enthusiastic American travellers already thoroughly acquainted and in love with Italy, but this was my first time.
In Lezzeno, and for many miles around, the steepness of the hills comes right up to the water's edge so there was no spacious promenade or wide main road alongside the shore (our hired car constantly fretting with warning beeps every time another car drove past, the roads were that narrow).  The buildings were built on top of each other, with lots of stairs from place to place, and it rained while we were there too.  I am a person who has had a long journey with mental health issues and recovery and I felt just a bit claustrophobic at Lake Como, my anxiety played up a little.  It was charming and lovely, but where we were it was all a bit compressed.
Lake Maggiore is well known for being Lake Como's close companion, but in Stresa the hills don't come as close to the shore.  She has about 400 metres of flat terrain between the water's edge and the hills/mountains.
After the 90 minute drive from our compact corner of Lake Como, Lake Maggiore was a real gift; a vista of sky, mountains and water that went on for a good twenty miles as the car began its descent from the hilltop to the shore.  The sunshine was back and my first look, a bright blue gem, as brightly blue as I had seen on TV or in any photographs, was Lake Maggiore.  Residents must feel as if they are living in a work of art.
Stresa is 35 km from Milan Malpensa airport and is the main tourist resort on the lake, nicknamed "The Pearl of Lake Maggiore". Our hotel, the Hotel Italie Et Suisse had three stars and was nicely situated front and centre of the best part of Stresa, just across the road from the water and the ferry terminal.  Double rooms cost from 95 to 115 Euro, double rooms with lake views cost from 105 to 135 Euro.  That includes breakfast, service and taxes.
Stresa's spacious shoreline promenade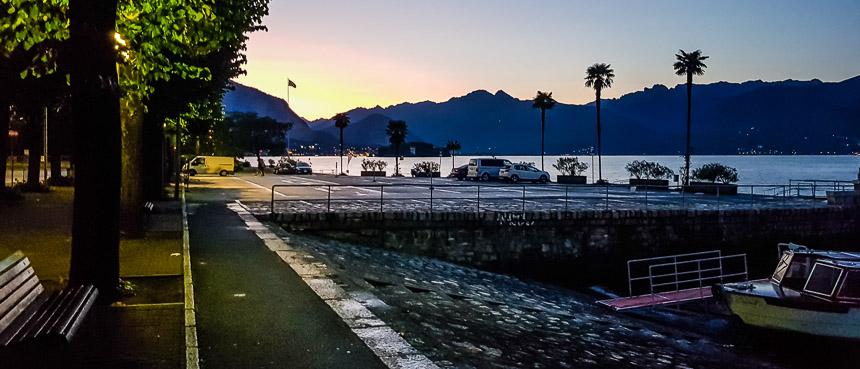 This stretch of spacious promenade alongside the shore for about a mile was a good place to spend an afternoon, for free, just walking and watching.  There were also luxury hotels like the Grand Hotel Bristol and the Grand Hotel Des Iles Borromees (where American author Ernest Hemingway stayed for a period doing a spot of writing) and I've never seen hotel settings like them.  Impressive to look at just in passing, every window and balcony over flowing with Impatiens and other flowers, reds, pinks and blues that the greens of the gardens were humbled by.  The gardens had water fountains and statues too, and though I'm not an horticulturalist, I was impressed.
On my first afternoon in Stresa, after we dropped off our baggage, I went for a walk along this blue mile promenade.  It was a sensation of perfect relaxation, honestly.  With my slight anxiety at Lake Como having all this space at Stresa was so welcome, and I stayed in that slightly euphoric mood for the entire time.  I am remembering it so positively because it really was rather nice.  On the one side were the buildings of Stresa, majestic architecture and on my other side was the water, small ships bobbing about stationary waiting for their next trip and others motoring across the blue.  And the towns on the other side of the lake, with the mountains behind them.
The sun was up, flower arrangements next to benches beside me, so I sat down for a bit and looked more closely at the towns on the opposite shore through my little binoculars.  The benches along the promenade were surely put here by the creator of Italy itself, or at least by the most expert of bench situators.  For people on a budget, it is an inexpensive activity just to sit watching, drinking it all in perhaps with a sandwich and a following Limoncello.  I was hoping Stresa would be good for my anxieties and it was.  There were no stressors here and my mind felt free in every way, happy to be on a natural high.
The hills are alive with..
After an hour of lake gazing I walked further along the shore. "Hey look – shops," I said to myself. The rest of the party had opted for a left turn from the hotel to see the gardens more closely, I turned right.  I browsed a clothes shops, then a golf shop, thinking: "What a nice little addition to the lakefront, but surely there are no golf courses closeby, not with these hills."  The hills to the North of Lake Maggiore are home to three of Europe's top predators: Wolves, Lynx and even Bears.  Rare, but there.
I loved the theatre of it.  The excited thoughts of what it would be like, the big vista from five miles away from high up that was the definition of the word 'beckoning' and the shoreline gardens, hotels, flowers – the aesthetic blueness in the air that said: "Welcome, you are here. Dive in and enjoy."  It was emotionally musical.
The meat of my first day was simple relaxation and it fell right off the bone.  No planning or effort at all. For the flowers and gardens it is best to go in June but they were still at near full effect in early September.
Dining "al fresco"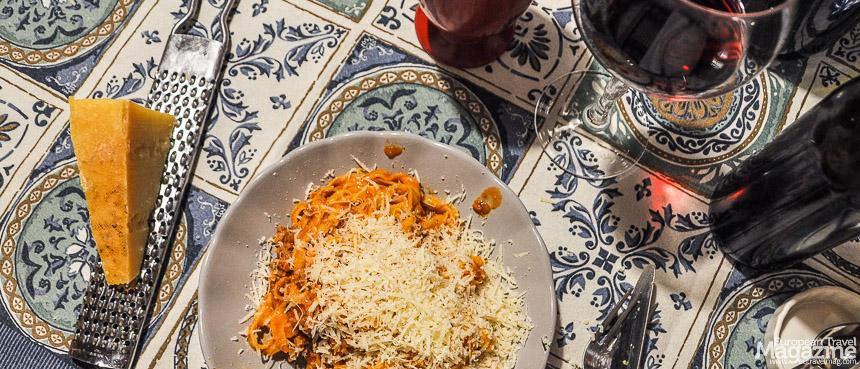 In the evening we ambled to the small square behind the hotel for dinner, a hub with about ten restaurants and some tourist shops.  The outside seating for all the restaurants was a collective, come together as one in the square's centre and the various restaurants on the perimeter brought the food to the middle.  It was cute and very socially sharey.  There was no competition for our business, just an agreement by the staff to give us lucky tourists a real taste of Stresa.  The food was pretty standard Italian as well as Pesce Persica; a variety of perch from the lake, Cinghiale; Wild Boar, Toma and Bettelmatt cheeses and wines from nearby Piemonte.
After our meal and another Limoncello (those little shots of lemon liqueur were just Italy in a glass) I went back to my bench on the shore a one minute walk away and watched the sunset over the hills, golden yellow, watching as the lights of the towns across the lake came on and most of Lake Maggiore fell asleep, the rest of it switching to whispered conversations.
Boat trip to Switzerland
Next morning the hotel buffet breakfast was tasty and sufficient.  Sadly no Limoncello offered, though.  Then up and at them for a 30 metre walk to the ferry terminal for the Lago Maggiore Express – three hours on the boat north to Locarno, Switzerland, then the Cento Valli scenic train west to Domodossola, then a regular train south back to Stresa.  The Lago Maggiore Express is the name for the entire journey and one ticket, 34€, is very reasonable for these 3 trips.  It also includes a large 3-course lunch on the boat.  The boat had four decks including an open air, not all that popular today, it was a bit wet and windy.  It was not busy, carrying between 60 and 70 people.  We sat down on deck three and had a coffee, and it was ciao for now, Stresa.
We went to deck two for our reserved lunch table.  I was wearing a t shirt, jumper and jacket, but felt a bit chilly throughout lunch.  If sunshine is not predicted, wear a winter coat, the windows and walls of the boat were thin and the cold got in a bit easily.  Our table was set before we got there with the usual choice of both still and sparkling water, eight small bottles.  The Italian waitresses (who are always rather lovely) wheeled in large trolleys of food from the ship's lift in the centre of the deck.  The only choice at lunch was either trout or pork, the rest of it was from a set menu, but it was very plentiful.  After waiting for our turn, we were served Risotto from the trolley, cheesy and herby.  Then the next trolley arrived 20 minutes later. delivering Penne Pasta with tomato sauce.  Both very commendable, cooked in large batches.  We cleaned our plates with me thinking that was it, but then she came round again and offered fish or pork with roasted carrots and potatoes, as well as green beans.  I'm sure we had dessert too, and I think it was Tiramisu but to be honest I don't remember it.  Then we had coffee.
Train Trip of 100 Valleys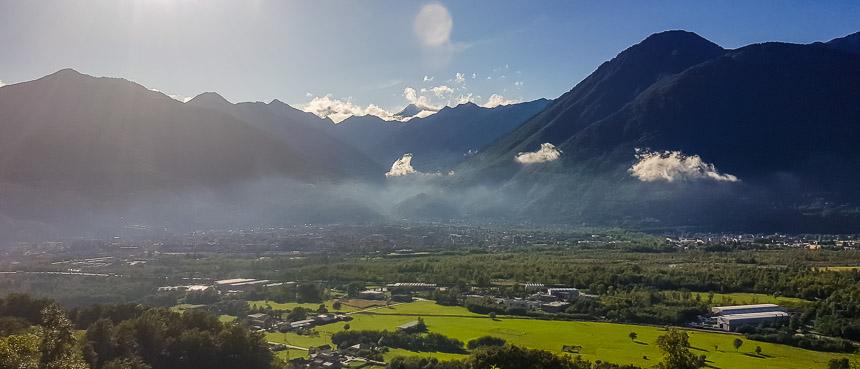 We were seated at the window, but skies were grey and there was little to see…such a shame.  The mist blocked much of the landscape.  We got to Locarno in Ticino, Switzerland, weather still grey but not raining.  Our Cento Valli train was ready in an hour so we didn't have long, but Locarno is a great place to buy some chocolates, a Rolex and if you are inclined towards it, a cuckoo clock.  It wasn't cheap though, I bought some chocs and noted that a Big Mac in McDonald's cost 10 Swiss Francs, about 9 Euros.  The train station was a five minute walk from the ferry terminal and easy to find.
On we hopped, the train had big windows but no seating with tables.  The trip to Domodossola was 1,5 hour and snacks were available.  It was clean and comfortable, warm, and quite exciting.  As we pulled out of the station, the sun returned.  The Cento Valli – meaning 100 valleys – has 83 daring bridges, but despite my dislike of heights, the excitement didn't turn into fear.  I was a touch worried about that one…
The remote valleys had views of grandeur aplenty with waterfalls, meadows, vineyards, chestnut forests and the best bit, small Swiss villages on slopes, with colourful houses and train stations, clinging on to the inclined landscape.  We soared loftily from village to village, crossing great highs, seeing rainbows and bright greenery.  Those small villages with the little houses were the tops when it came to charm, and pulling into each one was like a cheek kiss and a handshake from Switzerland.  At one stage my uncle was certain he saw Julie Andrews bottle feeding some cows.
From Domodossola we trained it back to Stresa on a regular Italian train.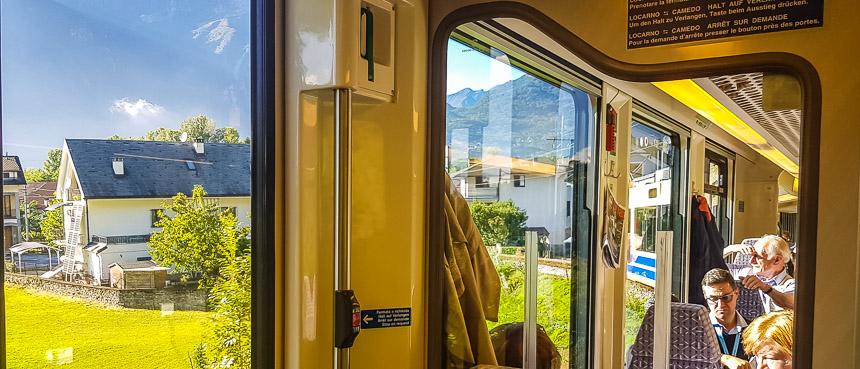 That was it this time round, it was just a short stop at The Pearl of Lake Maggiore.  The next morning we returned the VW Golf estate to the hire company at Milan Malpensa airport.  At the outset, I was hoping to be included on the insurance for the VW so I could drive it too, but it was over 100 Euro so be wary that it can be expensive to have two named drivers on the paperwork.  Then we started queueing for our baggage drop off for our flight at 12.30 with British Airways direct to Heathrow London.
We got there at 9.30 with a huge queue and were there for two hours.  We had checked in online but be aware that checking in online does not excuse one from joining the check in queue simply to drop off one's suitcases.
More info
About Pete McDonnell
Pete McDonnell is born and bred in Basingstoke, Great Britain and writes about travel and mental health on his blog. He has developed a love for travelling and is rather upset about Brexit, wanting to promote togetherness and solidarity in Europe. Pete can now include Lake Maggiore, alongside Edinburgh and Tuscany, as his favourite place in Europe.
Learn more