Benedictine and Jesuit fathers were the founders of the libraries we appreciate today in Sicily. Carefully, they amassed historic manuscripts, numismatic collections and texts pertaining the history of Sicily through centuries, and when they were kicked to the curb, their bibliographical heritage remained. The most beautiful libraries are located in their Renaissance or Baroque cradles: in ornate abbeys, monastic schools and Baroque churches. And one right in the street.
Sicily is overflowing with beautiful Baroque architecture, savoury food, stunning seascape, Greek ruins and wonderful weather. The Gods really were in a great mood, when they created Sicily. It has been at the centre of seafare in the Mediterranean and has been ruled in turn by countless tribes, dynasties and kingdoms for more than 2.500 years. No wonder it's a bit messy.
Phoenicians, Carthaginians, Greeks and Romans, then Vandals, Ostrogoths and Byzantines, then Arabs, Normans and Germans. It fell under Angevin, Aragonese, Savoyard, Habsburg and finally Bourbon rule. It wasn't until 1861 that Garibaldi made Sicily a part of The Kingdom of Italy. All those rulers, all those influences all made a mark upon this multi-facetted island.
Much of Sicily's bibliographical heritage is stored in its historic libraries. Carefully preserved by monks through centuries, these books, manuscripts and texts are displayed in wonderful Baroque libraries, that bejewel Sicily's principal cities; Palermo and Catania.
Riunite Civica and A. Ursino Recupero Libraries
This wonderful, Baroque library with its unpronounceable name is located in an 18th century, former Benedictine monastery in Catania. The Monastery of San Nicolò l'Arena complex is one of the largest in Europe and forms part of the University of Catania, and it's a delight to see this historic space still being utilised by students.
The collection of the Biblioteche Riunite Civica e A. Ursino Recupero is a unification of several collections. Like the name suggests, it's a fusion of the Civic Library of Catania – which owes the greatest number of volumes to the former library of the Benedictine fathers – and the library of Baron Antonio Ursino Recupero.
The impressive reading room is called Sala Vaccarini, in honor of its architect, and the main door bears the date 1733. The vault is frescoed by Giovanni Battista Piparo with the triumph of science, arts and virtues. The room has remained unchanged since its reconstruction in the 18th century.
Because the earthquake of Val di Noto destroyed the entire east coast of Sicily and Catania in 1693 and left the monastery in a rubble, the monastery (and most of the architecture in the region, really) was rebuilt in the Baroque style, as that was all the vogue at that time. Because of this, the monastery is a UNESCO World Heritage Site as part of Val di Noto World Heritage Site.
It's possible to visit the library on a guided tour during its opening hours for a small fee of 5€ after making an appointment.
Municipal Library of Palermo

Leonardo Sciascia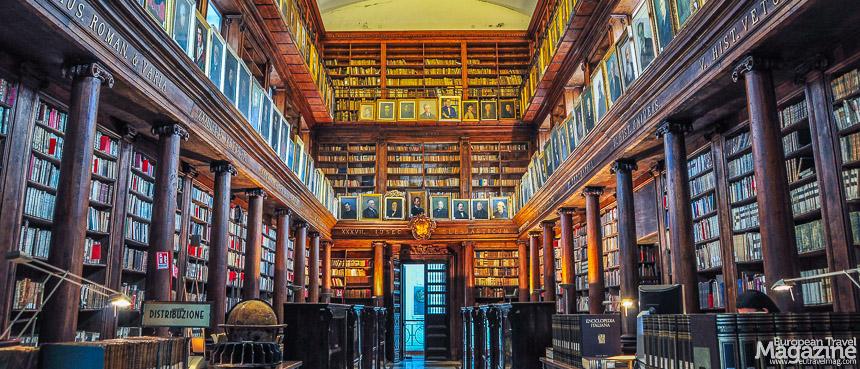 The library was founded in 1760 as the public Biblioteca del Senato. The first years it inhabited Palermo's Palazzo Pretorio, but when the city kicked out the Jesuit monks in 1767, their mother house Casa Professa was conveniently available. The library opened in this space in 1775.
This – in comparison to the pinnacle of Baroque opulence in next door Chiesa del Gesù – modest dwelling of Casa Professa was completed in 1564. Chiesa del Gesù, however, was built later and completed in 1636. It's one of the most important Baroque churches in Sicily and the most important in Palermo. It's interior is quite stunning.
But, back to the library, which contains many manuscripts pertaining Sicily's history, a numismatic collection and important, medieval texts, amassing the collection to 400.000 items. These were primarily compiled from other convent's libraries, as religious orders were suppressed by decree in 1866 and their property confiscated.
The library complex is a labyrinth of reading rooms, newspaper libraries, and deconsecrated churches that now hold book deposits.  The ornate bookcases, that you can see in the reading rooms, were built in the 17th century and come from Casa dei Padri Filippini all'Olivella for which they were designed.
The 8th of January 2020, the Biblioteca Comunale di Palermo was named after the great Sicilian writer Leonardo Sciascia. You can get a good look around the library on one of the free, guided tours that take place every weekday, twice a day.
Central Library of the Sicilian Region Alberto Bombace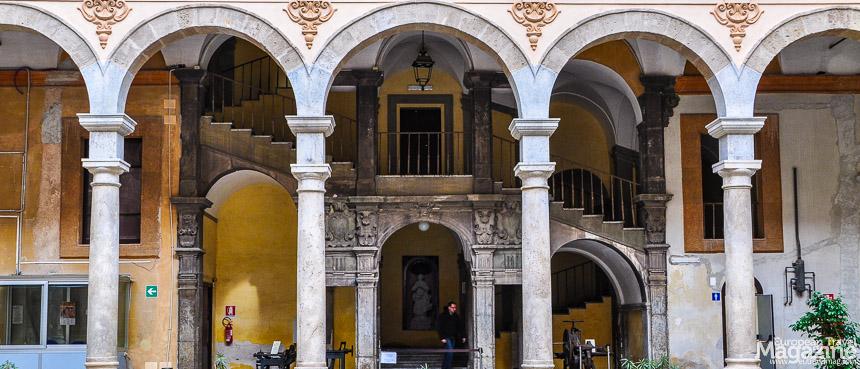 Born on November 15th, 1782 in the monumental complex of Collegio Massimo dei Gesuiti from 1586, and from the baroque church of Santa Maria della Grotta, this library owes its creation to Gabriele Lancillotto Castelli, prince of Torremuzza. Like the municipal library of Palermo, the bulk part of its collection originates from the Jesuits' library when it was confiscated in 1767.
Collegio Massimo was built as a school for Jesuits and that feeling of mixture between university, convent and library still exudes from its edifice. With the unification of Italy in 1860, it became a national library and its bibliographical heritage consists of about 1 million volumes, the oldest of which dates back to the 10th century.
Not just its bibliographical heritage is worth a visit. The historic interior also features some beautiful fresco ceilings by Pietro Novelli from 1630.
While the library is primarily used for acquiring information about Sicily's history, it's also open for anyone who'd like to read the occasional magazine or newspaper. If you're keen on learning more about this amazing library and building, you can sign up for a free, guided tour.
Biblioteca Privata Itinerante Pietro Tramonte
The last of our Sicilian libraries isn't located in some grand, Baroque building, nor has it any significant bibliographical heritage. But it's as Sicilian as it gets. Bookcases are squeezed together outside, directly on the walls in this little street just off Via Roma. Located in a car-limited area, in Palermo called ZTL (Zona Traffico Limitado), they've jokingly labelled the area Zona Traffico Libraria: Library Traffic Zone.
The private library of Pietro Tramonte is wonderfully unpretentious and very street. You give a book to get a book, and if you want to buy a book, a comic, a map, a drawing or one of the many other things, the collection of Pietro embraces, you donate an appropriate amount.
Pietro is the Godfather of Books himself, and loves to chat with anyone looking for information or conversation. He exemplifies the hearty Sicilian amiability that we got to love in our month here on this sun-kissed island, and his little library / second-hand book shop is definitely worth a visit!
More info:
Learn more