By Fabiolla Loureiro – www.fabiollaloureiro.com
I remember the first time I travelled to Budapest… and I precisely remember falling in love with the city in the first couple of hours. You know when you have the feeling that you already know the place, the energy, the people, the atmosphere? You feel so at ease, in the sense that you have been here before. Budapest feels like that, like home to me.
There are things we can not explain with words, actually. The experience we have in each city is unique and will never repeat itself, and Budapest has a lot of meaning to me. I had amazing moments there, so beyond my words, that instead I'll try to seduce you to get to know this enchanting city through my pictures, because I want to ensnare you. I want you to be captured by my experience through my lens. I want you to look at it and stay – and understand why is difficult to turn your head away and why Budapest is one of my favourites cities (not to mention one of the most beautiful cities of Europe!). I've been to other cities in Eastern Europe, but Budapest is undoubtedly the one and only.
Budapest is a land with valuable and strong culture. Add to that, beautiful and welcoming people, music, arts, wine and pálinka (oh pálinka, meaning that strong traditional fruit brandy, not for everyone I must advise, but if you can handle it, you're ready to dive into Hungarian waters!). Furthermore, the mighty Danube river, which splits the city in two, churches, castles, cathedrals, the amazing bathhouses and the spectacular architecture that can be Gothic, Baroque and Szecesszió, which is the hungarian version of Art Nouveau. Although the city has been through wars and several damages, for our delight, its architecture is very well preserved.
I could describe here a super guide for you, but I'm more inclined to tell you in my own words why you should go and what sights to visit in your first trip there (and even if you already know it), why it's worth to see all over again.
The Chain Bridge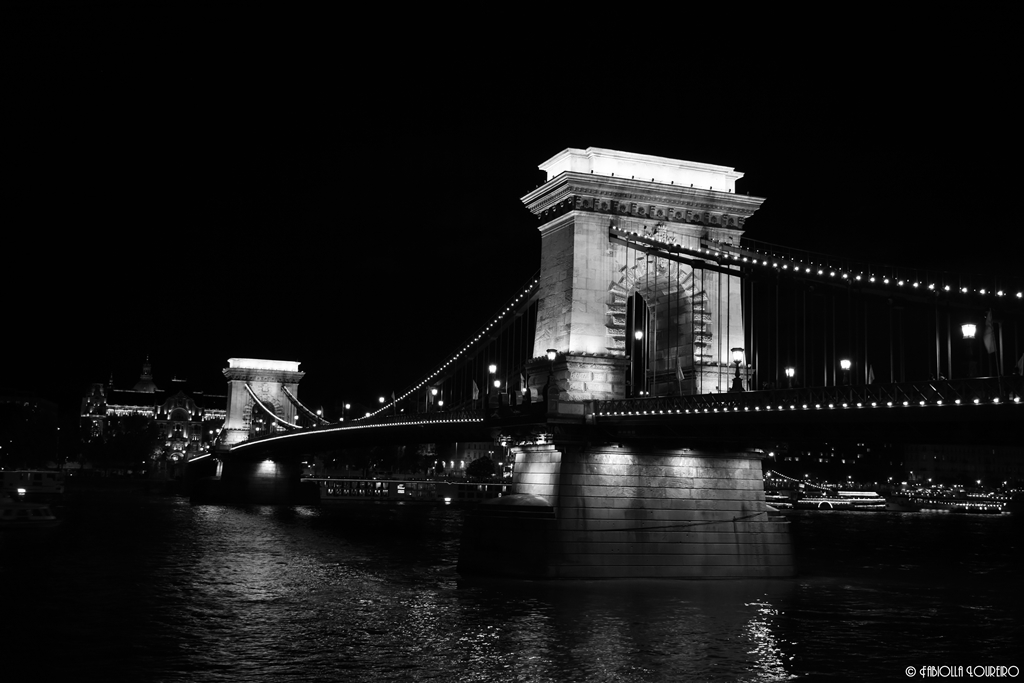 First, book at least one week to go. Budapest isn't the biggest city of all, but there are lots to see and do.
The main attraction of the city and main postcard is undoubtedly the magnificent Chain Bridge named Széchenyi Lánchíd. I remember when I was there for the first time. It was late December and so cold, foggy and rainy, that as soon as I'd had dinner (the best goulash ever, at Dubarry), I went straight to the bridge and I stayed there; walking, taking pictures, admiring the Danube, Pest and Buda, just feeling the energy of this amazing work of art. The bridge at night shines like gold and it's hypnotic. By day it's beautiful as well, but at night…well, it's breathtaking.
It fascinates me so much, that in my 7 days in Budapest, I went there countless times, day and night. I prefer the night and also the beautiful sunset hour, but it's up to you. The thing is, you simply have to go. Another tip is, go to Buda side and take shots from the top and take a panoramic view from it, it's magnificent!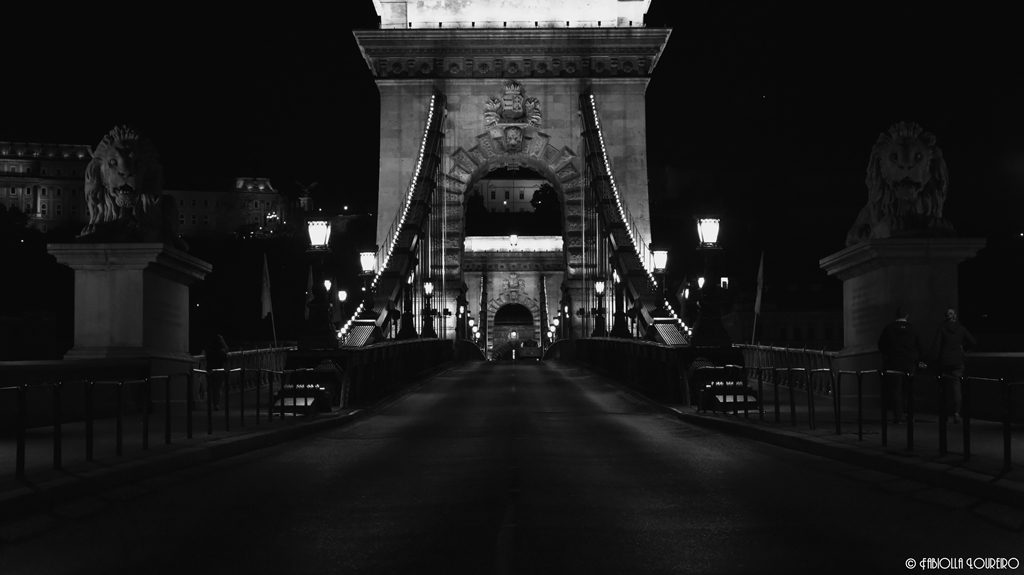 The Hungarian Parliament Building
Another landmark of the city. It's hard to talk about Budapest without been repeating myself, but truth to be told, the parliament is dazzling beautiful and also impressive by its haughtiness. Located between the bank of Danube and Lajos Kossuth Square, it's up to this day the biggest building in Budapest, the tallest one and the 3rd biggest Parliament of the world. Its Neo-Gothic style makes you want to stay there and photograph for hours. So many details to be seen and admire.
Plus, you have the change of the national guard and if you want, buy a ticket and venture inside. I haven't got to do it myself yet, but I'm sure next time, I'll visit it for sure. Actually, I was hooked by its external beauty and greatness! Day, night or sunsets, don't miss it!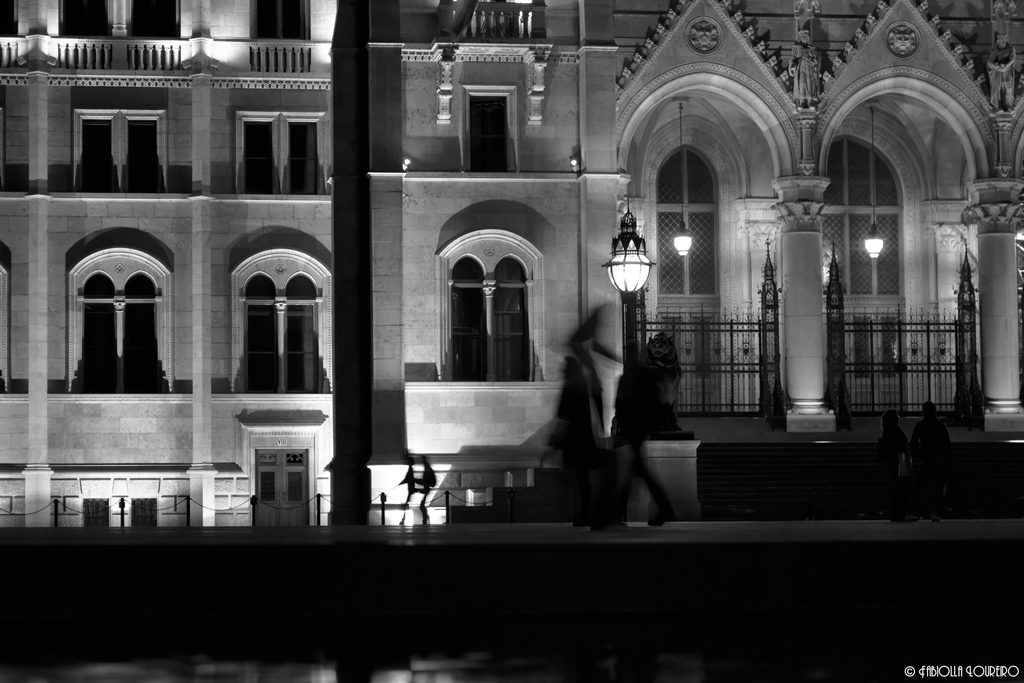 St. Stephen's Basilica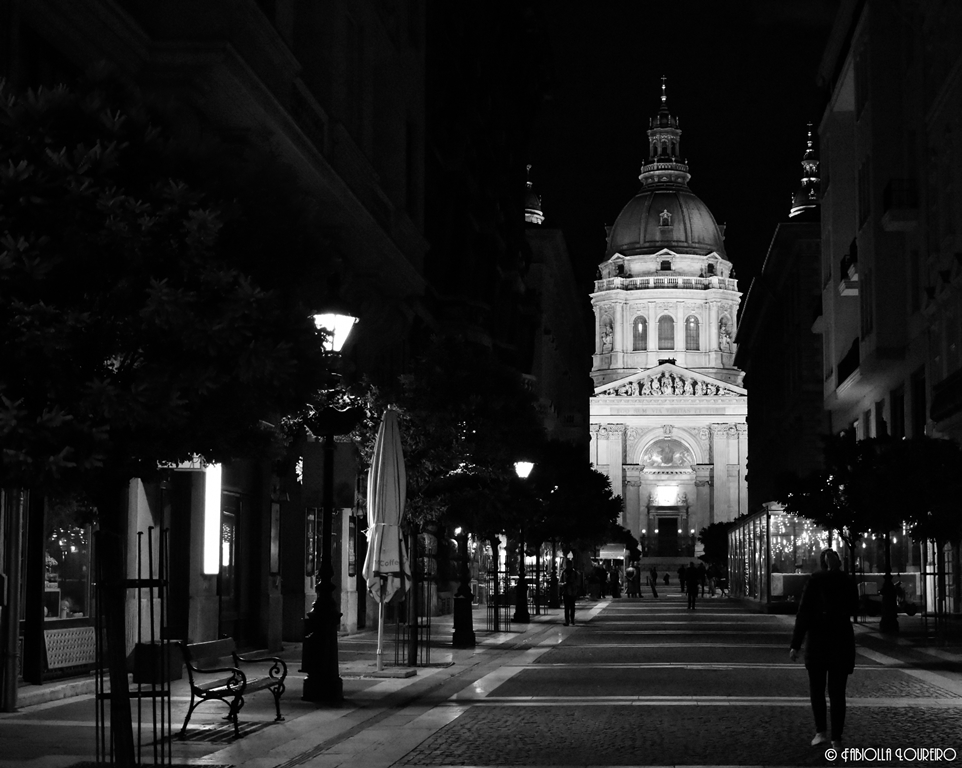 First time I went here, I didn't go upstairs in St. Stephen's Basilica that is the Cathedral of Budapest. It was really cold and windy, so the weather, although I loved it, didn't encourage me to go up. But my second time here, I did, and I was lucky. It was a beautiful, sunny day and the 360° view from up here is simply delightful. You can see the whole city, Elizabeth's bridge, Gellért Hill, ancient buildings, the Parliament, all of Budapest at your feet.
It's a huge basilica and has a capacity for eight thousand people. The architecture is more like a Greek style and has a beautiful cross floor plan. If you happen to be lucky with the weather, go up. You won't regret it. The Basilica is dedicated to István (or St Stephen), the first Christian Hungarian King.
Andrássy Avenue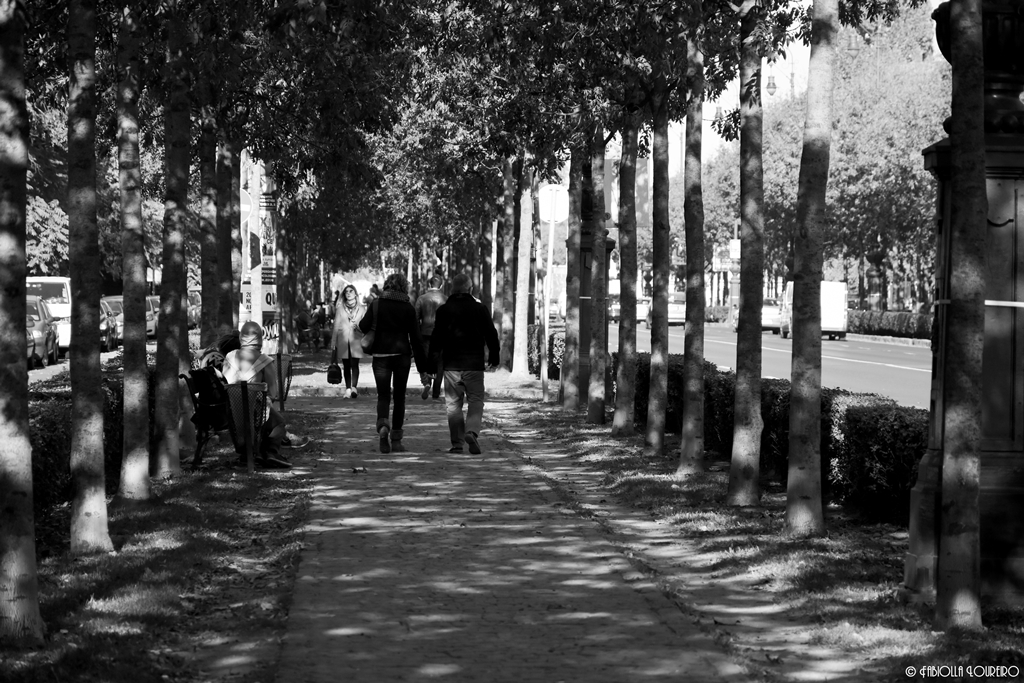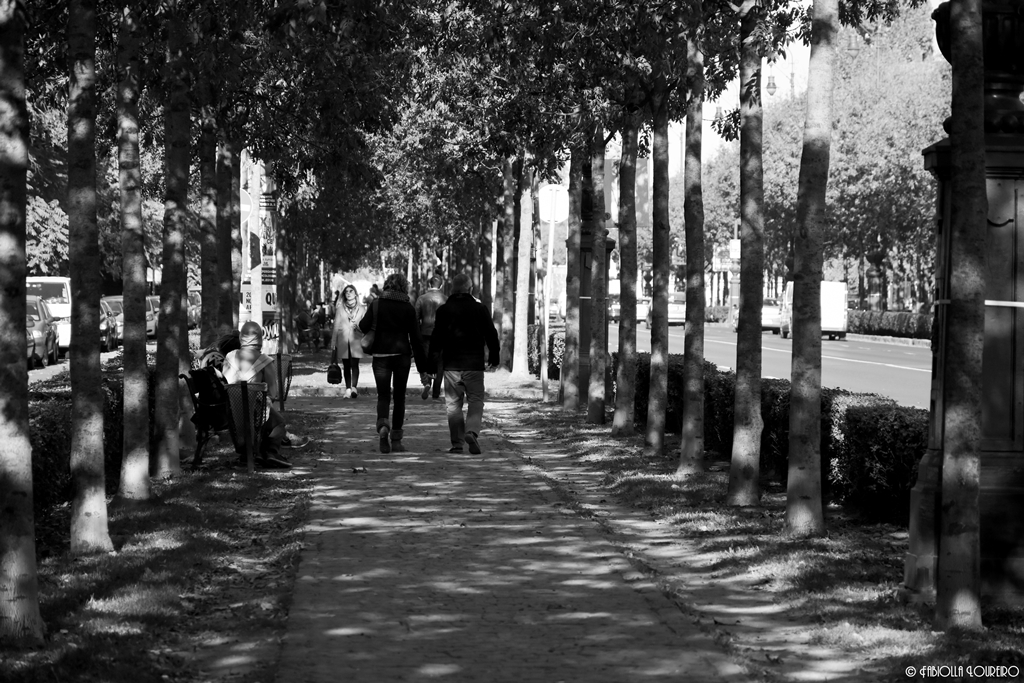 I don't know about you, but one of the things I love to do when I'm in a new city, is to walk. I love to walk and see the city from my point of view as a photographer. If I'm on a bike, tram or car, I can't have my precious moments to photograph the beauty I witness. So, one of the things I did a lot here was to walk up and down Andrássy Avenue.
You will see beautiful elegant cafes, posh shops, the Hungarian State Opera (built to rival the ones in Vienna, Paris and Dresden), Museum of Fine Arts and, at the end of the avenue, the Heroes Square. Here you will find statues of Hungarian leaders and politicians and in the center of it, a big column with Archangel Gabriel on top. Behind the square, in the city park, you'll find the Museum of Fine Arts, Vajdahunyad Castle and Széchenyi Baths, the largest complex of spas in Europe.
But what impressed me the most at Andrássy Avenue was the must see House of Terror Museum. I'm fascinated with themes relating to WWII and Cold War. So, if you're into it, visit House of Terror. Moving experience and you can have an idea of how difficult life was for Hungarians during those terror regimes. The background music that plays within the museum hit me like a bullet. The museum is a monument to those who were killed and tortured in that very same building during Nazi and Soviet times. Outside of it, you will see the iron curtain. Literally.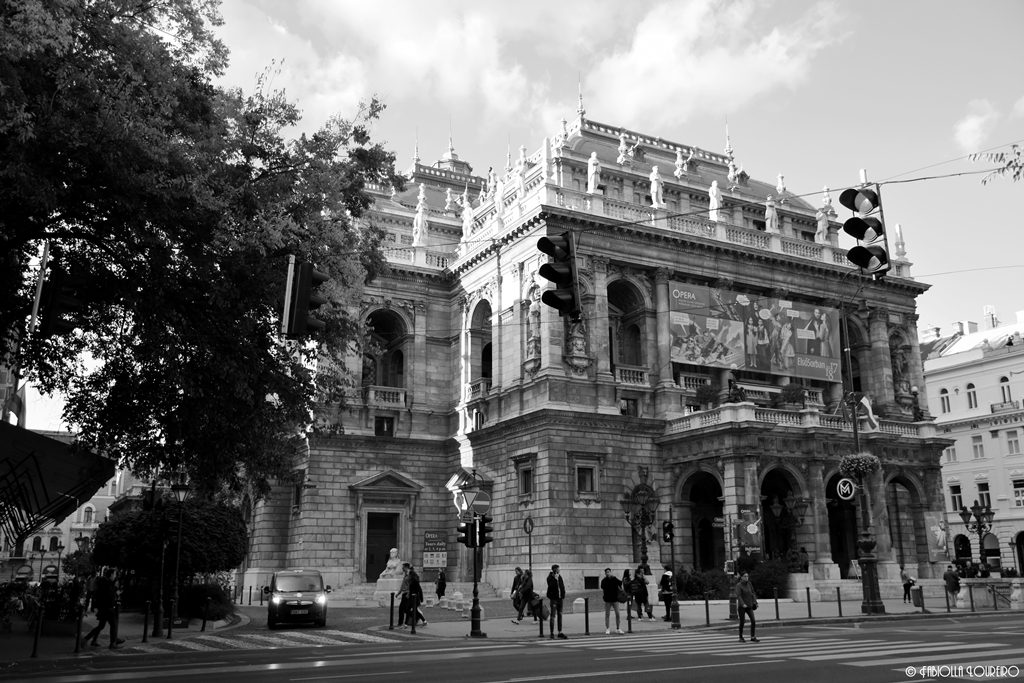 Buda Castle
In order to have one of the most astonishing views of the city, you have to be on Pest side to admire the view of Buda Castle. Within the Buda Castle you will find the Royal Palace, History Museum and the National Gallery. The current structure is 300 metres long and it was almost entirely rebuilt after the Red Army reduced it to ruins in 1944/45. The reconstruction took many years. Around 1966 its exterior was complete, but its interior restoration was not finished until the 1980s.
There are two ways to get to the castle. One is taking the Castle Hill Funicular. The other is to walk. I did both ways, and when I walked, I did so through the gardens around the Castle Hill district. Lovely experience. I also went to the Museum and National Gallery. If you have time, visit them. If not, enjoy the experience outdoors, the view from the castle is also breathtaking. From up there you can see the whole city, the Chain Bridge, Parliament, hotels, Elizabeth Bridge, Liberty Bridge and Margaret Bridge. From here you can continue exploring the Buda side of the river and walk to Fisherman's Bastion or Gellért Hill.
Buda's Old Town
To get to this other beautiful sight of Budapest, all you have to do is to continue to walk inside Castle Hill district and then you will see the Hole Trinity Square, where there is a column representing the overcome of an epidemic plague the city suffered in 1713.
In its corner is the unique Matthias Church, a neo-gothic reconstruction built between the 13th and 15th century. Much of it was altered when the Turks invaded the city in 1541 and changed it into a great Mosque. After 1686, Jesuit fathers changed it to Baroque style. Pay close attention to its roof, beautifully multi coloured with glazed tiles. To take a better look at it, go up in the conical towers of Fisherman's Bastion, a construction meant to be a defensive building, but now functions as a viewing terrace. From here you have the best view of the Parliament.
Get lost within the towers, it's even more fascinating at night, when you can see the city glittering in golden shades. And if I were you, I would spend some time on this side of the city, which is more calm, not so touristy as in Pest and with a lot of things to see and do. The architecture is beautiful and add to that: Golden Eagle Pharmacy Museum, András Hess Square, Hilton Hotel (a rare example of modern architecture combined with historic remains), Mihály Táncsics Street, Vienna Gate Square, Buda Lutheran Church, Church of St. Mary Magdalene and Lord's Street.
Gellért Hill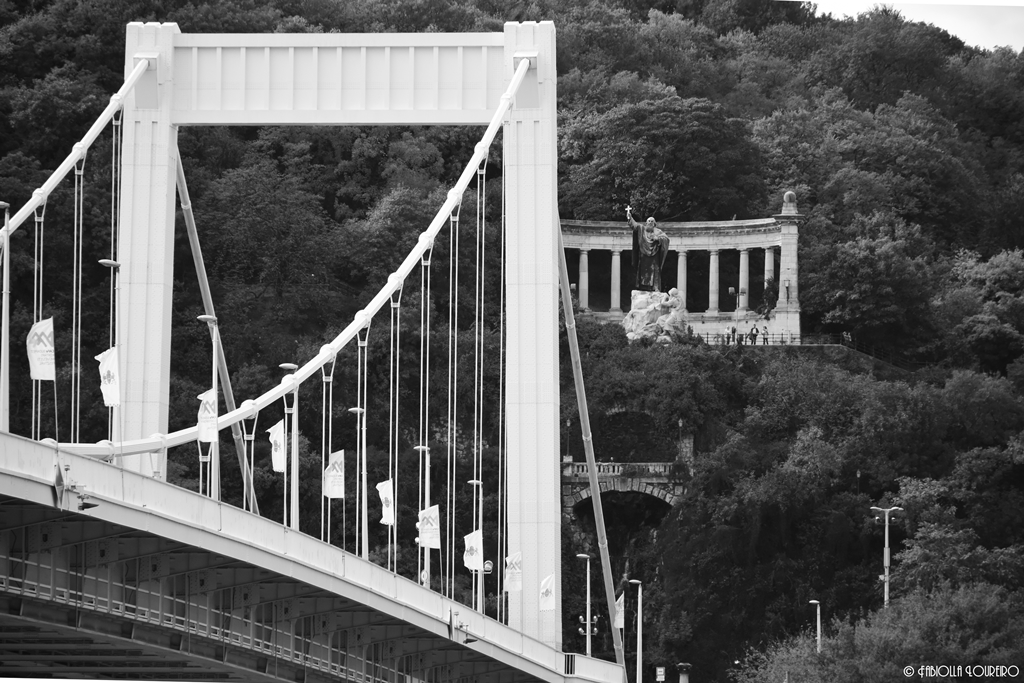 In my opinion, one of the most alluring areas of the city. Also on the Buda side. From its 140 metres (460 ft) you can see the whole city unfolded right before your eyes. Museums, churches, historic buildings, hotels, thermal baths and monuments.
My favourite place here is the Citadel, a fortification built by the Habsburgs in 1850, primarily as a military establishment. It ended up more like a sight to intimidate the population in case of any uprising. The structure is currently closed due to legal dispute, but from here, you have a panoramic view of the whole city, plus the Liberation Monument: a magnificent composition of three statues, where the main one is a woman holding aloft a palm leaf and the other two represent the battle against evil and progress. This monument was set up here to celebrate the liberation of the city by the Russian army in 1945, although it was also the beginning of Soviet rule.
From there, you can go down through its beautiful gardens and find the Statue of St. Gellért, the patron saint of Budapest. The statue overlooks Elizabeth bridge and can be seen throughout the city. Arriving at the foot of Gellért Hill, you will see one of the most famous bath complexes in the city, the Gellért Hotel Spa. I went to this one myself and truly recommend it.
Apart from have one of the most beautiful Art Nouveau architecture in the city, the hotel provides restaurants and cafes. Furthermore, the baths include a medicinal spa water, an outdoor pool and three indoors plunge pools with water at different temperatures. The spa is also open to non-guests. Visit at least one of the spas in Budapest and enjoy their magical water. If the legend says, that the water will make you look younger, will you complain? Just give it a try. I loved every minute of it. There are many options and you can find a list of spas here.
+ Don't miss..
The other bridges: Margaret Bridge, Elizabeth Bridge and Liberty Bridge. I find the Liberty bridge, architecturally speaking, also very beautiful. Its green colour is very dashing!
Great Market Hall: go here and try their local delicacies, the pálinka, the Tokaj wines (insanely good ones), buy souvenirs, talk to local people and spend time there, it's a very relaxing experience
Shoes on the Danube Bank: another sight you can't skip is this one, a memorial to honour the Jews shot into the river during WWII
Jewish Quarter: here you will find the largest synagogue in Europe. Beautiful Byzantine-Moorish style architecture
Why Budapest?
As a professional travel photographer, people sometimes ask me how I choose the places I visit to shoot my photographs. Well, for me is simple: I follow my instinct. Naturally, sometimes I have my assignments which leads me to specific cities, but most of the time I get to chose them.
Why am I telling you this? Budapest entered into my life by chance. I was supposed to go to Milan, I did a research about the city, the architecture, etc. and I was intent on going back to Italy to get to know a new place. However, the more I read about Milan, the more I lost interest. Don't get me wrong, I love Italy, have been there in many cities, but it was not supposed to be Milan just then. So I digged a little further and Budapest came to my attention. Then I started to read about it and remember that as soon as I saw photos of Chain Bridge at night, I knew in my heart that Budapest was going to be one of my favorite places. As I previously had been to Prague and loved the way that Eastern Europe cultures move, I knew that I would feel at easy in Budapest.
So, one of my advices is: if you plan to visit here, as I mentioned before, book at least one week. Plan to see the main sights, but also just walk randomly around, see the beauty of the city itself, not as a tourist, but as a local. Avoid acting like a tourist, let your curiosity lead you to unknown places. Wander late at night, Budapest is a safe city. Touch the buildings, monuments, take a bath in one of the many magical waters, feel the energy, drink Pálinka, get lost! People here are very welcoming and always willing to help.
Curiosities
If you like to learn more about Budapest's culture, customs, arts, population, etc., the book Budapest 1900 by John Lukacs will give you an exceptional idea about the main events that happened at that time and lead this city to its present self: unique, beautiful, with a strong personality and different from everything you've already seen.
In my article Portrait of Paris, I mentioned that my biggest influence as a photographer is the Hungarian Brassaï, but I also have GREAT admiration for others Hungarian photographers, such as Robert Capa, Cornell Capa, André Kertész and Kozák Lajos. Kozák did some great shots of Budapest during the 30s and 40s, and some of them with so much snow, which makes the pictures even more special.
To finish off, I will mention here a famous quote Robert Capa once said, that always haunt my thoughts:
It's not enough to have talent. You also have to be Hungarian
Robert Capa is still considered the greatest war photographer of all times and he is one of the founders of Magnum Photos. He is also a great hero of mine, not only as a photographer, but also as a person. Much to learn from Hungarian friends!
About Fabiolla Loureiro
Based in São Paulo in Brasil, Fabiolla Loureiro has been working as a photographer since 2010. In the beginning she mainly explored fashion and nude, but in the last few years she became obsessed with travel (over 30 countries), and found herself involved with this freedom and opportunity that this kind of photography allows.
With minimum use of Photoshop, we realize in her street photography the practice of natural light, rain, silhouettes, high contrasts and cold nights. The preference with black and white comes from her inspiration, such as Brassaï, Robert Capa, Robert Doisneau, Saul Leiter, Elliott Erwitt, Sabine Weiss, Willy Ronis.
Urban chaos and the period between wars are also a constant source of study and reference. In addition, Fabiolla is one of the permanent artists of Andreus Gallery in São Paulo and since 2017 participates in an architecture/design project with Casa Portoro. In this project, she has more than 40 photos in exhibition, different measures, that are part of a few ambiances in the house in collaboration with some of the biggest names of architecture in Brazil.
In the last 2 years she had exhibitions happening in London, Bologna, Madrid and Paris, and now in March again in Italy. Her first 3 individual exhibitions took place in 2016 in São Paulo. In January 2018, she was selected as one of the members of Contemporary Art Curator, an online contemporary art magazine, that covers visual arts, events and connects artists from all over the world, and also part of Art Productions New York, a network of representation for artists with prestigious standards and vision.
Last year she returned to write about her travel experiences for us and launched her own blog sharing her influences and point of view on photography. In all those years, Fabiolla studied only 3 months at Focus Photography in São Paulo, being an autodidact artist. Now in January 2019, she received the Excellence Award from the Circle Foundation for the Arts Foundation in Lyon.
Fabiolla has also contributed with another article filled with her beautiful pictures: Paris – Portrait of a City.
Learn more