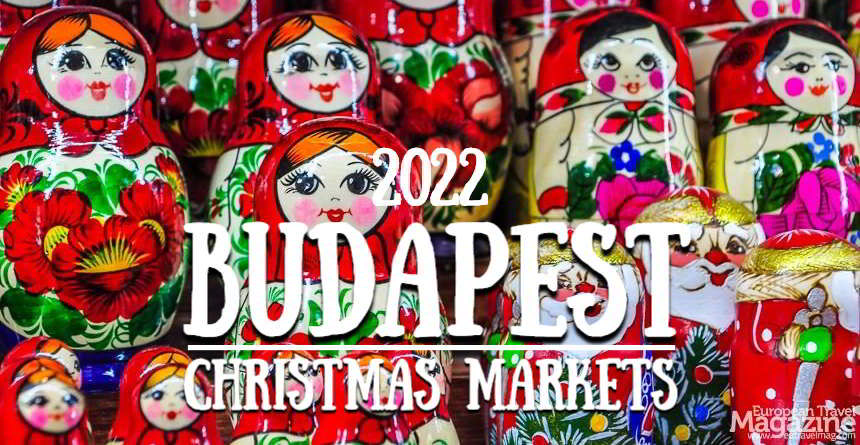 Budapest has become one of our favourite cities in Europe and may be the best capital to visit in wintertime, when you can stroll through snow speckled christmas markets, marvel at hand-crafted artware and keep your hands from getting cold by perpetually carrying a cup of mulled wine.
And when the weather gets to chilly, or you need a break from the rich, Hungarian food, you can laze in warm thermal baths while catching snowflakes with your nose.
But as in any wonderland, there are some pitfalls that may sour your experience. Here's our guide to make the most of a visit to the beautiful Christmas markets in Budapest. Check out the map of them all in the end of the article!
St. Stephen's Basilica Christmas Market
Probably the most beautiful market of them all, as the majestic St. Stephen's Basilica sits enthroned at the end and is beautifully illuminated when darkness descends on Budapest – which can be as early as 15.30. The street in front of the basilica spills Christmas spirit out into the square and alongside the church.
While you may find a Christmas stall with a collection that tickles your exact fancy, most of them are quite similar and you won't find much difference in the selection at the different markets, so don't stress out if you only have time to visit one Christmas market.
When you meet the first Christmas stalls on your way up to St. Stephen's Basilica, you can have an almost 1,5 kilometre yuletide stroll alongside Christmas cabins, past wonderful scents and colourful holiday huts before ending up at Vorosmarty Square.
St. Stephen's Basilica Christmas Market opened 18/11 and continues to spread Christmas spirit until January 1st.
Elisabeth Square Christmas Market
From the basilica you can continue along the western side of Elisabeth square, where the pedestrian street is flanked with Christmas cabins selling snacks, trinkets and beverages. There's nothing exceptional about the choice, but I did notice an interesting stall selling Chess sets (including a 3-player chess board I haven't seen before) and another offering fluffy indoor wool boots.
From here, you walk directly into the next Christmas market at Deak Ferenc square.
Deak Ferenc Square Christmas Market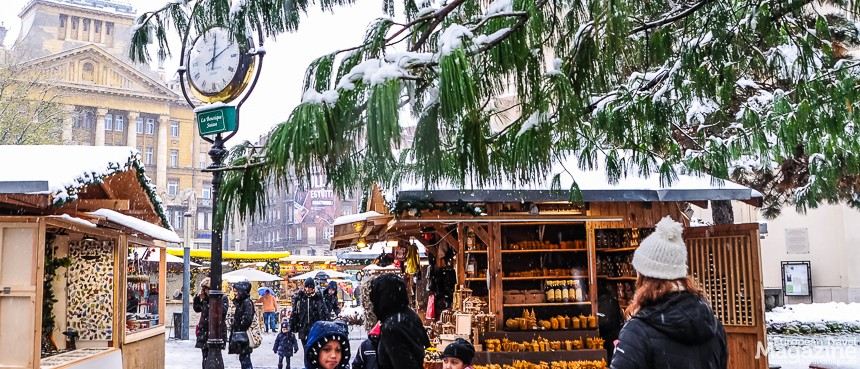 The elongated Christmas Market of Elisabeth Square spills out into Deak Ferenc Square, where a large food stand dominates and smaller Christmas huts flank the square. I advise to avoid the food stand unless you have plenty of tourist dollars to spend. I will get more into that problem later.
Want to check out some other cute Christmas Markets?
We were seduced by the scrumptious-looking strudels and chocolates to the right of the food stall and chose a piece of dark chocolate with hazelnuts. Much to our surprise they wanted more than 7€ for a smallish piece and when we bit into the snack, expecting a little ambrosia, we were fairly disappointed with the quality. We ended up throwing it away, something that is close to sacrilege for me. It was that bad. Don't waste your money here!
Apart from that, it's a cute little market with some pretty stalls.
Vorosmarty Square Christmas Market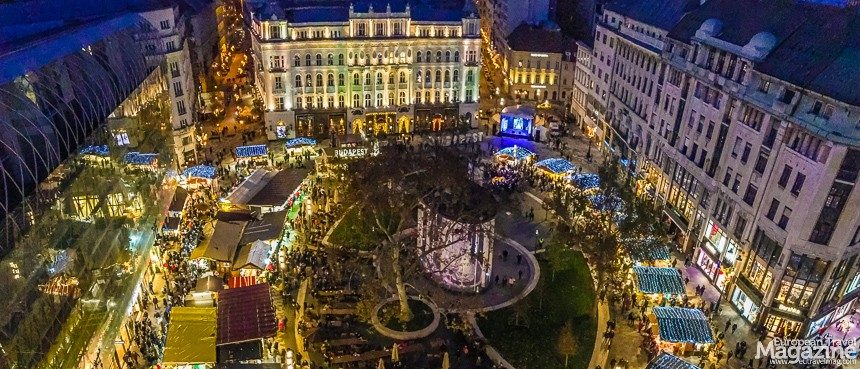 From Deak Ferenc you walk down Fashion Street towards Vorosmarty Square. The pedestrian street echoes with Christmas music, and a large Christmas tree in the middle of the street is a popular place for selfies.
The Christmas Market at Vorosmarty Square is the second largest in Budapest and has a stage in the far corner for musical performances. It's also opened on November 18th. A large food court commands the left side of the square. For reasons I'll get into later, I recommend avoiding the large food stall and opt for some of the smaller food stalls behind it. Their langos is to die for!!
You have ample choice here of finding beautiful handicraft and artware made in Hungary. I especially loved the leather books, the hand-made Art Nouveau jewellery and beautiful ceramics.
Gozsdu Court Christmas Market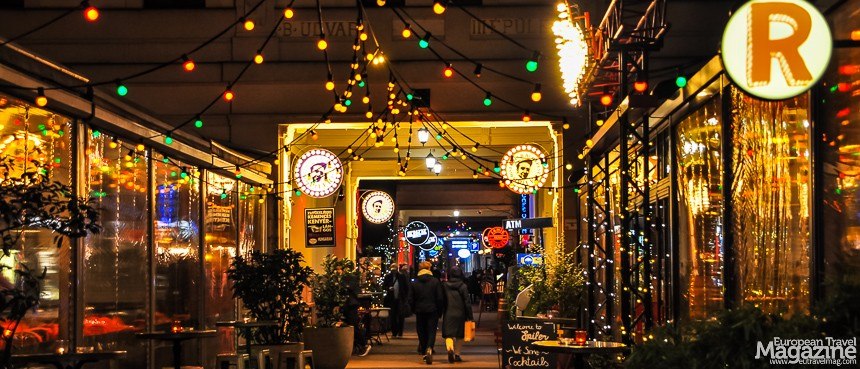 Tucked in between buildings, and running from party-street Király to party-street Dob, is comes as no surprise that Gozsdu Court comes alive in the evenings, as it's filled with trendy restaurants and popular bars. In the daytime however, it's a lovely passageway that turns into a vintage market in the weekends. From December 6, it transforms into a Christmas Market that's open weekends as well as weekday from 12.00 to 19.00.
It's one of our favourite spots to pass through in Budapest and has a charming ambiance. And many fun Communist-era paraphernalia!
Not open in 2022: Fővám Square Christmas Fair
Just outside the Great Market Hall, (which itself is a popular spot to acquire souvenirs and indulge in Hungarian gastronomic delights) Fövám Square usually comes alive with the Christmas spirit from November 18th to December 23rd, but this year we haven't received confirmation of that.
This somewhat small Christmas Market has live musical performances Thursdays and Fridays afternoon and Saturday.
What you MUST try
There are many culinary delights in Hungary and many of them are best had in restaurants. It's no surprise that everything is more expensive at a Christmas market. Don't let the rustic stalls fool you, prices here are double than everywhere else. With that being said, some things are both inexpensive and unforgettable:
Mulled Wine
Most stalls sell 3 dl mulled wine for 1000 huf / 3€. The larger, more commercial Christmas markets probably charge more. But nothing adds more to the winter charm than warm fingers – and a warm booze.
Langos
My favourite guilty pleasure. A cholesterol bomb, that'll keep your heart pounding for hours to come.
Langos is a deep-fried flat bread, brushed with garlic, then sour cream and topped with copious amounts of shredded cheese. There are variations with meat, kebab or sausages sprinkled on top, which will satisfy any hungry snacker. The original version with sour cream and cheese should be no more than 1500 huf / 5€ and we two adults could easily share one and call it a lunch.
Chimney cake

Called Kürtöskalács in Hungarian, but let's just stick with the English name..
It's made from a sweet dough that's curled around a truncated cone–shaped baking spit and rolled in granulated sugar. The authentic editions are roasted over charcoal which causes the sugar to caramelise. The result is a chimney-shaped cake-like pastry, where you tear off pieces with your fingers. You can opt for filling it with ice cream or Nutella, if you want to go "all in".
What you should AVOID
The larger food courts in the Christmas markets display some of the prices per 100 gram and oftentimes it's only written in Hungarian, making it quite unintelligible for tourists.
I opted for the Goulash in Bread, thinking it very authentic and paid 3500 huf / over 10€ for a sad and not very filling version. Another in our party tried the Pork Knuckle with Potatoes & Onion and was charged with a bill of 5.400 huf / 16€ for a piece, that was not even big. Or tender.
We are not the only ones who feel, that the prices of the food courts are too steep and we've seen many tourists going quite pale when presented with the bill after purchasing what is essentially street food, for a family.
If your wallet can take the strain, then by all means; go for it. Try the Rooster Testicle Stew, considered a delicacy by many locals, the Stuffed Cabbage, the Roasted Goose Thigh or Fisherman's Stew, which are all traditional, Hungarian Christmas dishes.
No matter the size of your wallet: There are plenty of tasty opportunities to be had for everybody. Merry Christmas and Boldog Karácsonyt from Budapest!
More info
All markets in one map
Learn more