While Art Nouveau was an architectural idea that spread throughout Europe in the late 19th century, every country had their take, their version of it. From the playful Modernisme of Barcelona, to the refined Art Nouveau of Paris. The further east you ventured, the more symmetric the style became. The Jugendstil of Germany and Secession of Austria are far more disciplined and finally in Hungary, the Szecesszió is powerful, yet playful and somewhat darker than its western European counterparts. It's wonderfully unique and we've selected the Top10 Szecesszió sites in beautiful Budapest.
We're boiled down the list to the 10 Art Nouveau sights you really shouldn't miss when you're in Budapest. But it was a hard call. That's why we'll also show you the 15 other Szecesszió sites, that didn't make the Top10 list, but are worth a visit if you have time to spare and are keen on immersing yourself in this special, Hungarian version of Art Nouveau. Check out the map in the end of the article. Let's not waste your precious time, and start with the best:
1. Parisi Udvar
Thank God for international investors, otherwise this unique and extraordinary building wouldn't shine brighter today than possibly even back when it was built in 1912.
Parisi Udvar translates to "Paris Courtyard" and it was originally designed as a covered, parisian courtyard with open entrance for pedestrians. Those entrances have now been shut with glass doors, making it less accessible yet more comfortable, as the former arcade has been transformed into a rectangular café at street level. The upper floors are now a luxurious 110-room hotel, managed by Hyatt.
A crazy amount of money has been spent on bringing this diamond back to its former glory. Yet it's only fitting, as only the best materials were used when it was constructed. Renowned Hungarian mosaicist and stained glass artist Miksa Róth designed the stained glass windows, and the unique crystal dome was pieced together by so many bits, it took 1,5 years to assemble. The fusion of gothic and Moorish-inspired details paired with exceptional quality and no-expense-spared attitude towards renovation makes this newly reopened space the absolute diamond of Budapest Szecesszió.
2. Gresham Palace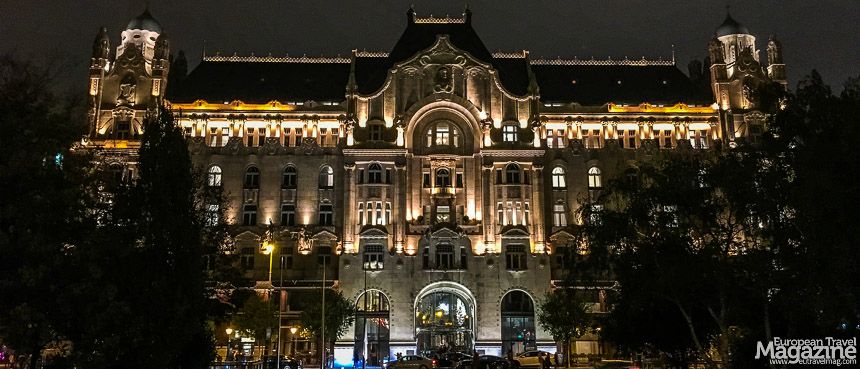 The luxurious Four Seasons Hotel Budapest Gresham Palace is the place to stay if you're an Art Nouveau aficionado with money to spend! It occupies the palatial spot at the end of the Chain Bridge, just opposite Buda
Castle and may just be the most well-situated hotel in Budapest.
It was completed in 1906 as an office and apartment building for London-based Gresham Life Assurance Company and has been knocked about a good deal, serving as barracks for the Red Army and since as an apartment building during the Communist regime. It re-opened as a luxury hotel in 2004 after years of remodelling and careful restoration of its many Art Nouveau elements such as as a large staircase, stained glass, mosaics, ironwork and winter gardens. This is one of those hotels I want to stay in at least once in my lifetime.
3. Széchenyi Thermal Bath
So, after staying in luxury hotels the next best place to soak up that Old World Art Nouveau vibe in Budapest is the Thermal baths. Some baths date back to the Turkish occupation in the 16th century and a few others, like Géllert and Széchenyi Thermal Baths are from the Art Nouveau period, when the city was prospering.
It opened in 1913 and has been renovated again in 2009. It's yellow buildings with Neo-Baroque influences encircles the open-air thermal baths and form beautiful contrast to the Turquoise waters. The healing properties of the mineral-rich thermal waters have been valued through decades by bulky men in tight Speedos, playing chess at the pool edge. And even though those days are over, and you may only encounter other tourists, the architecture remains to connect you to a bygone era.
4. György Ráth Villa
While you can see Art Nouveau written all over the previous buildings, this one hides its Art Nouveau furniture, textiles and glassware, like a pistachio-coloured jewelry box hiding its most precious jewellery. The classic building of the Ráth Museum is not Art Nouveau, but everything inside is.
As the first director of the Museum of Applied Art, György Ráth was a collector himself, and when he bought the villa in 1901, he and his wife fitted it and filled it with Art Nouveau furnishings and artware. It was eventually bestowed to the the Museum of Applied Arts, who converted it as an Art Nouveau branch of the larger museum. After a tumultuous period and recent renovation, the György Ráth Villa again opened its doors to Art Nouveau aficionados in 2018 and displays the very best pieces from Museum of Applied Arts' larger collection.
And while we wait for the in itself stunning Museum of Applied Arts to be renovated and opened again for the public, this remains the best museum to admire the Szecesszió of Hungary.
5. Zeneakadémia / Franz Liszt Academy of Music
You could just admire this imposing 1907 building from the outside. Eye the sculpture of 19th century composer Franz Liszt looking out over Budapest from above the front door. Discover the many allegories to the arts in the exterior. Admire the amazing front door and portal.
But if you have the chance, you should attend a concert in here to celebrate the real purpose of this stunning building: music. It's really not that expensive. I attended a concert one evening and for a mere 7,5€ I could listen to Chaikowski, Ustvolskaya and Mozart while taking in the concert hall, with its huge organ, elaborate chandeliers and many ornamentations. If you're keen on learning more, they also arrange guided tours in English of the building every day.
6. Hungarian State Treasury
The next building on our list you can't enter, but you CAN go the Intermezzo Roof Terrace at the opposite Hotel president to take in the colourful, glazed roof tiles of the State Treasury, built as the Postal Savings Bank by Hungarian architect Ödön Lechner in 1901. The building presents the pinnacle of Lechner's career, and he finished it in only 1,5 years with financial limited resources. Lechner aimed to form a national style, using motifs from Hungarian folk art and he decorated the building with Zsolnay tile patterns.
Look for the motifs of bees and beehives, that are a classic decorative element in banks, symbolising the result of hard work, industry and cooperation. The winged snakes at the top are symbols of renewal while the two bullheads on the tent-like roof indicate reliability, solidity and material security.
And can you find the chickens?
7. Bedő Haz (Former House of Hungarian Art Nouveau)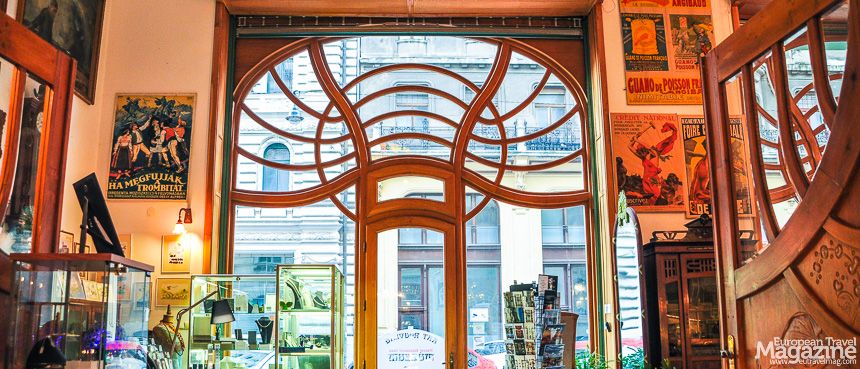 The house was built by Emil Vidor in 1903, for the Bedő family. Inspired by Belgian Art Nouveau architect Horta, Vidor combined Belgian Art Nouveau elements with traditional Hungarian design. The decorative elements used on the façade are from the Zsolnay factory. Vidor also took care of the interior design, all in the spirit of Gesamtkunstwerk (all objects in the same style), that was typical for Art Nouveau artists and architects all over Europe.
The building was carefully renovated to re-open as a museum in 2007 and the original details of the facade, that were obscured over the many years, were restored to the original.
It used to house the museum "House of Hungarian Art Nouveau", but that seems to have closed since we last visited.
8. Török Bank House
The Török Bank House is one of those great reminders, that you should remember to look when walking around in a city. Especially in one with so many impressive Art Nouveau buildings as Budapest. Designed by Henrik Böhm and Ármin Hegedüs in 1906, the Török bank House is a fine example of the Hungarian Szecesszió, although the influence of French Art Nouveau is particularly evident in its forms and patterns.
Very modern techniques for the time allowed the creation of its glass and iron facade, surmounted by a mosaic of the renowned Miksa Róth, called Patrona Hungariae, which depicts Hungary as a woman, surrounded by great figures in Hungarian history such as Ferenc Rákóczi, István Széchenyi and Lajos Kossuth.
After you've finished admiring the building from the other side of the street, you can pop into the Á la Maison Breakfast and Brunch Restaurant that covers the ground floor – despite the name, they remain open until 17:00.
9. Dob Utca Primary School
Probably one of the most unique public schools in Szecesszió style in Budapest is located a bit outside the regular tourist area, but somewhat near nr. 5 of our list: Zeneakadémia. Several renowned architects and artists played a part in designing this stately school. It was constructed between 1905 and 1906 according to the plans of Hungarian architect Ármin Hegedűs, whom you might remember from Török Bank House above.
The façade is enhanced with mosaics designed by Hungarian painter Zsigmond Vajda and implemented by stained glass master Miksa Róth. These colourful mosaics depict motifs that are appropriately childish, such as a globe, a ruler, toy soldiers, floral design, embroidery, and singing. And check out the vibrant coat of arms of Budapest made of mosaic tiles. It was recently restored and stands really sharp in the narrow street.
10. Parizsi Nagy Aruhaz
Parizsi Nagyaruhaz means Paris Department Store, and when it opened in 1910 on Budapest's grandest boulevard, Andrássy Avenue, it was the first department store of its kind in Budapest. Its commanding and somewhat ominous front exemplifies for me the Hungarian Szecesszió: dark, powerful and brutal.
The building dates back to the 19th century, when it functioned as a casino. During its conversion to an Art Nouveau high-class department store, the casino's grand ballroom – characterized by the elaborate frescoes of Hungarian painter Károly Lotz – was preserved to become a café: one of the shop's major highlights. In the 2000's the department store was refurbished into the light, elegant Alexandra Bookstore, which closed a few years back. The café continued to impress tourists under the name Lotz Hall or Café Parisi, but when we visited, it was closed.
Something tells me, though, that this gorgeous building on Budapest's finest avenue won't stay empty for long, and we're looking forward to discover it again in the future. Meanwhile, you have to do as we did: admire it from the front.
15 other Szecesszió treasures, that didn't make the Top10 list
Everything on a map
(Green pins are Top10 Art Nouveau sights. Yellow are runner-ups, making it a Top25 Art Nouveau map)
More info
Learn more