By Magdalene Kourti – https://www.mkourti.com
Visual artist and photographer Magdalene Kourti shows us the blue & white beauty of Greek island Naxos. From lazy beaches to cobblestoned villages and surprising street art, this cycladic island has it all. See how she captures its allure in her Snapshots of Naxos.
Naxos is the island where my father comes from so I feel emotionally attached to it. It's the biggest in the group of Cycladic islands and combines endless sandy beaches, wild nature, high mountains, picturesque villages, contemporary and traditional art, friendly people, and amazing food!!
About Magdalene Kourti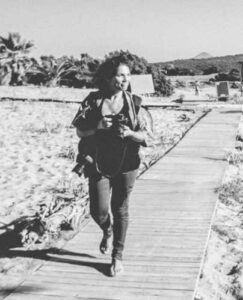 Magdalene is a visual artist who is into photography, mainly documentary wedding photography, since 2009.
She studied Business Administration and Marketing and later Fine Arts at UAL – Wimbledon College of Arts. She also holds a Master's degree in 2D and 3D digital imaging and animation from Metropolitan University, both in London.
Being a visual artist, she has participated in many exhibitions and experimental short film festivals. Received distinctions such as from BBC and Adobe's award in digital imaging world festival in Australia. Her most recent exhibition was in 2017 with a collection of paintings.
Her experience as a fine artist, a video artist, and a single mother of 3 kids has influenced her career and her shooting style, and has given her the flexibility to cover many fields in photography. Her approach to photography is the discrete observation of the environment, the light, and the flow of the day, in order to capture the energy and emotions. She strives to share those occasions with the viewer, and share with them the feeling of being there at that very moment.
The last 20 years, having left Athens and now based in Rhodes, she covers events all over Greece and Cyprus, and devote part of her time to travel photography. Read more on https://www.mkourti.com
More info
Learn more