From Donostia (Basque for San Sebastián) to Iruña (Basque for Pamplona), in every posh bar or local tavern, they're lined up in the bar. Some more lavishly decorated than others, but all with the same purpose: to satisfy the small or big appetite. Maybe even in a happy marriage with some local wine.
Pintxos!


Related to tapas, but usually a bit smaller, these finger foods are more than just a bar snack. Traditionally on a small slice of bread with a toothpick in the middle, as to keep all the goodies on the bread. And to function as a alcohol tester. When you start poking your eye with the toothpick, it's time to cut back on the vino!
Mini haute cuisine experiments
But cuisine is always evolving. The same with pintxos, which means, that you can find everything from a dry bocadillo con jambon to a mini haute cuisine experiment, depending on whether you're in a local taberna or walking past the tempting bars and restaurants in the busy Calle San Nicolás in Pamplona, or around Iglesia de Santa Maria in San Sebastiáns old town with all the delicious delights, seducing you to go into the bar and eat them all (!!) with a chilled glass of rosé or maybe even the slight sparking, acidic basque white wine Txakoli (which is a good choice for lunch because of it's low-ish alcohol percentage).
But don't let a dull-looking taberna fool you. The pintxos here are just as good! In fact, after a day's walking in the mountains, it'll be the best bite you've ever had!
Basque tradition that transcends borders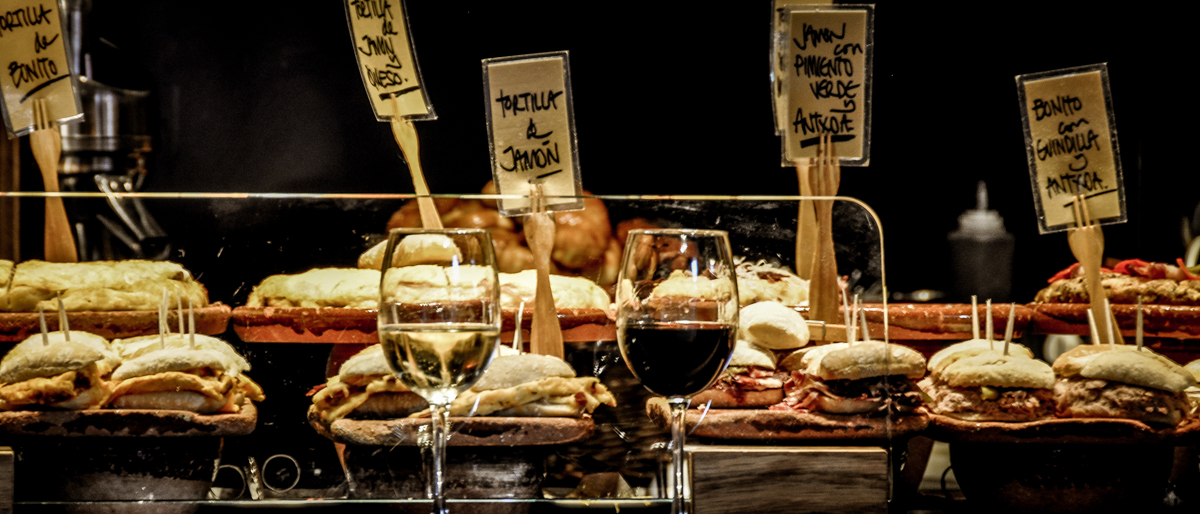 Even though pintxo is a Basque word and gastronomical tradition, neither the food tradition nor the language ends at the regional border. In fact, a lot of people in the northern part of Navarre consider themselves Basque; they speak Basque, have Basque traditions and Basque mindsets.
Because you can't just draw a line on a map and define people, depending on which side of the border they happened to be. More on that in this article.
Fact remains – and the good news is – that this means, that you can savour your pintxos not only in the Basque country, but in most of Navarre as well. Together with an abundance of local produce and seasonal delicacies, like mushrooms and game in the autumn, it's every foodie's heaven. And together with good wine, from the Basque white wine to the rosé from Navarre to the Rioja red, it's a wine lover's paradise as well.
Txikiteo
Txikiteo is Basque meaning: "going from bar to bar, having small glasses of wine" – txikitos – and, naturally, accompany the liquid delight with delicious pintxos. So, resist your urge to taste them all in one bar and do it like the locals: go from bar to bar, tasting one or two pintxos with a small glass of wine before moving on. In order not to get peckish on the way, its a good idea to choose an area with many bars. We can recommend the following areas in the larger cities:
Pamplona: Calle San Nicolás and Calle Estafeta
San Sebastián: Around Iglesia de Santa Maria in the old town
Bilbao: Plaza Nueva
These places are not just packed with bars, but with charming ambiance as well – and all in pedestrian zone, which makes it a pleasant walk from bar to bar. You just need to add good company, and you've got an unforgettable experience!
Learn more