The lush and wonderfully warm island of Gran Canaria is so incredibly diverse, it's like a mini-continent. And every continent has a metropolis that stands out with unique ambiance. Las Palmas is this great mashup of colonial style history, party-happy tourists, wave-riding surfers and local, spanish families, getting along in the ninth-largest city in Spain.
Here's our take on the Top10 Best and Most Fun Things To Do in Las Palmas, to ensure that you return home with memories that will last you a lifetime!
Surfing Las Canteras, Shopping in Triana and Sipping Cocktails in a Rooftop Bar. Which is YOUR favourite? Check out the slides:
Surf Las Canteras
Las Palmas has one of the best city beaches in the world. No wonder it's a favourite destination for many surfers. 
You can become one of them too!
Buen Surf, just a stone's throw from beachside promenade, is a very good surf school. The perfect place to try out surfing for only 25€ for a two-hour English lesson, including board and wetsuit: https://buensurf.com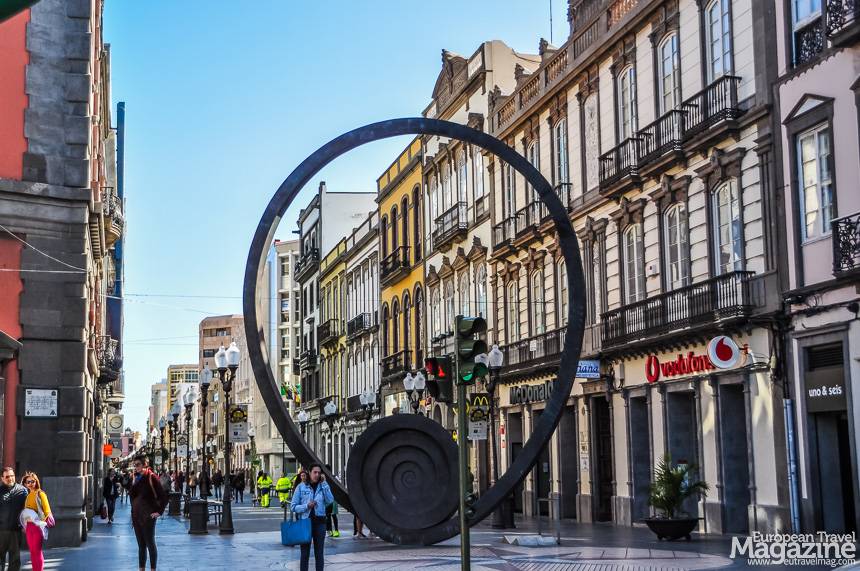 Shopping in Triana
There are probably more shops in one of the several shopping malls in the city, but nothing beats shopping with the locals.
And Triana neighborhood showcases some of the city's most gorgeous Art Nouveau architecture as well.
Start with a coffee at Parque San Telmo and work your way along the pedestrian shopping street Calle Triana.
It ends where the historic neighborhood starts:

Tour Historic Vegueta
This quiet, beautiful corner of the city is home to the cathedral and many colonial-style houses, like Casa de Colon; Mansion of a former nobleman, where Columbus is said to have stayed before he embarked on his journey across the Atlantic.
Today it's a museum telling his story.
End your tour in Mercado De Vegueta and enjoy a healthy, delicious juice - freshly squeezed.
Sip a Cocktail in a Rooftop Bar
Azotea de Benito is one of the choicest cocktail bars of Las Palmas. There you have it.
Not only is the decor cool and classy, their cocktails are hand-crafted with pride and passion. Award you senses with a visit.
After all: vacation is about self-pampering, right?
Check out all the other great rooftop bars in this article!
Roam the Ruta de Pinchos aka Tapas Thursday
Every Thursday night, the usually quiet historic neighbourhood of Vegueta turns into one big Pub Crawl. For food.
All right; also for drinking. It's the Ruta de Pinchos which basically means that the cafés, bars and restaurants on and around Calle Mendizábal serve pinchos aka tapas on bread. Order a "pincho", a "caña" (small beer) and "copa de vino" each place until you're full (or drunk). It's a lively scene with locals and tourists mingling.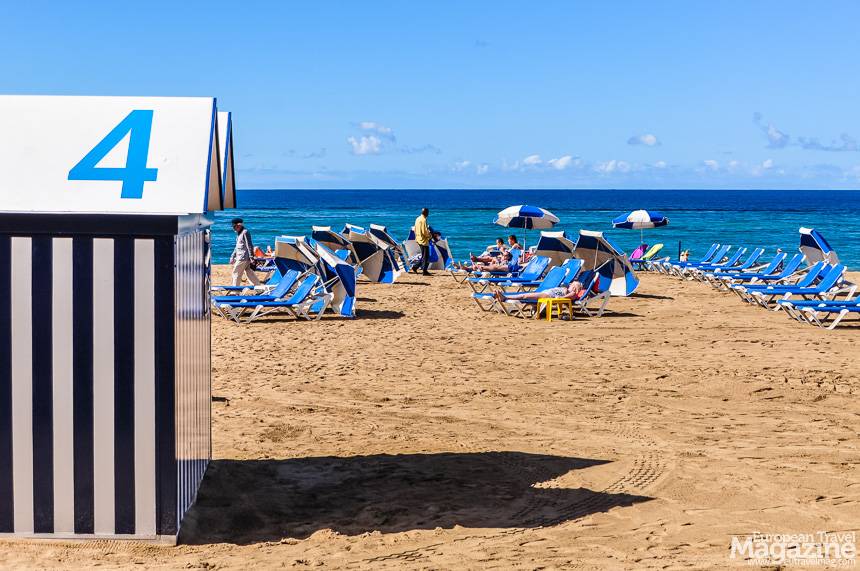 Laze on Las Canteras
This city beach is considered one of the world's best city beaches, partly because of its protecting reef, making it a beautiful lagune.
The beach stretches for 1,3 kilometres and is lined with a nice promenade from where you can find the right spot of beach you want to hit.
Sunbeds are 3€ per person (in February) for one day until 17:00.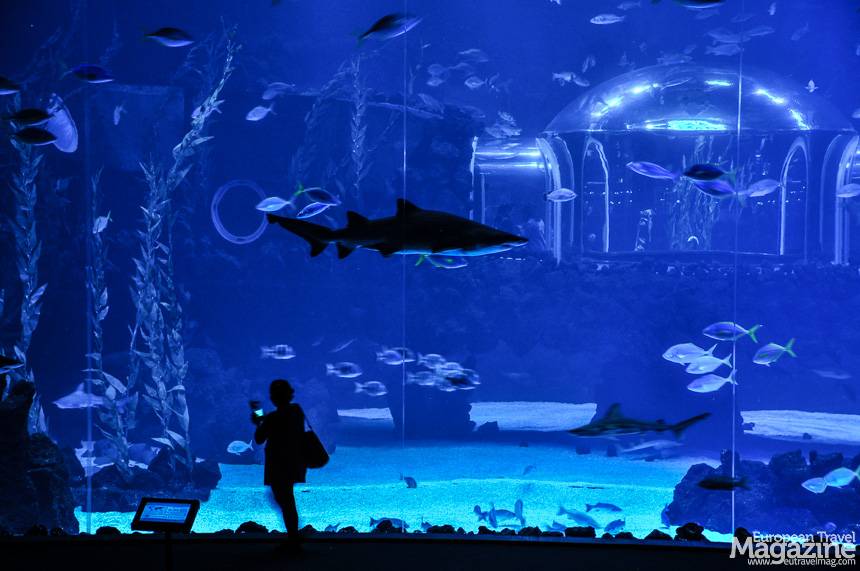 Hear the silent serenade of the sea at Poema del Mar
This Aquarium is not cheap to visit, but boy is it beautiful! The fairly new aquatic museum boasts more than 350 different marine species and the world's largest curved windows: 36 metres in length and 7 metres high makes it a gigantic viewing screen of marine life and landscape. Poema del Mar is truly an ode to the sea.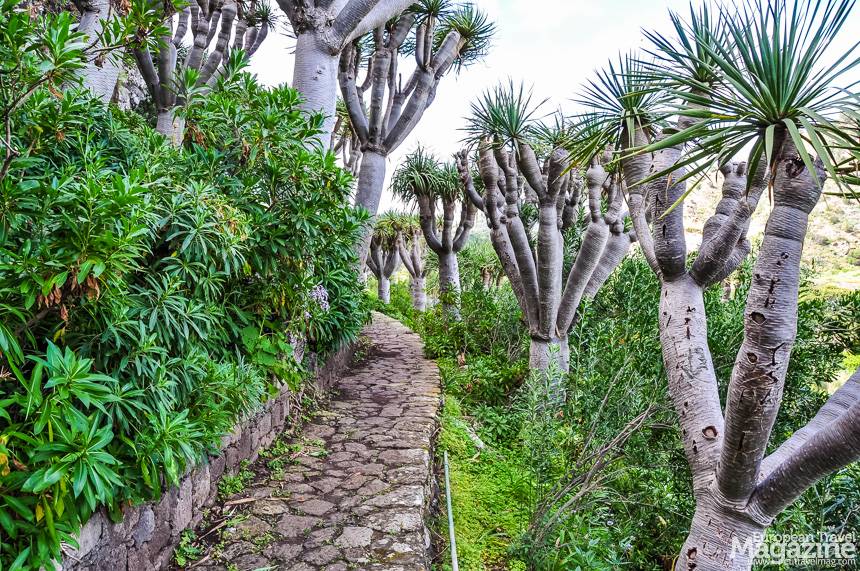 Enjoy the Botanic Garden
The green, Canarian botanic garden of Viera y Clavijo is only a 15-minute, 1.4€ bus ride from the city centre and well worth the trip.
Not only because it's totally free but really just because it's ravishingly beautiful. Gran Canaria is such a lush island and this garden showcases and celebrates its diverse nature. Walk among Dragon Blood trees and huge cactuses and take the bus back or scramble your 8 kilometres back through Guiniguada Ravine.
Dream of crossing the Atlantic
The marina - or Muelle Deportivo - is the last stop for many yachts before crossing the Atlantic ocean.
Here, in this +850 berth boatyard they make final preparations before the weeks-long journey across the sea. You can walk the promenade and choose your favourite boat, enjoy a lunch at one of the many restaurants below the promenade or sip a glass of chilled, white wine on one of the Rooftop venues, while dreaming away.
Play at Museo Elder
Museo Elder is a science museum located next to Santa Catarina park with the fun motto: "It's forbidden NOT to touch!"
That was very good news for me, a professed button-maniac, when I got to sit in the pilot seat of a F-5! The museum is a fun outing with all kinds of interactive games, exhibitions and even a planetarium.
And you don't have to be a kid to have fun here!
More info
Recommended reads:
Learn more