By Jerry Olivas
After you have had your fill of the great ports of Portugal, on the south bank of Porto, why not continue your wine tasting with a visit to the Douro Valley? This is where you will find many more great ports as well as some of the best other types of red and white wines of Portugal, including sparkling wines, which the Portuguese call Espumante.
Positively don't try to do the Douro Valley as a day trip because in addition to all the wineries there are plenty of interesting sights to take in including Roman ruins, Castles, Cathedrals and Shrines, as well as some fantastic scenery to enjoy.
Windows with a view
About halfway into the Douro Valley from Porto, 130 kilometers, is the town of Lamego. This is a perfect staging spot to explore from. There are plenty of options for staying in and around Lamego and because my wife and I were exploring the area for several days we chose to rent a self-catering apartment, O Cantinho Do Colégio (The Corner of the School), near the centre of town. This apartment was completely updated with a fully equipped kitchen, including a dishwasher, and two good-size bedrooms. And because it was on an upper floor all the windows had a great distant view of the Lamego Castle.
Lamego prizes
Once settled in we were off to discover Lamego itself. The Sé Catedral de Nossa Senhora da Assunção (Our Lady of the Assumption), commonly referred to as Lamego Cathedral, was originally built in the 12th century, was just a short block away. This is a must see for architectural buffs. The facade of this Cathedral has an unusual mix of Gothic and Renaissance architectural styles with a Romanesque bell tower and there are some nice ceiling frescos inside too.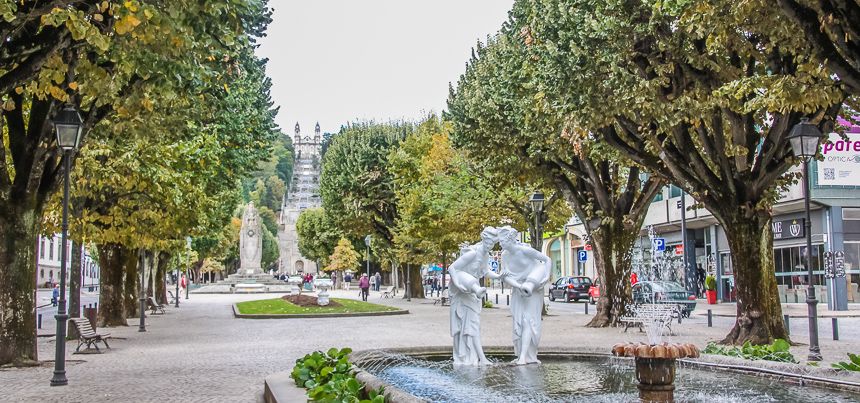 Just steps from the Lamego Cathedral is the main promenade of the town. This is a nice tree lined park like space about six blocks in length that runs right through the center bordered on each side by small one-way streets. It has benches, statues, fountains, and some small food and drink vendors. On the streets that border the promenade are several places to have a full meal or enjoy a pastry, coffee, tea, or glass of wine.
As you walk along the promenade you can see the Santuário de Nossa Senhora dos Remédios (Sanctuary of Our Lady of Remedies), way up high on a hill. Looking up at this entices you to want to climb 686 crisscross stairs to see it up close. You can easily take a taxi, but better to walk up the stairs like the pilgrims do, but you don't have to climb the stairs on your knees, unless you want too.
Each little landing allows for a rest and relaxing views, and there are some nice blue painted tiles (azulejos) to see on the way too. The architecture of the chapel is both Baroque and Rococo and has some beautiful ornate features with a golden altar that is spectacular. Outside the chapel there is a little courtyard with all kinds of neat things to take-in, including some intriguing statues which are definitely worth a close-up examination. This is a good spot to have a picnic, take in the views, and have a nap after the stairs trek.
The Castelo de Lamego (Castle of Lamego), is a short walk up a hill through a medieval area of town just west of the center. This 12th Century Castle has been well restored with a tower that offers a great view of Lamego. When you head back down the hill from the Castle on R. dos Moreirais you will find the 13th century Cisterna of Lamego (rainwater catchment). This is very well preserved with some interesting narrative signs and displays. Just a couple of short blocks from the Cisterna is the main market for Lamego (Mercado Municipal de Lamego) on Av. 5 de Outubro with plenty of fresh everything including fish. This is where we did most of our food shopping.
The good news is that the Cathedral, Shrine, Castle, and Cisterna are all free. But there is one more important place to visit in Lamego, the Museum of Lamego, on Av. Regimento de Infantaria near the center. Why this Museum is not more heavily advertised is hard to understand. It has some fabulous and renowned paintings, tapestries, sculptures, ceramics, jewelry, furniture, and many other fascinating works of art.
Do include a few hours for this Museum; you won't be disappointed.
Wine tasting South out of Lamego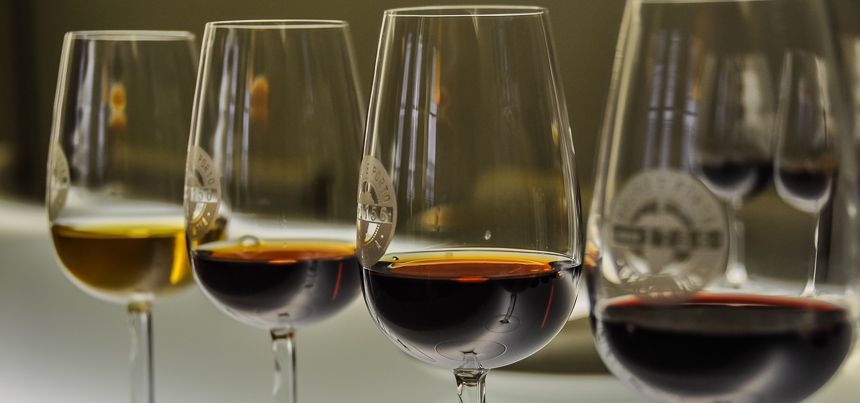 You will be greatly rewarded any route you take from Lamego. It's preferable if you can rent a car, but taxis will take you anywhere you want to go. Just a few miles southwest of town off the N2 you will find a winery that produces fabulous sparkling and still wines. The Caves da Raposeira does guided tours and tastings Tuesday through Saturday throughout the day. It's simple to get to this winery using a taxi from the central promenade of Lamego. A littler further southeast of town using the N229 to M520 (located on the M520) is the Caves da Murganheira. They have both sparkling and still wines with tours and tastings Tuesday through Saturday throughout the day.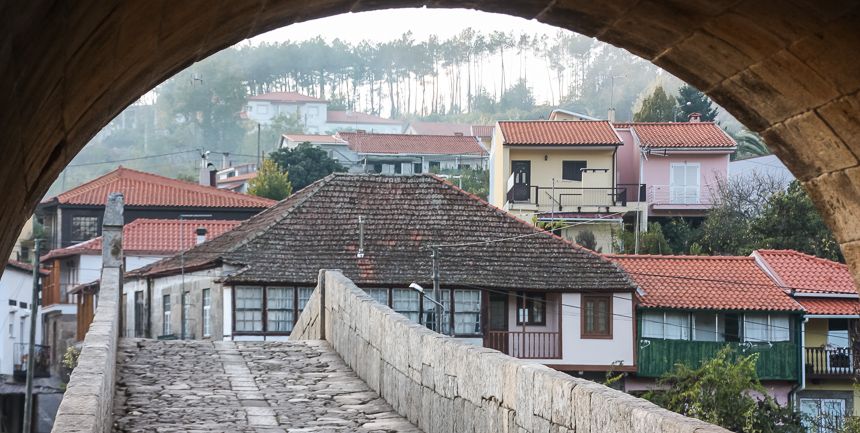 On the way to Caves da Murganherira, just off of the M520, is the small village of Vila da Ponte on the River Varosa. This is a delightful little place with an ancient tower and bridge named Ponte de Ucanha, that dates back to the 12th century, but the bridge was probably originally built by the Romans. There is a lot to enjoy on foot in and around the immediate area of the bridge with a few nice rustic Portuguese restaurants and bars.
Wine tasting on the South side of Douro River
Heading in the north direction out of Lamego towards the Douro River offers a multitude of things to explore, so good to plan your day trips and have your Google Maps ready. You may want to divide this direction up into the south side and the north side of the Douro River. There are plenty of wineries on both sides and it's good to e-mail, text, or make a voice call to make sure they are open for tasting. Many offer tours, tasting, and food.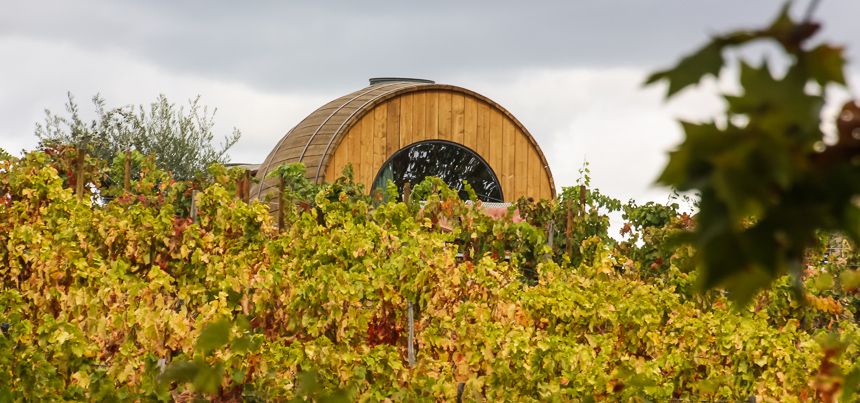 We had a lovely tasting on the south side at Quinta da Pacheca, off of the N222 on the CM1070. They are open for tasting Monday through Sunday 10:00 am to 7:00 pm. All of the wines here were great with the white port being exceptional. And if you need a rest after all that wine tasting, and can afford it, you may want to rent one of those wine barrel abodes at the Quinta da Pacheca Hotel right next door to the winery.
Wine tasting on the North side of Douro River
On the north side of the Douro River we had a great tasting at Quinta da Devesa, off the N313 to the N313-2, to the M593, then the R. da Curvaceira, and finally the Caminho das Devesas. This vinery was not easy to find but well worth the effort because the wines here were fabulous – as were the views. Best to call Quinta da Devesa in advance to make sure they can accommodate you. If you have the time and a designated driver, or take a taxi instead, there are numerous wineries for tasting on both the south and north sides of the River Douro.
Douro Museum
While on the north side of the River Douro, in the town of Peso da Regua, the Douro Museum is a great place to learn all about the rich heritage of the Douro Valley. You will need a couple of hours here for sure and if you visit the restaurant and wine bar it would be good to set aside two more hours.
This Museum helps you to appreciate why the Douro Region is a UNESCO World Heritage site. Hours in summer, March 1 to October 31, are 10:00 am to 6:00 pm daily and in the winter, November 1 to February 28, 10:00 am to 5:30 pm daily.
Gastronomy +
In Portugal, eating is never a problem. Portuguese people all look pretty fit to me, but I am not sure how that is possible because the food, especially the desserts and wines, are terrific.
In Paso da Regua we had a nice lunch at the Nacional Café Restaurant, R. dos Camilos 86, 5050-272 Peso da Régua, Portugal, (351) 919 748 207. Hours are Monday through Saturday 8:00 am to 10:00 pm. We had a fish stew which was delicious and as soon as our plates were empty the cook appeared magically from the kitchen with a pot and gave us another helping. The pastries were great here also, with a nice selection to choose from, and we did indulge with a couple of take-out sweets for the road. The Nacional Café Restaurant is what I would consider authentic Portuguese cuisine and hospitality.
In Lamego there are many options for dining. For a more formal meal we ate at the Manjar do Douro, hours 11:30 am to 10:30 pm seven days a week. This restaurant is slightly up-scale, so we ditched the t-shirts. There was a wide variety of selections here for appetizers, main courses, and desserts, and the wine selection is extensive. They offer many vegetarian dishes and a kid's menu. The wild boar steak with caramelized apple was tempting, but the steaks phase of our lives is long gone. This is the type of restaurant that strives to please and they do just that.
The dining splurge
If you set aside a little savings for one of those great travel meals, where money is almost no object, the Douro Valley has a place waiting for you. It's the Six Senses Resort and Spa. This is one of those places the rich and famous helicopter in and out of. These types of places can feel rather pretentious, but the Six Senses did not give off that vibe at all. Everyone was quite warm and welcoming.
The restaurant was comfortable, and the food is to die for, as they say. You cannot go wrong with anything and if by chance you don't like something, they will fix it.And they are not shy about advertising their emphasis on sustainability. Don't rush this experience, with emphasis on experience, there is plenty to take in and appreciate at the Six Senses. This is the type of place that may motivate you to work smarter so that you can stay here on your next trip to the Douro Valley.
Want to find out more about Portugal?
Your route to the Douro
From Porto's São Bento station (that's the one with all the fabulous blue tile murals) we took a train to Peso da Regua. Check the website schedule for the Comboios de Portugal (Trains of Portugal) for times and fares, and remember to use any discounts or specials you can. It's an easy and short trip taking less than two hours with several trains each day. Sit on the right side of the train for the best views of the River Douro and mountainscapes. In Peso da Regua we rented a car from Europcar, which is close to the train station. Peso Da Regua is an easy drive of about 16 kilometers from Lamego.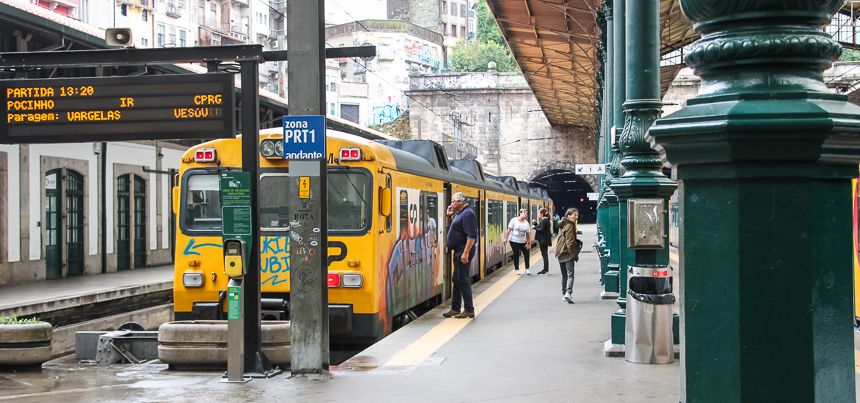 As for driving around the Douro Valley, roads and signage can be a little tricky so good to be in the adventure mode because a little trial and error is guaranteed. And it is worth saying that driving in Portugal means being a defensive driver. In general, Portuguese drivers think they know where they are going, and don't like to waste any time getting there, if you know what I mean.
There is so much to explore and enjoy in the Douro Valley that a week will just give you a snapshot. My wife and I are already planning our next trip and Lamego will definitely be our base camp again. And maybe, just maybe, we will put the 686 stairs to the Sanctuary in our daily workout routine.
Learn more