By Fabiolla Loureiro – www.fabiollaloureiro.com
Italy is famous for its great cities, exquisite architecture, arts, culture, fantastic food, wine and outstanding landscapes. Venice is my favourite, but I will share with you my impression about a city that surprised me, la belissima Bologna. It's not easy to pick a city in Italy as a favourite, as many of them are marvellous in so many ways, but Bologna has become one of my darlings along with Florence (which is only 35 minutes away by train), Venice, Rome and Verona.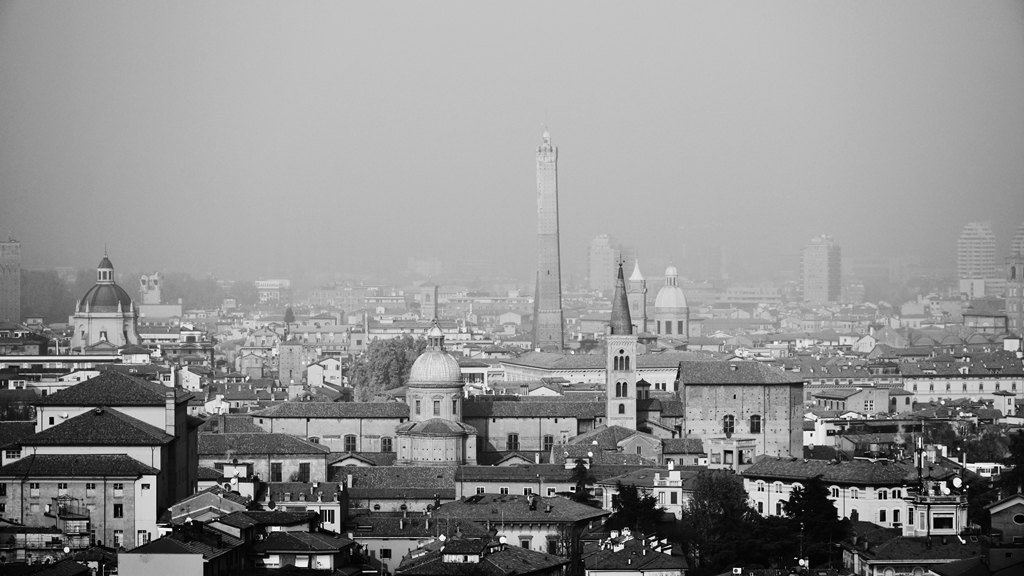 Before my trip to Bologna, I had never thought of going there specifically, but as if by fate, last year I was invited to exhibit my photos at Galleria de Marchi (Trevisan), which I gladly accepted, and got to know this picturesque city that should be in everyone's itinerary who love the best of Italy.
Being a descendant of Italians myself and speaking the language, whenever I am in Italy, everything sounds very familiar to me. Add to that the fact that I am a passionate about Italian food, arts, cinema, music, architecture, not to mention how I deeply love to photograph Italian cities; it seems every corner is a fine art portrait, and I can honestly say, the Italian people help with their unique way of elegancy.
Bologna is even more enchanting due to its medieval look and countless porticos. With so many alleys, it's easy to go for a walk in old part of town and get lost within it. So here I share once more my photos and also my positive vibes about this unmissable city. In addition, I hope that with my photography, you can experience through my lens a unique way also to discover the beauty of Bologna and the lightness in its atmosphere.
The language I use in my photos is an immediate response to my feelings; therefore, an emotional response to what surrounds me and what I love. With that being said; benvenuti a Bologna!




An overlooked gem
After being here, I can't understand why Bologna is such an underrated city, obscured by others cities like Rome, Florence, Venice, Pisa, etc. Residence of one of the largest and oldest universities in Italy, Bologna is a fantastic city to explore in a few days. The city is an open air museum with plenty of interesting sites to see and dazzling architecture to visit and admire. Known for its many portico passages, beautiful and ancient squares, hypnotic medieval old town and also its delicious food!
I admit that once I arrived here late at night, I couldn't see much of the city. I was tired from long hour flights and all I wanted was to check in at the hotel, take a "most wanted" shower, eat some pasta, savour a good wine and relax. My hotel was really nice, close to old town, accessible and with a few restaurants options in the same street.
The airport is close to old town, maximum 20 min. It's very easy to get around Bologna.
Exploring the unknown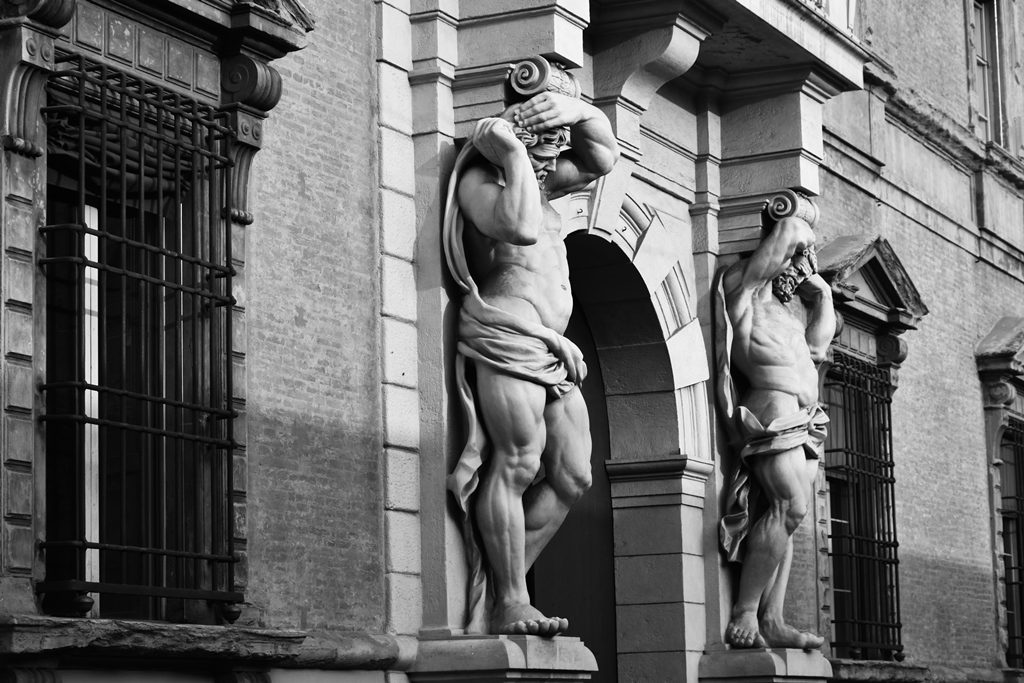 After delivering my work at the gallery, I was free to explore and photograph. And how good it was to simply walk around discovering the streets bit by bit, until I got to the main square, Piazza Maggiore. And how I loved that square at first sight.
If you look closely, it is not as dashing as Piazza San Marco in Venice, and that is precisely my point! It is smaller, elegant, medieval, cosy, with beautiful architecture and not only that – the atmosphere is also hypnotic. Maybe I exaggerate a bit here, but I pretty sure if you know the city, you will totally agree with me.
And best of all: it's not so packed!! If you have the time, plan a few days to explore Bologna, it is a small one but with a lot of things to do!





Piazza Maggiore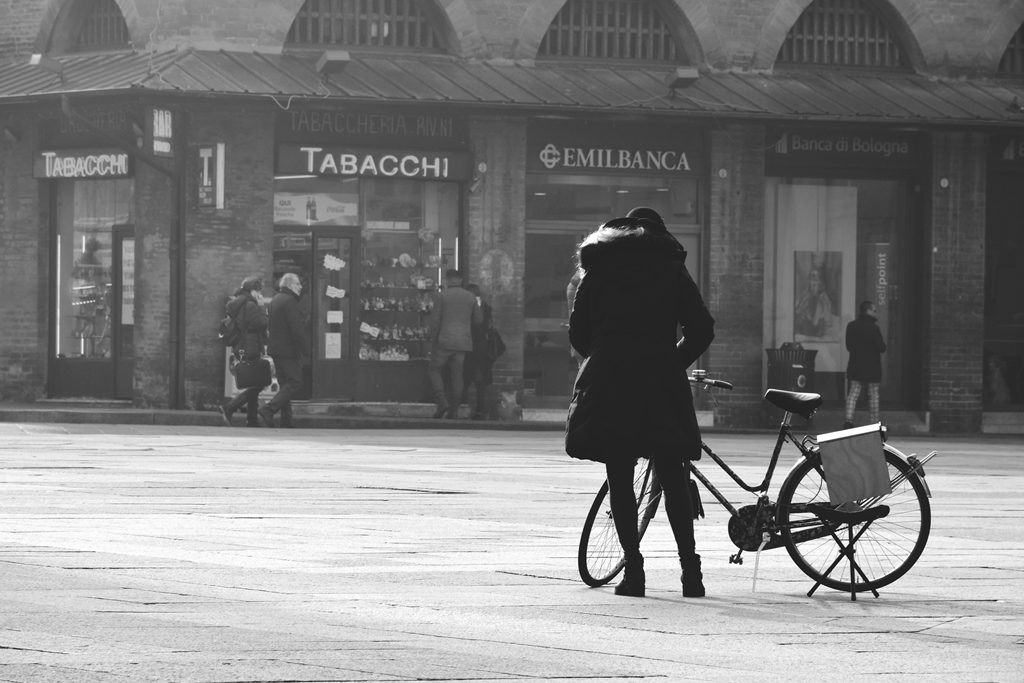 The Basilica of San Petronio is the main church of Bologna and is located in the heart of the city, in the lovely medieval Piazza Maggiore, for sure one of the favourite places of everyone who visits there. Also in the Piazza Maggiore to the west you have the Palazzo Comunale, or Palazzo d'Accursio, featuring a clock tower and the statue of Pope Gregorio XIII. From here rises the unfinished facade of San Petronio.
Curiosity: According to the initial plans, the church was supposed to reach almost 224 metres in length and 150 meters in width and this would have made it the largest basilica in, some say, the world. Unsurprisingly, the pope didn't approve the idea of a church larger than St. Peter's Basilica in Rome. Financial difficulties left the church asymmetrical, with an extra row of columns on the east side, and it's said that the documented financial expenditure was one of the factors that led Martin Luther to stand against the church.
Close to the basilica, you will find the Archiginnasio, the former – but still magnificent – university building. The Archiginnasio is the kind of place that makes you feel like you're in another time, and it's very well preserved. Today it is the city's municipal library and anatomical theatre, and its collection includes manuscripts, letters and over one million pamphlets. The building remains to this day one of the most important in Bologna.








The Two Towers: Degli Asinelli and Garisenda
A few meters from Piazza Maggiore, you find the most famous landmarks of the city, Le due Torri: degli Asinelli e Garisenda. I admit I went here every day of my stay (quick note: one of the things I love to do as a photographer is to shoot the same place by day and night. Try it: the results are always impressive as the light changes everything).
Bologna used to have hundreds of towers, a symbol of the power of the richest families in town and also an important point of defence against military attacks. These two towers are among the few that survived the test of time, city development and wars. Considering that the city used to have nearly 200 towers, they are an important reminder of a bygone cityscape. Both of the towers are leaning and were built in the 12th Century. The Asinelli tower is over 97 metres, making it the fourth tallest tower in Italy (first comes Cremona, then Siena and Venice).
If you are brave enough, climb it: 498 stairs straight to the top! Once conquered, you will have an amazing panorama of the city, and in case you're wondering, I didn't! I chose another panorama view to photograph, as I mention later in the article.



The Seven Churches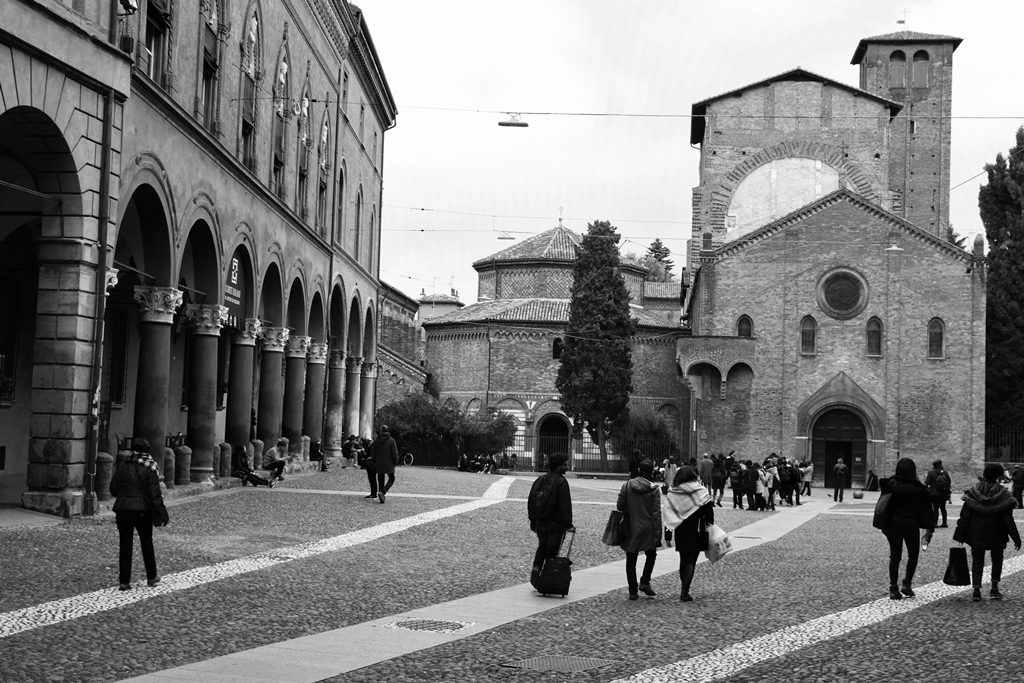 The Basilica of Santo Stefano, is known as Le Sette Chiese, The Seven Churches. According to its name, the basilica was as complex of seven different churches built in the 5th Century. Today only four remain. The first church was built on top of a pagan temple (there are doubts until today about it). Under the presbytery you will find a majestic crypt.
The surrounding area is full of courtyards with restaurants, shops and art galleries. It is indeed a lovely place to spend an afternoon drinking coffee, wine and prizing the local architecture.
San Michele in Bosco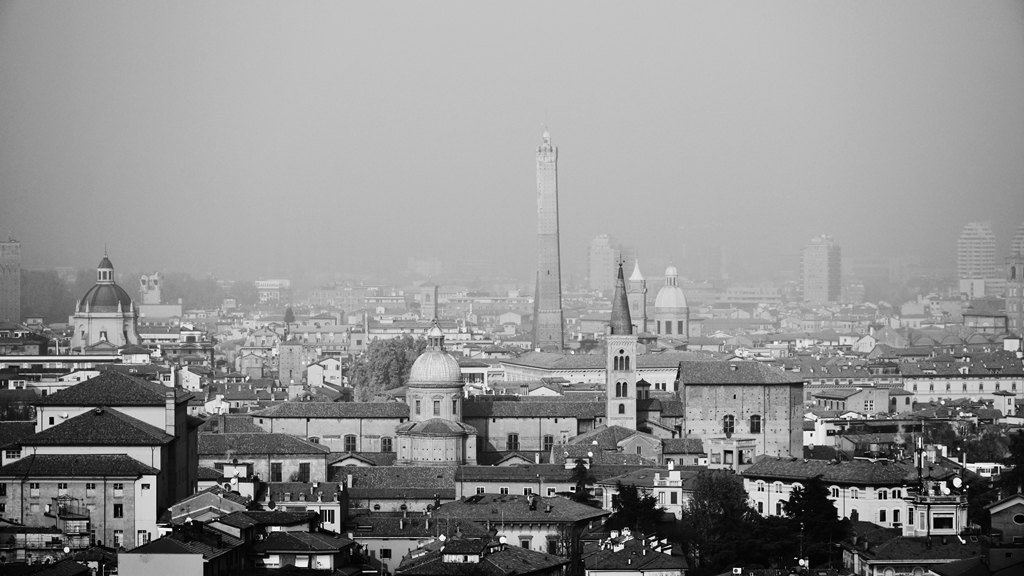 For another stupendous view of Bologna, head up to San Michele in Bosco (you can take on of those Sightseeing bus tours at Piazza Maggiore). It used to be a church and monastery, but was converted into a hospital, one that still operates to this day. From here, you can enjoy the outstanding panoramic view of Bologna, including Le Sete Chiese and Le Due Torri.
It is a completely different view than from Le Due Torri, but in my humble opinion, San Michele in Bosco is the best view of Bologna, because from there you can see the whole city, including its landmarks. Make sure to bring your camera, it is breathtaking.
Porticos
What to say about the beautiful porticos that are all over the city? Walking through them is like walking through a time portal; you are suddenly transported back to a bygone era. I love it, and by night, the porticos are even more fascinating. Walk alone into one of them late at night, and I assure you, you will have a most mysterious experience, feeling the energy!


Food & Wine
Besides all the things I have mentioned above, Bologna is also one of the best places in Italy to enjoy real Italian food. I hardly know anyone who doesn't appreciate it. I mean; who doesn't love pasta?? Just to name a few culinary examples of Bologna you can delight in: excellent pastas (meaning tortellini and lasagne), parmesan cheese, mortadella, balsamic vinegar, plus the finest meats from Bologna and Emilia Romagna region.
So, my suggestion is to enjoy even more of this gastronomic experience. Stop at a good place (not the tourist ones) to enjoy a glass of good wine, the city is full of wine bars. Paradise! Pick one where you feel comfortable so you can appreciate the wonderful taste of a Sangiovese, look around and glance at the bustling life of Italian people in this incredible city.
Ciao, ci vediamo presto!! (Bye, see you soon!!)
More info
About Fabiolla Loureiro
Based in São Paulo in Brasil, Fabiolla Loureiro has been working as a photographer since 2010. In the beginning she mainly explored fashion and nude, but in the last few years she became obsessed with travel (over 30 countries), and found herself involved with this freedom and opportunity that this kind of photography allows.
With minimum use of Photoshop, we realize in her street photography the practice of natural light, rain, silhouettes, high contrasts and cold nights. The preference with black and white comes from her inspiration, such as Brassaï, Robert Capa, Robert Doisneau, Saul Leiter, Elliott Erwitt, Sabine Weiss, Willy Ronis.
Urban chaos and the period between wars are also a constant source of study and reference. In addition, Fabiolla is one of the permanent artists of Andreus Gallery in São Paulo and since 2017 participates in an architecture/design project with Casa Portoro. In this project, she has more than 40 photos in exhibition, different measures, that are part of a few ambiances in the house in collaboration with some of the biggest names of architecture in Brazil.
In the last 2 years she had exhibitions happening in London, Bologna, Madrid and Paris, and now in March again in Italy. Her first 3 individual exhibitions took place in 2016 in São Paulo. In January 2018, she was selected as one of the members of Contemporary Art Curator, an online contemporary art magazine, that covers visual arts, events and connects artists from all over the world, and also part of Art Productions New York, a network of representation for artists with prestigious standards and vision.
Last year she returned to write about her travel experiences for us and launched her own blog sharing her influences and point of view on photography. In all those years, Fabiolla studied only 3 months at Focus Photography in São Paulo, being an autodidact artist. Now in January 2019, she received the Excellence Award from the Circle Foundation for the Arts Foundation in Lyon.
Fabiolla has also contributed with other articles filled with her beautiful pictures: Paris – Portrait of a City and Budapest at a glance.
Learn more