By Soham Nagchowdhury
December 8, 2019. Alitalia 1789 – Rome to Palermo. It would be my first ever flight to Sicily. Me and my mom had flown in from the two sides of the world for a perfect December holiday. The journey had already begun in Valencia, where we spent our previous night. Rome was a layover, and we still remember the curiosity and excitement running down our minds. I messaged our pick up driver Bartolomeo about our arrival time and switched my cell-phone to airplane mode. "Buon volo", the cabin crew greeted us; "Have a pleasant flight".
3 DAYS IN SICILY
Planning a 3 day trip to Sicily could be tricky. As an explorer, you want to make the most of whichever side you choose, whether it's Catania on the east coast or Palermo on the west. We chose the latter and you'll soon find out why.
OUR STAY : 12th Century Arab tower




Our flight safely descended in Palermo. Alitalia, we made it!! The feeling was priceless. One of the most charming nations of this world would be at our feet for the next 20 days. Bartolomeo picked us up in a nice SUV jeep. To be honest, he didn't seem very friendly, probably typical of Sicilians. Perhaps, it could also be the fact that we asked him to lift our luggage. Poor fellow, he clearly never encountered Indian guests before. "Get used to this chatter, you Italian boy", my mind stood up.
Minutes later, he zoomed in to our destination on Google Maps. "Well, this place, uhmm… it does not look like a hotel", he asked. Palermo is a city where everything closes before 10. It was now 11:30 p.m. and dark. For first-time visitors, what else could this possibly be? He looked totally puzzled. My mom trusted me on my bookings, so she hardly paid attention to our conversation. I cautiously uttered: "Yes, it's not a hotel. It's a historic Water Tower".
If I could ever give you the best advice for your Western Sicily trip, it would be to live in this 12th Century Arab tower. It's an experience that'll stay with you forever. Placed inside a fine aristocratic colony, this medieval residence is brilliantly located right opposite the Palermo Cathedral. If you have seen the map, you're right: you are in the heart of Palermo! Though, for many luxury seekers, this may be their worst nightmare. You have the kitchen in the basement, one sleeping room on the 1st floor, a small study on the second, and a bathroom on the third floor. The walls have spikes and could hurt you on each of those narrow steep steps you take. If you are hitting the bathroom, it's a spooky 10-min spiral climb every time. My mom was utterly shocked at this living situation and simply wanted to run away. Alas, it's an aristocratic colony and the gates are closed. Welcome to the 12th century!
Day 1 : Palermo
Palermo is a cultural beast and a foodie's paradise. That's all it is, and that's all we needed. We had the entire day to cover all the hidden treasures, from Rococo chapels to Byzantine mosaics to Arab-Norman heritage. In between, we would stop for some lip smacking Sicilian appetizers. That was the plan, and we kicked off at 10:15 a.m. sharp.
Oh shoot! I forgot to tell you about the two magic words you should be aware of. I heard them from my mom every morning, "acqua calda", which means "hot water". Shower, tea or coffee, Italians go pretty cold. So, everywhere we went, my mom would go: "Mi scusi, Acqua calda".
The Cathedral



Over the ages, Palermo has been covered and uncovered by different generations of rulers, each leaving a mark on Palermo's architecture and cultural influence. Built in the 12th century, the cathedral is a living embodiment of this phenomenon. Beautifully parked at the center of the city, you pretty much see most of Palermo's touristy action outside this cathedral.
On the exteriors, you see the cathedral as a glorious religious complex flaunting an eclectic mix of architectural styles. From the inside, it might well be a different adventure. Given that it was our first spot in Italy, the experience was a bit unexpected. At first, we felt an unusual coldness due to the dark atmosphere spelled by the underground Norman tombs. Gradually, as we went through the exhibits chronicling Palermo's tragic past, the design and lighting seemed more justified. Also, the cathedral had suffered aesthetically from multiple reworkings over the centuries, concealing some of it's shine. As a lover of Gothic architecture, my favorite area was the Western facade, a section adorned with exotic interlacing designs and Gothic-style arches. For Gothic lovers, that's your place to be!
"I am coming", I screamed from the top of the cathedral's roof, firmly grabbing my camera bag against the wind. We had clicked some insane panoramic views already, and this would be my mom's 5th photograph at the same spot. In Italy, every moment deserves a click. Having said that, it is better to save your rolls primarily for food and architecture. As a South Asian, I hate seeing myself among the local Italian crowd in photographs. Italians seem to be fashionable by birth and trying to fit yourself 'in' could be demeaning. A year after the trip, I realize how we still didn't "fit in", as I spot elite locals from our photo album.
Cappella Palatina




Our next spot from the cathedral shall stand as my #1 tourist destination in Sicily. None other than Cappella Palatina. Until here, me and my mom had been noisy kids, chattering loudly on the crooked streets of the Sicilian capital. Entering the chapel left us completely awestruck and silent for at least the next ten minutes. Soaking in religious iconographies and multicolor mosaics from all angles, our eyeballs rolled everywhere, until they spotted the charming Islamic-style vaulted ceiling on the top. "Hats off to the Norman Kings of Sicily, this is royally awesome!", I beamed with joy.
We had walked a ton, and our appetite was about to give up. Time check? "Gosh! It is already 12:30 p.m. Hurry up, we need to grab something before the Siesta", I declared. Palermo's business break time is usually between 1 to 3:30 p.m. We stopped by one of the street food corners right beside the cathedral. First, let me tell you that Palermitana are obsessed with eating, and eating well. Not to mention, Sicilian cuisine, something distinctly different from mainland Italian food, was one of my prime motivations for this entire trip. When I saw those meat-and-cheese stuffed rice balls nicely coated with breadcrumbs on TV, I knew I was gonna go get them. And here we were, filing our mouths with pieces of Arancini from Palermo's best. Palermo is simply an oasis of street food lovers. My recommended food exercise for Sicily travelers – Start with a sample of Arancina or Sfincione, walk some more, try a new local specialty (maybe a quaglie or croche), keep walking and repeat.
You may also like to read about:
Rewarding ourselves with a few other spots and a nice stroll around Via Maqueda (Main Street) and Quattro Canti, Palermo's central Baroque square, we called it a day. Palermo was nothing short of spectacular. Listening to centuries of soaring highs and crushing lows, we could only imagine what it takes to form such a complex metropolis. The capital city painted our memories with some of the most beautifully decorated churches and historic palaces. And then, of course, Teatro Massimo Vittorio Emanuele, the biggest opera house in Italy. That said, our most enriching experiences still came from simply walking through those art-filled piazzas and losing ourselves to the center of the Ancient world.
Caution : Ballaro Market – I got that place completely wrong. It's a sweet trap. Many websites label Ballaro to be a street food market. It's not. It is like a regular Asian or North African "bazaar", full of vendors selling groceries and spices. The only snack you could find here is panelle, the Sicilian fried chickpea fritters. Nevertheless, Ballaro could be the perfect resource, if you plan to stay longer and cook traditional Sicilian dishes at home.
Day 2 : Erice and Segesta
Palermo done and dusted. The best is behind us now. Well, at least, that's how my mom felt. How could the outskirts of a capital city even come close to the city itself ? Umm, she's got a valid point. "We're going to Erice today", I raised the toast. She had not come across this name in her research. I did not have very high expectations either. Little did we know that we were actually on to something really special.
Erice




Erice is a walled 12th century medieval hilltown over the port of Trapani, the city of salt and sail. Driving up to Erice is probably the only way to get there. In Sicily, one pro-tip is to pick up a rental car and get out of the city, there's so much more to explore beyond the capital. We began this 3-hour long drive with our very own Bartolomeo. Today was going to be a good day. "La Dolce Vita", as they say. Bartolomeo seemed friendlier than before. Umm.. Maybe he broods only during night time. Or perhaps, he had found out that we would book him each time we left the city. Nonetheless, we returned the smile and went on to hear stories around Sicilian lifestyle, as he drove us through the hills of Trapani.
Minutes after we got off from the car, we were caught inside a maze of mesmerizing stone-paved streets. Walk up, down, left or right, it's all the same, and all so archaic. Erice is it's own universe. Sauntering through the silent alleyways and admiring the pretty staircases and windows, you hardly realize you have already slipped into the medieval era. In my life, I have seen places transporting you to a new world. But for a place to transport you 1000 years ago and then not bring you back is sensational. There's some magic, don't know what it is, but it makes you forget there is ever a 21st century. For the next 3 hours, food meant fire and safety meant daggers and swords.
Plodding across every stone and block, we spent the next few couple of hours getting lost in Erice's labyrinthine grey cobblestone paths, digging corners and uncovering hidden treasures. I was living in a fairytale, bathing in sunshine and nosing down those impossibly narrow back alleys in anticipation, wondering where it would lead me. Rambling around some baroque stone-houses and an old stone church, we hit Corso Vittorio Emanuele, the main street, giving us the first glimpse of modern day life. Lined with souvenir and pastry shops, this is one of the most photogenic streets I have ever come across.




Another striking fact about Erice is, of course, the food. If you have ever wanted to truly understand the difference between average pasta and finger licking good pasta, order a plate at La Prima Dea. Our lunch in Erice was memorable. Today, whenever I miss Italian food, my heart goes back to Erice and our incredible lunch – A plate of Couscous con Pesce and Busiate al Pesto Trapanese. Not to forget, one can never leave Erice without trying the mouth watering pastries from Pasticceria di Maria Grammatico, a 1950 sweet shop that became legendary due to the owner's book "Bitter Almonds". Here, the dream sweet is the cassata, a delicate and delightful concoction of sponge cake, cream, marzipan, chocolate and candied fruit. A lovely afternoon meal in Erice, followed by a round of cassata and almond liqueur cookies is all we needed to double down on happiness.
Back in the car, we were on our way to Segesta, our next pitstop. Well, now what do I say about Segesta. Let's just say, both me and mom had been anxiously waiting for witnessing this magical ancient site. Set on the edge of a deep canyon amid wild mountain ranges, this majestic 5th Century BC structure stands like an absolute rockstar.
Segesta
We marched all day, and our feet still had more work to do. "How many stairs to climb?", my mom turned to Bartolomeo. It wasn't that bad. There was no one else except the three of us. I quickly ran up the stairs, with only my mom to follow. In another couple of steps, we knew we were gonna witness something truly out of this world. "Wow!!!", my mom exclaimed. Captivated by the size and glory of this never-completed Doric-style monument, we stood for a few minutes in amazement. Temples back in India resemble nothing like this one. It was magical.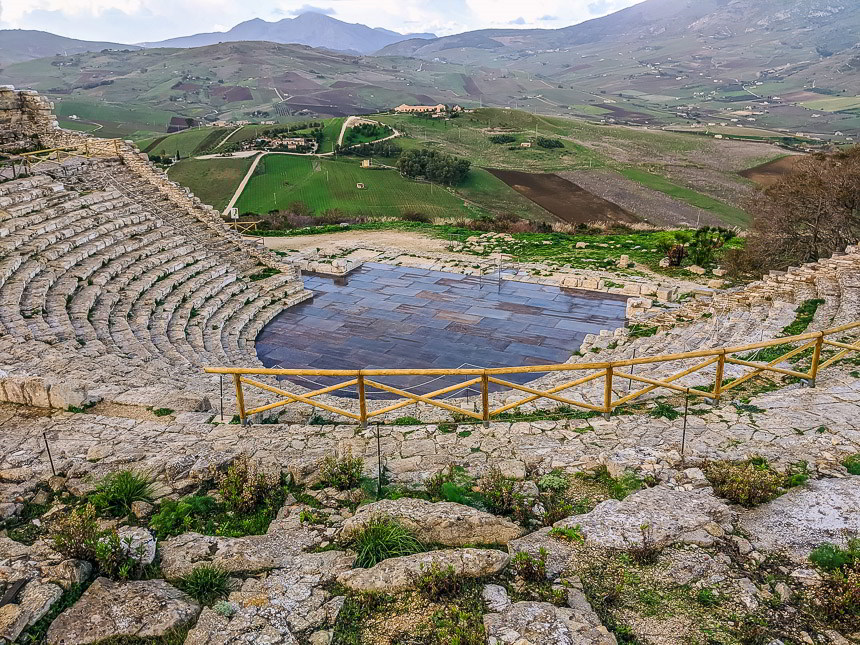 4:30 p.m. on the clock – 2 down, 1 more to go. Our last spot of the day, The Greek Amphitheatre. We thought we had been doing well on time. Well, yes, we were, but we didn't know about the shuttle bus between the parking spot and the theatre. Luckily enough, we caught the last shuttle climbing to the theatre. Set in the middle of a large hilltop, now known as Monte Barbaro, the amphitheatre reminded us of musical shows and events from old Italian classics. We were glad to find out that it indeed presented such shows, since 3rd century BC, hosting more than 3.000 people. Constructed in a typical Greek fashion with a hollow on the hillside, the theatre was an unforgettable sight.
All said and done, Segesta was historic. Even when nothing from ancient Segesta exists today, the ruins of the temple and hilltop theatre are so remarkably preserved. We bowed down in awe. It was indeed a good day. "La Dolce Vita", as they said.
Day 3 : Cefalu
After two days of immersing ourselves into Sicily's cultural heritage, it was time to relax. We knew we could pick any north-coastal beach town in Sicily and we would be all set. Much to my mother's desire, we picked Cefalu, the topper from the list.
Cefalu is arguably the most gorgeous town in Sicily, offering the perfect blend of an exquisite beach resort and a medieval town. Tiny pretty houses chiseled into rocky hillside, leaning towards a picturesque waterfront, garnished with centuries-old churches. If you have ever seen a seaside wallpaper of Sicily, you have probably glimpsed Cefalu's charming port. The visual is simply magnetic and once you experience it in real, you shall miss this place forever.
A train ride away
My mom loves beaches, and I love train journeys. Now, we had a chance to get a piece of both. In a country that takes time quite easy, it's rail systems are rather efficient, smooth and above all: economical. Palermo is the ideal base for Cefalu. Tickets from Palermo to Cefalu will cost €11.20 each and you have trains almost every hour. Gliding across the coastal edges and watching the vistas of Tyrrhenian sea unfold, an hour-long train journey is all it took for us to reach Cefalu.
Note : The train schedule could vary slightly depending on the day, but you can check the options for Palermo to Cefalù on the Trenitalia website. Tickets can be purchased online or in person at the station.
In the world, few places just sweep away your senses as soon as you arrive. It's hard to explain, but they just pheromonically smell good, and you know they'll be good. Heading out from the train station, we felt the soothing sea breeze, carrying rosemary and lavender scents along the way. The aroma felt delightful. We knew there was something we would like here. Ambling past all the shops and offices near the station, it looked like a busy town, that had gone for a likely Christmas holiday. On such a weekday, stores were closed and dozens of cars were parked, with very few people on the streets. Luckily for us, we still managed to sneak into one of the information centers and get the city map, a must for day trippers.



To start off, we hiked up La Rocca for stunning views over the coastline in both directions. "Wow, the water looks so divine," were my first words. Later, as we slowly set off towards the mesmerizing waterfront, the landscape turned magical. A charismatic beach at sea level with architectural masterpieces high above, set against a dramatic mountain backdrop. I will leave the rest to your imagination. All I can say is that it was unreal, more like a splendid Italian painting. It was as if the old town was hugging a curve of the Tyrrhenian coastline to extend it's charm. This is exactly how I would see Italy in my dreams, and now we were in it. A customary passeggiata, or evening walk, along the seafront promenade helped regain our lost energies.
After lazing around a bit, we started strolling our way up to the pedestrian Old Town. In every beach town, there's always one classic spot that draws us in, cameras raised, and in a perpetual state of click-click. In Cefalu, we have two. Piazza Duomo and of course, the Promenade. Another pro tip here – While these two remain your main anchors, don't make the mistake of circumventing the Old Town. Some of the most fun activities happen along these narrow, winding streets. Even if there are no events rolling over, you'll always find yourself savouring delicious seafood or pastries in one of those vibrant restaurants and ice cream parlors. For style conscious shoppers like you and me, there's plenty of interesting boutique shops lining up before the Duomo. Something similar to most Italian towns, this Mediterranean jewel is also best admired when you break off from tourist throngs and see where your camera or your feet takes you. Then, whether it ends at the ocean or at a table with another Aperol spritz, I can guarantee it will have been a good day.
The Duomo


Unfortunately, we arrived pretty late and the Duomo was closed. That's a bummer, isn't it? Don't be sad. We were still able to gather a piece of interesting history around the Duomo of Cefalu. Centuries ago, in 1131, Roger II, the King of Sicily was caught in a sea storm followed by a deadly shipwreck. He made a promise to his Holy Savior that if his life was spared, he would build a grand cathedral in his honor. Fortunately for the world, he survived. Fulfilling his vow, Sir Roger started constructing this marvellous church in the same year. Unfortunately for him, he died in 1154 and couldn't see the Cathedral of Cefalu completed. Though legends back the above story with evidence, some still argue that building a mighty church so far from Palermo was a strategic move to prove his power across the island. On our way back to the capital, we lost ourselves in many such interesting tales.
Goodbye Cefalu, until next time! The Sicilian experience was ready to wind up, and we were flying out to Venice the next day. My mom loved Cefalu the most. For me, it shall always be Erice. Palermo and her two beautiful neighbours will be remembered.
December 12, 2019. Alitalia 1792 – Palermo to Venice. Hold on, did we miss something? Yes, we missed the most important thing. Wait, what? A sumptuous pastry tube filled with sweetened ricotta, garnished with chocolate and pistachios. In one word; "Cannoli". No trip to Sicily could ever be complete without talking about Cannoli, Sicily's quintessential pastry shell with a sugary filling. By now, you must have known how Sicily celebrates the joys of sugar morning through night. From marzipan fruits to ricotta-filled pastries, they have it all. Yet, this all-star list of Sicilian desserts always starts with a piece of cannoli. During our last walk by the Main Street, we indulged in two large cannoli from Cannolissimo, bidding Sicily a sweet goodbye.
Until next time
If you know locals from Italy, you will often hear that you won't fully understand Italy until you've been to Sicily. Sicily is the microcosm of the different cultures intertwined in modern day Italy we see today. To have witnessed some of this diversity, we feel really grateful. I know you'll cherish the traditional Sicilian fare very soon, so let me leave you with this last brochure of advice: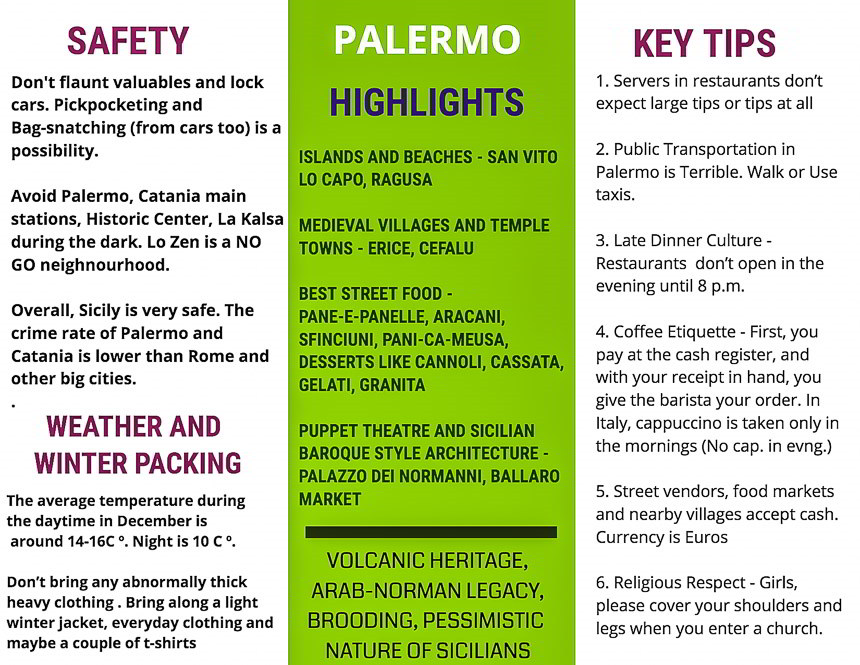 About Soham Nagchowdhury
Soham Nagchowdhury is a travel blogger from India, currently living in Seattle, USA. He enjoys staying with locals, listening to their stories and learning about their lives and interests. While travelling, he aims to find a distinct character in every city and loves places that can be personified. Culture, History and Photography excite him the most.
In his writing, he loves to blend the conversational style with intriguing facts and travel tidbits. Read more on his website.
More info
Learn more