The Seven Hanging Valleys Hiking Trail is probably the most beautiful hiking path in Algarve – and even in all of Europe, according to European Best Destinations. It's one of our favourites as well. Actually, we thinks it's so beautiful that we've hiked it 3 times in a year!
And because YOU can't visit Portugal right now, WE did the hike again last week to present you with a video of this amazing trail. To hopefully inspire you to go yourself, when you get the chance. Enjoy!
The practical stuff
The hiking trail is around 12 kilometres in total, from Praia da Marinha to Praia do Vale de Centeanes and back again. Even though it's not a circular walk, the views in each direction are stunning and surprising. The trail is not very demanding, but at some points you have to climb on rocky surface, so you'll have to have steady feet.
We recommend you start the hike at Praia da Marinha, or Marinha beach. The car park is brand new and fits a lot of cars and it also has a bus stop, so if you don't have a car, you can jump on bus no. 77 and end right here.

Allow 4-6 hours for the hike, depending on your form, desire for a dip or need for taking pictures of this beautiful stretch of coastline, the latter I can attest to myself!
Bring along food, water and snacks. Depending on the season of your visit, there may not be any restaurants open on the trail as they usually close down for the winter. If you're visiting in late spring or summer, there might be cafés/snack bars/restaurants open down at Praia da Marinha, in Benagil and at your finish: Praia do Vale de Centeanes.
If you're keen on an aquatic adventure, you can visit the Benagil caves from Praia de Benagil. They arrange boat rides and sit-on-top kayak rentals, so be sure to bring some cash. And a freezer bag or similar to keep your electronic devices snug and dry.
Amazing seascape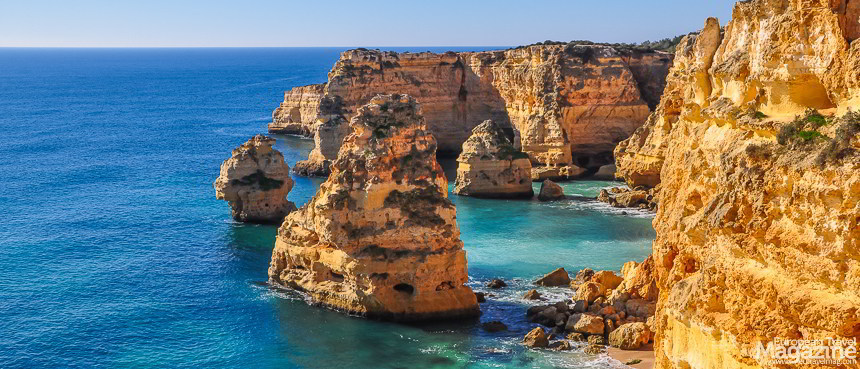 The Seven Hanging Valleys hike is emblematic of the amazing seascape of Algarve.
The movement of fresh and salt water on the limestone during thousands of years resulted in the formation of a jagged coastline, called a karst landscape, with a remarkable diversity of geoforms that can be observed on the trail: arches, caves, and these incredible sinkholes.
The highly fissured limestone rocks allow water to infiltrate rapidly. Rainwater, which is acidic due to its carbon dioxide content, causes the limestone – which basically consists of calcium carbonate – to dissolve, deepening the cracks in the rocks and infiltrating them over large distances, creating underground rivers. As the rock is gradually worn away, the cracks and cavities are accentuated, creating a complex network of wells, galleries and caves.
A hanging valley is a ravine, that's not completely connected to the sea, which means that if the stream, that created it – and probably cascaded into the sea as a waterfall – would've continued to flow and slowly erode the rocks, it would eventually have reached the ocean. But the stream dried out and left the valley kind of hanging there.
Around the Alfanzina lighthouse you can witness these pristine Shell fossils encrusted in sandstone. They probably date back to the Miocene period, so they're only between 5 and 23 MILLION years old. And they look like they were made yesterday!
The beaches
You'll get the chance to dip your toes in the Atlantic ocean at four of the most beautiful beaches in Algarve on this trail. First (or last) there is Praia da Marinha, which is a personal favourite. Although it's a tedious stroll down there, it's worth it only to surround yourself with the amazing geoforms and witness the grandeur of the cliffs at close contact.
Praia de Benagil sits at the mouth of a former stream that carved a narrow gully in the cliff. The beach has sheltered a fishing community but nowadays, boats are mainly busy with visits to the stunning Benagil caves. To visit the caves you can either catch a boat ride or go on a kayak. It's really not that far from the beach.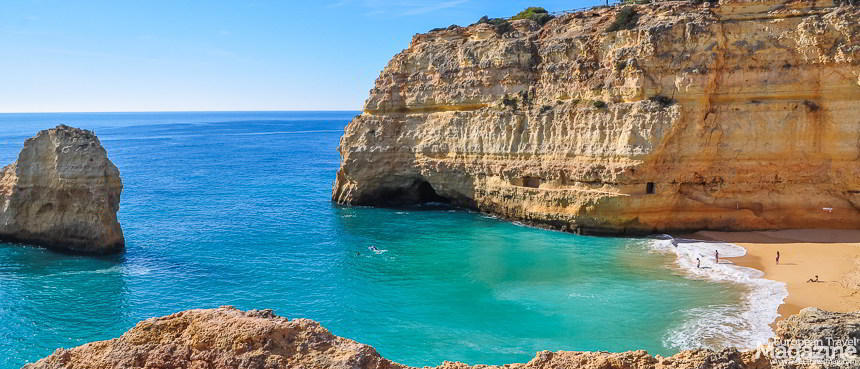 The next accessible beach is Praia do Carvalho. You can reach the beach through a tunnel when you walk past on the trail, and it's a treasure as well. Here, you can imagine that you are alone on an island, having the beach all to yourself (or at least until the next hikers come along).
Do you like this kind of hike? Then check out Another Beautiful Hiking Trail in Algarve
The last, grand beach; Praia do Vale de Centeanes is embracing its sunseekers with its steep cliffs, sheltering you from a northern wind. But not from falling rocks, so don't camp too close to the cliffs! It's an amazing beach to take in the magnificence of Algarve's coastline.
Best hiking trail in Europe?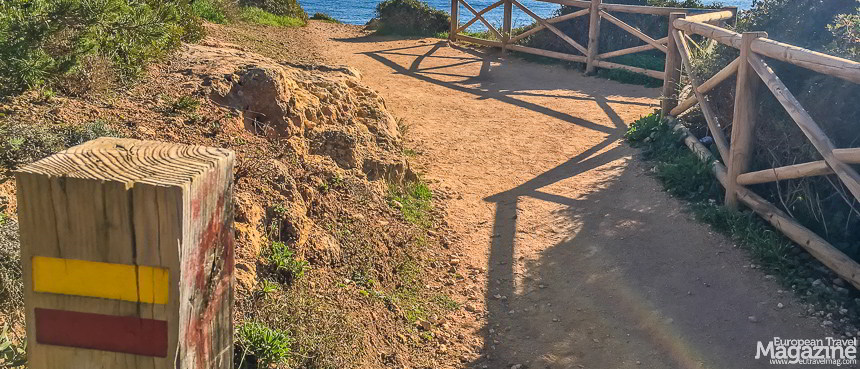 The Percurso dos Sete Vales Suspensos, as the trail is called in Portuguese, was recently elected as one of the Best Hiking Destinations in Europe. The European Best Destinations' ranking was voted by almost 30.000 travellers from 153 countries. But they may have been wrong… Guess you have to go yourself to find out!
More info
For more ideas for great hikes in the Algarve, we highly recommend the guidebooks from Cicerone, like Walking in Algarve.
Learn more