By David van Brakel – www.helloamsterdam.com
Well-known for its tree-lined canals, beautiful architecture, and vibrant nightlife, Amsterdam is one of Europe's most eco-conscious destinations. From hundreds of sustainable shops and 400 km of cycle lanes to ecologically responsible hotels and farm-to-table restaurants, there is no shortage of eco-friendly places and activities in the capital of the Netherlands.
The good news is that tourists visiting Amsterdam can easily participate in this lifestyle and be a part of the city's conscious way of living. To help you maintain the city's environmentally friendly practices, here is the ultimate guide to staying green in Amsterdam.
1. Rent a Bike
Cycling is a way of life here in Amsterdam and it seems that riding a bicycle is the favorite means of transportation for both locals and tourists. Thanks to the well-maintained cycle lanes in the city, getting around on a bicycle and visiting some of the best attractions in Amsterdam is relatively easy and a great way to stay eco-friendly. You won't have problems finding a bicycle in Amsterdam, as there are hundreds of rental shops in the city. It's also a great way to venture beyond the city gates and explore the countryside in the Netherlands.
2. Fish for Plastic on Amsterdam's Canals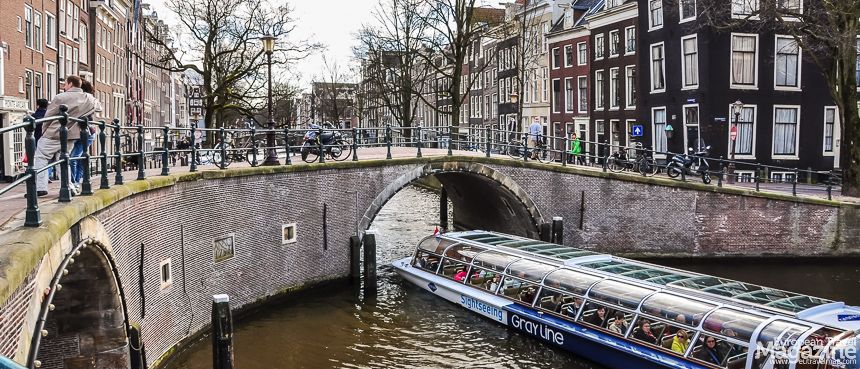 Going on a canal cruise is a great way to see Amsterdam from a different perspective. Although there are many popular canal tours you can go on, my favorite tour is with Plastic Whale. The company fishes plastic out of the canals with the help of passengers and uses this plastic to make more boats and office furniture. This tour also allows tourists to experience numerous local landmarks while helping the environment.
3. Sustainable Shopping in Amsterdam
Shopaholics who wish to have an eco-conscious experience in Amsterdam will be happy to hear that the city offers plenty of sustainable shopping options. You will find many vintage shops that sell second-hand clothes by the kilo, as well as numerous shops where you can purchase eco-friendly beauty products.
Visit the Lena fashion library which encourages the concept of borrowing vintage and designer clothing and returning the same items at the end of the month. There is also the eco-friendly Marie-Stella-Maris store which sells natural beauty products and makes donations to clean drinking water projects.
4. Eco-Friendly Restaurants
The capital of the Netherlands offers plenty of excellent dining options and is home to many eco-conscious restaurants. Located in the trendy De Pijp neighborhood, you will find the amazing De Waaghals which offers an extensive and reasonably priced organic vegetarian menu. Restaurant Instock is trying to solve food wastage by rescuing ingredients from food surpluses and local supermarkets to make delicious meals for breakfast, lunch, and dinner.
If you are in the mood for some fine Mediterranean cuisine, head out to Restaurant de Kas which grows veggies and herbs inside their greenhouse. They also have a farm just outside the city, so everything you eat here is made from seasonal ingredients. It is also worth mentioning that both meat and fish are sourced from local suppliers here at Restaurant de Kas.
5. Stroll Through Amsterdam's Beautiful Green Parks
No visit to Amsterdam is complete without experiencing the city's wonderful parks. The most famous and the largest park, Vondelpark is a great place to unwind and enjoy the scenic views around you. There is a nice summer theater here, as well as dozens of cute cafes and restaurants. To get away from the crowds, it's best to pay a visit to Amstelpark in Amsterdam Zuid. There is a mini-golf course here, as well as a couple of snack bars. The lovely Westerpark is home to a paddling pool which doesn't contain any chemicals whatsoever.
6. Amsterdam Green Hotels
Looking for an eco-friendly place to stay while visiting Amsterdam? Fortunately, the city is home to many excellent sustainable hotels that implement saving measures.
EcoMama Hotel is one of the newest additions to the eco-conscious hotel scene in the city. There are 7 room types here ranging from dorms to deluxe suites that cater to environmentally friendly travelers. The hotel uses natural stone heating, donates €1 from guests' bills to various charities, and has cradle-to-cradle furniture.
Combining co-working spaces and hotels, Zoku Amsterdam makes efficient use of old spaces by purchasing abandoned office buildings and turning them it eco-friendly accommodations. Most of the rooms here are loft-style and come with a work desk and a kitchen. You can even attend various events here including cooking and business classes.
With three locations in the city, Conscious Hotels are eco-design hotels which offer a 100% sustainable experience. For instance, the hotels use electricity which is made by wind turbines and renewable energy and the tire station location has solar panels on the roof.
About Hello Amsterdam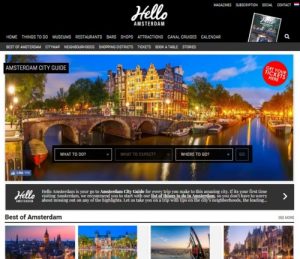 Normally we'd recommend a country's official tourism website, but Hello Amsterdam is actually even better. It's your go to Amsterdam City Guide for every trip you make to this amazing city.
Let them take you on a trip with tips on the city's neighborhoods, the leading shopping districts and what museums to visit. They'll guide you to the best bars and restaurants and keep you informed about all the events taking place.

Learn more