Ramparts, colourful cottages, cobblestone lanes, and island hopping on Sweden's West Coast. Those are some of the highlights of Jerry's visit to Marstrand; supposedly the most beautiful town in Sweden. Find out what to see and do on the archipelagos and islands on the west coast of Sweden – and why one week just isn't enough time to explore its many aspects.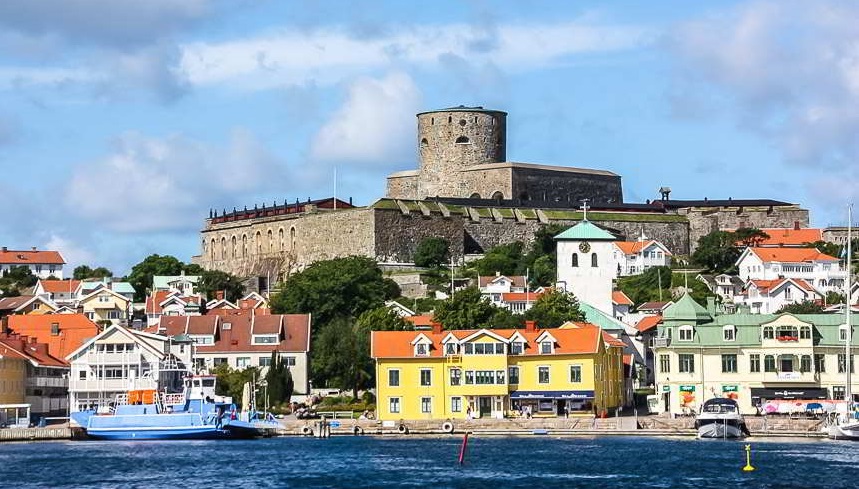 By Jerry Olivas
A loud whistle woke me up. My phone said 7:00 am. Who's blowing a whistle right outside my window? I soon found out.
I had tried to talk my wife out of going to Marstrand, an island on the west coast of Sweden, thinking it would be overrun with tourists, especially in August. Travel websites made it look spectacular with its dominating fortress and massive amount of leisure boats in its harbour. But I thought: "just another tourist trap." As it turned out, I was very wrong about that.
As we arrived it was easy to see why people called it the Fortress Island. The mostly 17th century Carlsten's Fortress looks like a huge castle and sits on the highest point of Marstrand. It dominates the entire island. As we approached the Island I glanced looked over at my wife and could tell we both had the same thought; "this looks like a fun adventure".
Marstrand itself is pretty much a pedestrian island. Private cars are not allowed, but there was an occasional delivery type vehicle and also a few bikes, skateboards and scooters.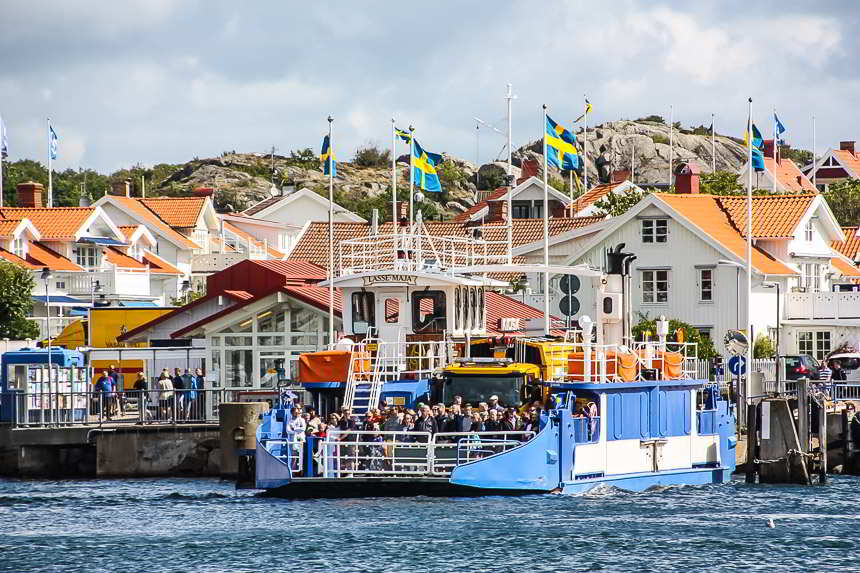 Systembolaget and grocery shopping
On the way to Marstrand from Gothenburg we made a stop in Kungalv, about 15 miles from Marstrand, at the local Systembolaget, the government-owned state liquor store. You gotta stock up when you go to the Systembolaget because it's only open 6 days a week, Monday through Friday 10:00 am to 7:00 pm, Saturday 9:00 am to 3:00 pm, and closed on Sundays. But no worries about selection of booze, because there's lots to choose from and prices are surprisingly not too bad, compared to Southern California. We picked up two cases of Australian Syrah wine as there's no limit on how much you can buy, just a few "you must really like wine" stares from other customers.
Also, we made a quick stop at the Maxi ICA supermarket in Kungalv to pick up some supplies and a roasted chicken for dinner. We liked this supermarket because it had virtually everything, with a lot of deli type stuff and a bakery. Using those handheld scanners was kind of cool, but the problem was the tendency to overscan. To be honest, we weren't sure if we were paying too much or not enough.
Our crib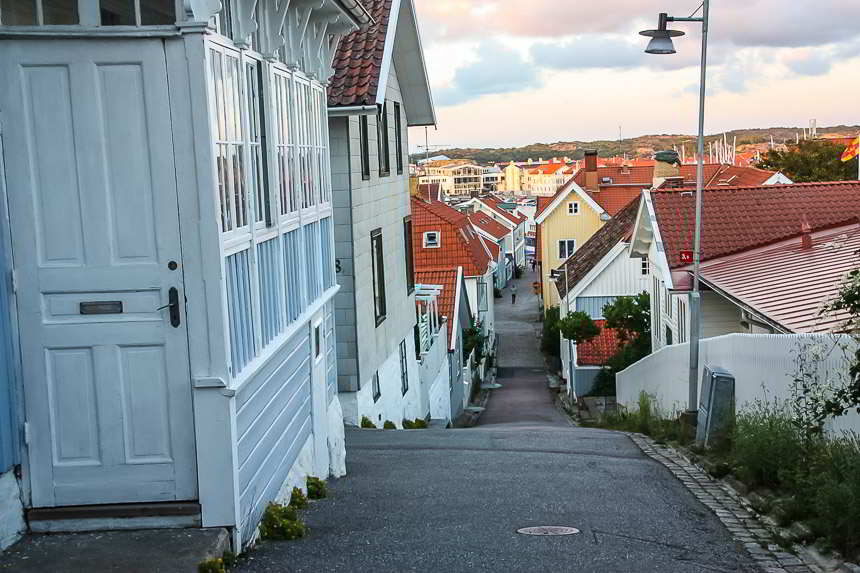 We found a few places online using Booking.com with a kitchenette to stay on Marstrand. This was easy enough to do given that Internet connectivity is good everywhere in Sweden and it seems like everyone knows English, so it's easy to have questions answered and directions too. We got a place right on the harbour near the ferry landing called Villa Maritime Marstrand, a small studio apartment with a fully equipped kitchen and separate sleeping area, on the ground floor with a picture perfect view of the harbour.
We parked our rental car in Koon at the designed lot for our accommodations, made the quick ferry crossing, and walked over to our apartment. We booked it for a week, but were a little worried that we may not have enough to do. We were both wrong about that.
We got settled in, opened a bottle of Syrah and started to look over some of the local tourist information we picked up at Marstrand's Tourist Information office right by the ferry landing. As we sat in front of the opened window overlooking the harbour, on a picture perfect warm Swedish day, it was easy to see a week might not be enough time. Actually, it was fun just sitting there watching the ferries coordinate with each other and at the same time avoid small and large pleasure boats.
What to see and do
Carlsten's Fortress
Sacking Marstrand's Carlsten's Fortress was first thing on the agenda. It was a short walk away, but with a bit of uphill. We cut through some of the little cobblestone lanes and it wasn't long before we were on the ramparts of the fortress overlooking Marstrand. You could see all around the island including the mainland of Sweden as well as out into the North Sea.
The Fortress admission was a little less than €10, and like so many noteworthy places there was a nice little tearoom with great Swedish sweets, teas, coffees, and yes, wine, of which we took full advantage of. They had one of those make your own waffle machines too with plenty of sweet topping. My wife calls these 'heart stoppers'.
There was plenty to explore in and around the Fortress without actually paying the admission fee, and like everywhere in Europe: check for discounts, like Senior rates, which can cut prices for many things by one-half. It was easy to imagine all the history of the Fortress; battles, a prison, and ghosts – certainly there are ghosts. In our week on Marstrand the castle became our go to for picnics and hanging out and it was never really crowded.
Hamngatan street
The main tourist promenade on the island is along the harbour on Hamngatan street. This was good for a stroll and look around in some of the small shops. The Swedes are big on selling local artist creations, like pretty little colorful glass creations.
On the Hamngatan there were a couple of small grocery stores for general supplies and daily there were farmers market type fresh produce sellers and a couple of fishmongers, that always had fresh Norwegian salmon. If you didn't find what you wanted on Marstrand, it was easy enough to hop on the ferry and cross over to Koon for more of everything. But no Systembolaget in Koon or on Marstrand.
In addition to little artsy shops and restaurants, Hamngatan as a number of interesting must sees and dos. There's a modern art museum art gallery in an old fortification named Sodra Strandverket at the south end of Hamngatan. There are some nice things to see here including some sculptures in the courtyard. It has a little gift shop and café too.
On the north end of Hamngatan there's a large wooden palace, built in 1887 by King Oscar II of Sweden, as a place to relax and entertain. It's now mostly used for special events. It's worth going inside to see all the ornate woodwork. All over Marstrand there are many late 1800s and early 1900s wood structures with neat balconies and pointed roofs and the very inviting colourful wooden doors. Walking around on the quaint little streets is like being in an open air museum with gingerbread houses everywhere.
Hiking trails
After you have explored Marstrand village area why not go on a hike? There are a host of fairly well marked trails, that make you feel like you are in the wilderness, but right on the sea. Just pack a picnic lunch and your swimsuit, or not (there is a nude beach at Svarte Udde), a bottle of wine and some water, and off you go. It's about 5 kilometres / 3 miles around the island and there are numerous trails that crisscross through the center.
There's plenty to see, including lots of neat rock formations, small cove-like beaches, and a small lighthouse on the very tip of the island. You can pick up a trail map at Marstrand's Tourist Information office. Good to take an umbrella just in case and comfy sole gripping shoes are a good idea too.
Boating
If you are a boating person, Marstrand will not let you down. There are a large variety of boating activities include island hopping tours, sailing lessons and fishing. We rented some kayaks at Marstrandskajaker on the Koon side, and had a blast exploring around Galgholmen Islands, until it started to rain. Forgot the ponchos that day, but had the umbrellas when we were back on shore.
Where to eat
Self-catering, as it's called, helped cut cost, was convenient and delicious, but for restaurants there are plenty of selections all around Marstrand. One place not to be missed right on the Hamngatan was Bergs Konditori. They had daily fresh bread and lots of yummy sweets. For me it's anything with marzipan, and Bergs was a good place to satisfy my habit. There's nothing like relaxing at one of their outside table watching the ferries and boats and slowly nibbling on a marzipan treat.
It you like fish soup, Arnell Pa Kajen on Hamngatan is the best, with woodburning stove, of course. And across in Koon the pizza with fish at Hamnkrogen near the ferry landing is fabulous with great views of Marstrand Fortress.
Day trips
If you need to make a trip back to Maxi ICA supermarket and/or Systembolaget in Kungalv (an easy 20 minute drive) do stop by Bohus Fortress. This is well preserved fortress that dates all the way back to the 1300s. The views of the surrounding valley and rivers are spectacular from the ramparts. It's located on an island near the centre of Kungalv.
The islands of Tjorn and Orust, just north of Marstrand, are great for full or half day adventures. Tjorn has the Nordic Watercolor Museum that's a definite must visit. Admission is about €5,5 and there's a nice little café for lunch. If you're not a watercolour enthusiast, this museum will convert you.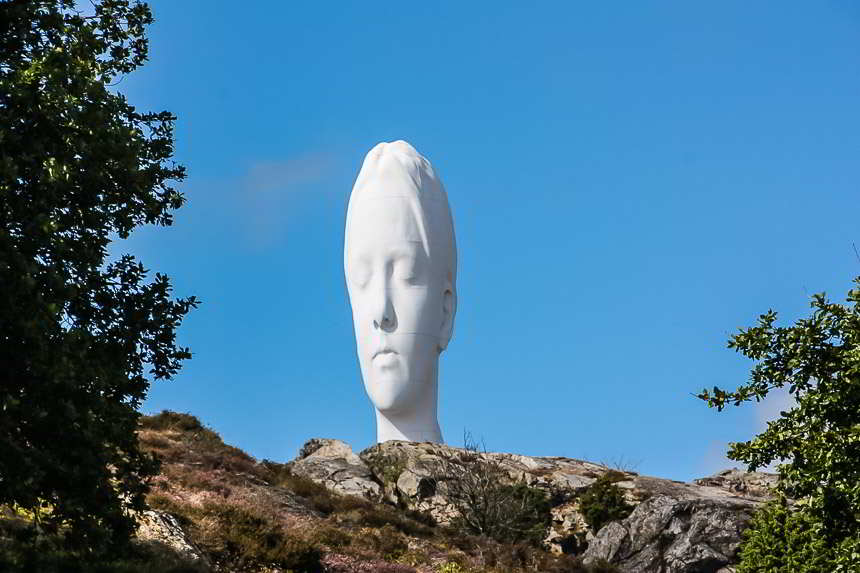 Also on Tjorn is the Pilane Heritage Museum, an outdoor sculpture exhibition in a natural setting. This is definitely not to be missed with many world-famous artist works. Be ready for some hiking here, because there are lots of ups and downs and fabulous vistas. And as a bonus for archeological buffs, there a several 4000 year old ancient stone circles and burial sites. Entrance to the exhibition is a little less than €13. Do not miss this, it was a definite highlight of our Sweden trip.
For more exploring, just north of Tjorn is Orust Island. The two islands are connected by a short bridge. Orust is a little bigger than Tjorn and might be just a bit more rural. We enjoyed visiting the Haga Dolmen burial chamber, but it was not that easy to find, but definitely worth it. Also, the small, only about 200 inhabitants, fishing village Mollosund is a good place for a picturesque picnic and walk. But for lunch, if you didn't bring a picnic, or if you need a second lunch or snack, Solegarden (Kollungeröd 604, Svanesund) is the place. It's like your grandmothers with lots of homemade goodies, including waffles. They have rooms for rent too. It's more on the east side of Orust not far from the Orust, Svanesund-Kolhattan ferry landing.
What made Marstrand such a great adventure, and the areas surrounding Marstrand, is what my wife and I consider easy relaxing travel with high rewards. And if you stay were we stayed you get the added bonus of a whistle alarm clock every morning at 7:00 am sharp. That's the tradition, the flag raiser shows up with his little cart, blows the whistle real loud, and puts up the flags for the international yachting visitors. The early wake up whistle was fine because there was plenty to do in and around Marstrand, including first stopping at Bergs Konditori for a marzipan starter. We will remember this trip for a long time with all the sights and sounds, including that whistle.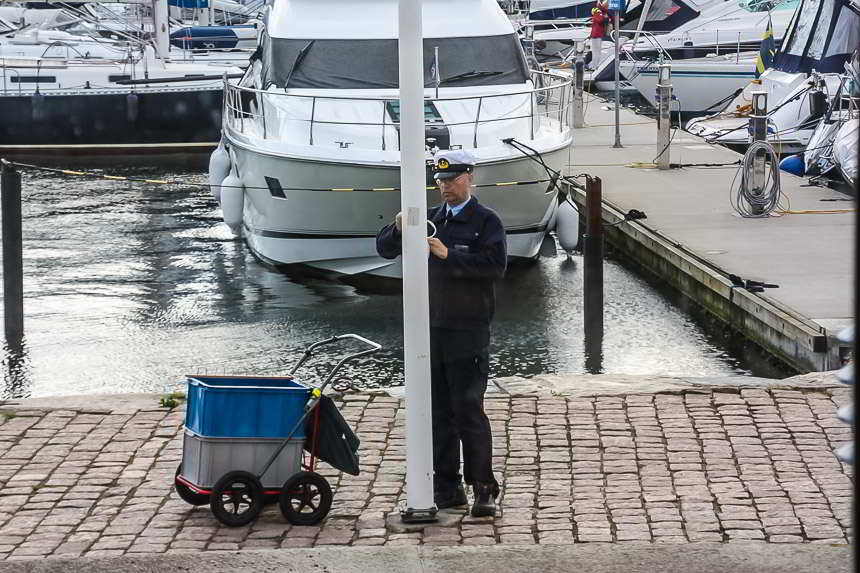 Getting there
First, it's definitely easy enough to get to Scandinavian countries like Sweden with several major airlines including SAS, Norwegian, and Finnair flying daily non-stop from the US, including from the west coast, to Scandinavian countries. We flew to Gothenburg, Sweden, with a brief change in Stockholm, were we picked up a Europcar rental car at the Airport, which is about one and one-half hours north and a little west of Marstrand, about 30 miles.
The roads in Sweden are great with good signage and overall cautious drivers. Sweden does have very strict drink and drive laws. Basically, being stopped with any alcohol in your system means you are taken into custody and a very stiff fine and a break from driving in Sweden for a few months or more. We didn't see one accident in the three weeks of driving around Sweden.
There are no trains or planes to Marstrand but it is possible to take a bus for about $12.00 from the Gothenburg Central Station. During summer months there's a ferry from Gothenburg's Lilla Bommen Harbour that takes a few hours and cost about $30.00. Most people probably arrive by private car but with Marstrand being the Sailing Capital of Sweden there are plenty of private boat visitors.
To get to the island you need to take a small mostly pedestrian ferry from Koon, which is where you park. Most accommodations of Marstrand have parking areas for guest in Koon. It's about a two minutes crossing. The cost is around $2.25 round trip and a pass can be purchased if you think you would be making several trips. And no worries about times for the ferries during the day because they seem to always be running. One ferry going would always be passing another one returning. And if you did need a ferry late in the night, and it wasn't sitting at one of the docks there was a bell you could ring to summon the ferry. Just press a button at the ferry landing and the ferry would come right over and pick you up.
A standing joke between my wife and I was, "when is the next ferry", with the answer being "now".
More info
Learn more