Denmark is the second flattest country in Europe, only surpassed by The Netherlands by a mere four metres above sea level. With so little elevation, it's no wonder that one of the highest hills in Denmark, with a soaring 157 metres, is called "Sky Mountain". 
But the Danes don't let a lack of peaks get in the way of climbing: They head to the trees instead. Here, in the crowns of majestic beech forests, you can get close to a part of nature only reserved for winged creatures while challenging your coordination skills – and acrophobia.
There are more than 20 so-called high rope parks in Denmark. From HighPark in South Jutland to Klatreparken Aalborg in North Jutland, and also several on Funen and Zealand, these climbing parks offer an active outdoor adventure for the whole family.
Safety first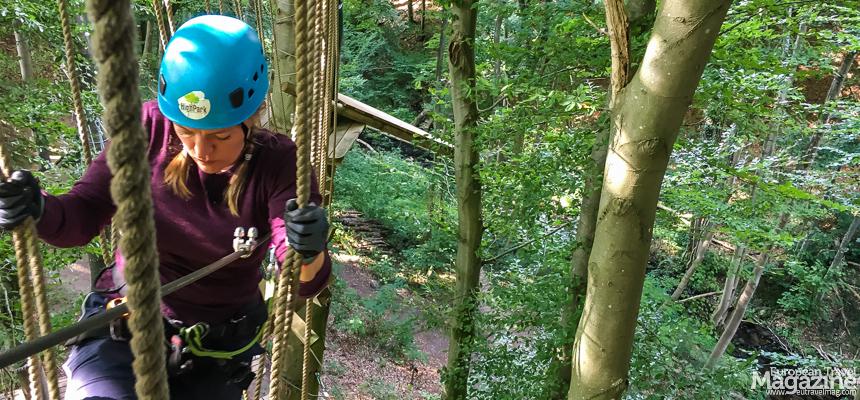 It's a thrill to challenge yourself by scaling difficult obstacles many metres above the forest floor, while enjoying the beautiful woodlands and outdoors in Denmark. And there's no need to be afraid of falling down: security measures are very high and introductions are carefully undertaken.
Common to all the high rope parks is putting on a harness, much like rock climbers use. On these harnesses are different kinds of security systems, all designed to keep you firmly attached to the safety wires. Some rope parks, like Gorilla Park, use a system with two snap hooks, where one hook must be locked in order for the other to open, thus always securing you to the safety wire. Others parks, like HighPark, use a harness with one carabiner that can't be opened and a clever wire system, that allows you to move quickly through the tracks. Some parks like HighPark and GoMonkey also employ helmets as an additional safety feature.
Before climbing up the trees you have to undergo safety and climbing instructions, and all parks require you to go through some beginner-level tracks before venturing higher up, in order for you to familiarize yourself with the equipment.
It's also worth noticing that some parks have minimum height requirements, if you bring your kids, or a maximum weight restriction, if that's an issue.
Fun, thrilling and challenging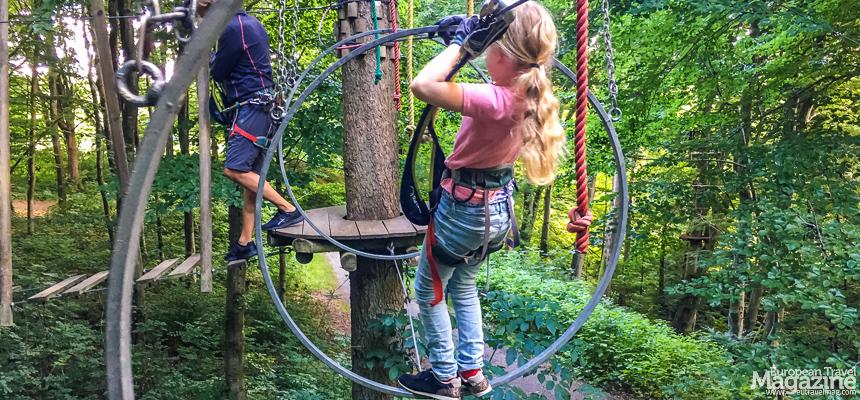 What makes high rope parks so much fun, is on one hand the mental challenge of navigating many metres above ground, keeping your possible acrophobia in check, and on the other hand the physical challenge of overcoming obstacles, using your balance and core strength.
More often that not, we see kids darting through the tracks while their parents are panting behind them, struggling to keep up. You may be surprised to see how easy your children navigate the obstacles, all the while you worry about the number of things that can go wrong (which there CAN'T). This makes high rope parks a perfect family adventure, as everyone can participate on the same level.
We spent 4 hours in Gorilla Park. It's situated just a few kilometres from Vejle, that boasts many other outdoor experiences, and they offer several kilometers of high ropes courses with more than 100 climbing elements in 1-26 metres of height. The different climbing courses have varied levels of difficulty, making it possible for families with children as young as 4 years old to enjoy the park.
We also enjoyed climbing for 4 hours in HighPark, located in a beautiful tunnel valley in South Jutland. HighPark offers 6 different tracks of varying difficulty with a total of 18 fun zip-liners along the way. They also offer the special experience of actually sleeping in the treetops, but more about that later. Your kids have be at least 6 years old and 120 cm tall to go climbing here.
Common for all the high ropes parks is overcoming different kinds of obstacles on your track through the treetops. Perhaps you have to keep your balance while treading on wobbly logs, maybe you have to climb across a spidernet shaped net or you'll have to swing yourself on rope, Tarzan style, to get across. Chances are that you'll work up a sweat in no time, and by the end of your roping adventure your arms will be spent. It's a great way to exercise your core strength, balance and your coordination skills at the same time.
Sleeping in the foliage
After a long day in the treetops, pretending to be Tarzan, you may not have had enough of the woods. It is quite addictive, we may admit. To complete the woodland experience you can sleep in the beautiful, architect designed, hanging shelter in HighPark called "The Nest". Designed by talented architects and built by a local shipbuilder, this prize-willing droplet-shaped dwelling up in the trees is a perfect way to end your outdoor adventure. The round, hanging shelter has mattresses, so all you need to bring is your pillow, sleeping back and sheet or quilt underneath.
It is soo soothing to curl up beneath the canopy, and be gently rocked to sleep by an evening breeze, while the trickling stream in the tunnel valley clucks a lullaby and you try to make out the stars through the foliage.
There's room enough for a family of 4 with two young kids and toilets are close by. You can also have dinner in the nearby restaurant called Pancake House, where you can feast upon these huge plate-sized pancakes with savory or sweet filling. The nice people of Genner Hoel Camping, that run the campsite, high rope park, shelter and restaurant, can also make a breakfast platter for you, so you can continue munching after a good night's sleep.
All that fresh air really gives you an appetite!
Treetops for all
If you've got a toddler too young for climbing, or perhaps you're a bit challenged in the walking department, there are other, less arduous ways to head to the treetops. The 45 metre high Skovtårnet, or Forest Tower, in the forest of Gisselfeld Convent in South Zealand, allows you to walk along a kilometre long, raised footpath, which meanders through the forest before you stand at the foot of the prize-winning tower. Then you venture upwards, round and round, at a steady 7,5 degrees until you, after 12 circles, reach the upper platform, 140 metres above sea level and can enjoy magnificent views as far as Copenhagen.
There are also lots of free – albeit not as grandiose – ways to head to the treetops. There are several hundreds of so-called Bird Watching Towers. On THIS MAP you can find them all. Some are mere viewing platforms, others are distinctly towers, located at wildlife hotspots from where you can spot birds and beasts from above.
Despite its flatness, Denmark offers many chances to see the world from above. It may be the lack of soaring mountains that allow you to take in the countryside, that have the Danes taking to the trees. Fact is, that we love our forests and want to experience them to the fullest. So, leave the urban bustle behind and take to the woods.
Learn more