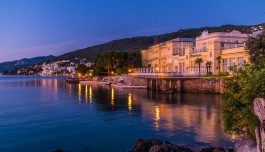 Majestic, Victorian buildings. A luxurious promenade that meanders along the rugged coastline. Parks, that just as well could be found in Vienna. Opatija looks like no other town on the Istria, or even Croatia.
Once the preferred summer resort of the aristocrats of Austria, this enchanting seaside city has an elegant air to it, and invites you to stroll along the Lungomare for hours.
Discover with us Opatija: Queen of Kvarner Bay.