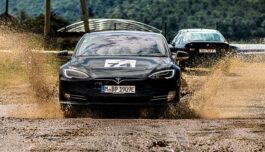 The black cars move fast and silent along the sunsoaked coast of Croatia, reflecting the blue of the ocean. There are no loud engines, no nauseating petrol fumes. Only the sound of the ocean – and bystanders cheering the cars on.
The Nikola Tesla EV Rally Croatia 2022 is well underway.
Discover a unique race, only for electric vehicles, in the homeland of Nikola Tesla. A race, where YOU are invited to join!