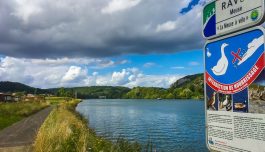 The Ardennes is one of the best places to go bikepacking in northern France.
The unspoiled nature, picturesque villages and rich gastronomy makes it a perfect destination for cyclists and foodies alike.
Jasper Pryor takes us on board his bicycle and shows us the abundance of Ardennes in the autumn: from an oversupply of ceps, just waiting to be turned into a homemade cep carbonara, to the freshly baked croissants from the local boulangerie, and all without us having to break a sweat.