By Jerry Olivas
Visiting Évora and the surrounding area in central Portugal is like a great school field trip that lasts for days. It's easy to get overwhelmed with all the culture and history. Go slowly and savour this special place.
Visiting a place where the No1 tourist attraction is bones and skulls had me a little uneasy. Old graveyards are always kind of fun with their big gravestones and crypts, but you don't usually see any remains of humans. This graveyard was different.
History bonanza
Even if you are not into history it is hard to not be impressed by all of what Évora has to offer. For starters, the Historic Centre of Évora is a designated UNESCO World Heritage Site, along with 16 other listed sites in Portugal. And right off when approaching the city from the north, visitors see the enormous arched aqueduct built in the 1500s by King João III, although the Romans were surely the first builders of an aqueduct here.
Romans
The aqueduct stretches right into Évora's medieval centre and there is some great trekking and biking alongside of the aqueduct just outside of Évora.
The leading attraction in Évora is the Templo de Diana (Roman Temple), only a few blocks from the town centre. What makes the site so impressive is that about half of the main columns are still standing. Walking up to this is one of those "WOW" moments. A picnic in the little park across from the Temple had me once again saying to myself: "Maybe I should have studying archaeology". For more Roman ruins, check out the Roman Baths, that are located in the Town Hall of Évora, only 5 minutes from the Temple. The Temple and Baths are free to explore, but the Baths are only open Monday through Friday, 9:00 to 17:30.
Évora itself is one big museum, with plenty of actual museums to enjoy if you want to go a little deeper, warm up, cool down, or get out of the rain. The City Museum of Évora is a good first choice and it is right next to the Roman Temple. This museum will give you a good overview of all of what Évora and the Alentejo Province have to offer, and it has some fascinating archaeological pieces. It is open Tuesday through Sunday, 10:00 to 18:00, and costs 3€ for adults with discounts for seniors and students. There must be about ten museums in Évora, so there is a lot to enjoy. Celtic, Visigoth, Roman, Moorish, Évora's Golden Age, and much, much more makes Évora one great big fun history lesson.
Remains
To get to Évora we caught a late afternoon train to Évora from Lisbon. We opened a bottle of wine to share and exchanged travel ideas with other excited travellers. One of the first topic that came up was the Capela dos Ossos (Chapel of Bones). It sounded like this was pilgrimage spot that all travellers have to visit.
We stalled long enough, so on the last day in Évora we visited the Chapel of Bones which is a chapel that is connected to Igreja de São Francisco (Church of St. Francis). Surprisingly, it did not seem that scary, but it was rather strange. As I was looking at the skulls and bones and a couple of skeletons hanging on one wall, I started imaging how the design and construction must have gone; "First, let's stack some skulls here and then let's surround them with some tibias" and so on. I have to admit there are some creative patterns throughout the Chapel and the frescoes on the ceiling did help balance out the setting to some degree.
It is open seven days a week from 9:00 to 12:50 and again from 14:30 to 17:45 but closes a little early at 17:15 in the winter. It's best to check when you get to Évora because days and hours may change. It is only 2€ for adults with discounts for seniors and students. When we left the Chapel of Bones, I made sure to put a 10€ note in the tithe offering box of the Church of St. Frances. We were just showing our respect, but I got the feeling someone was watching.
Exploring Évora




Just strolling around and taking in the charm of Évora is a rewarding experience. I have visited many medieval towns in Europe, North Africa and Middle East, and Évora has to rank near the top for quaint little cobbled streets and passageways to explore. Any direction you go from the Parça do Giraldo in the centre will be enjoyable.
The maze of narrow streets in the Jewish Quarter just off of the Parça do Giraldo will get you wanting to know about more the Jews that lived in Évora. The area around the Cathedral of Évora, as well as the mixed period architecture of the Cathedral itself, is quite inspiring. Go slowly as you walk around the Cathedral to take in the details from all the architectural styles. And while you are in that area have a walk around the University of Évora, the second oldest university on Portugal. There are some architecturally beautiful spaces all around the University with an absolutely stunning main courtyard with its arched passageways, and there are some fabulous tileworks, called Azulejos. The freehand paintings on some of these are incredible.
Walking around (not on) the town ramparts or walls, is an easy stroll with plenty of places to sit and take in the atmosphere. The small, cobbled street of Rua do Cano, that trace the aqueduct, is a must with all the descending aqueduct arches as it finds its way towards the centre. Évora itself is fairly flat with some slight inclines and a couple of small hills on the east side of town around the main Cathedral and University.
There's no chance of getting lost because the whole town is fairly small. But it never hurts to have a good coloured tourist map that you can pick up at Posto de Turismo at Parça do Giraldo no. 73, open seven days a week 9:00 to 19:00. I did notice that Google Street View has pretty much photographed the entire city which makes that a good option for finding your way.
I should also mention that although my wife and I visited during the high season it did not seem crowed because there are so many different little streets and areas to explore.
Escaping Évora
Megalithics
There so much going on in Évora you may not have time to explore some in the Alentejo Province. But if you do have time, the first on the list here has got to be Almendres Cromlech megalithics. The 95 large standing stones, that date way back before B.C., form two circles. They stand on a small rise that overlooks the Alentejo countryside, and the setting couldn't be any more pristine. They are always open and there is no charge. Although we visited these on our own, a guided tour might be a good option to get the full impact of this very, very interesting and mysterious site. They are located an easy 12 mile drive form Évora, near the village of Nossa Senhora de Guadalupe.
Do not miss that little gift shop in Guadalupe on the road to Almendres Cromlech. It has some unique gifts, restrooms, and there is a nice little park for a picnic that has some large outside informative archaeological and nature educational panels to read and view. Also, on the way back from Almendres Cromlech, heading south, near the village of Valverde is the ancient burial chamber Great Dolmen of Zambujeiro. The signage is a little confusing, but a little perseverance will yield a worthwhile experience. The road is quite bumpy, so this could be a good time for a hike.
Cork
Close to Évora are numerous vineyards, oil orchards, cork forests, and some cork processing manufacturers. All of these are easy half day trips and can be visited on your own. For cork manufacturers we visited Cortiçarte near the small village of Azaruja northeast of Évora. We did not get a tour, but the gift shop was full of all things cork. The cork lamps were very cool but no room in the roller for that ..darn. Good to call in advance at Cortiçarte because opening times may be on a flexible schedule.
Wine
If you want to visit some wineries around Évora you need to be a little strategic in your planning because opening hours can vary, so it is a good idea to call first. And unlike the slam-dunk fast "tasting room" experience of say Napa Valley, California you need to set aside a little time to savour some great Alentejo wines. We had a great sit-down tasting at Quinta de São José de Peramanca about 4 miles from Évora. The wines here were lovely with large pours and a very knowledgeable staff. We bought two bottles to go. There are other vineyards near Évora, mostly north of town, that are easy to find or just take a taxi from the Parça do Giraldo.
If you would rather stay on foot, there are plenty of wine tasting oportunities in Évora itself. Here, your best bet is to simply find a little café and order up whatever looks good. The wait staff will be more than helpful with aiding you in selecting what you might like. Louro Wines is a wine shop in Évora that has an extensive selection of Portuguese wines, ports, and espumantes and they sell olive oil too.
Eloping Évora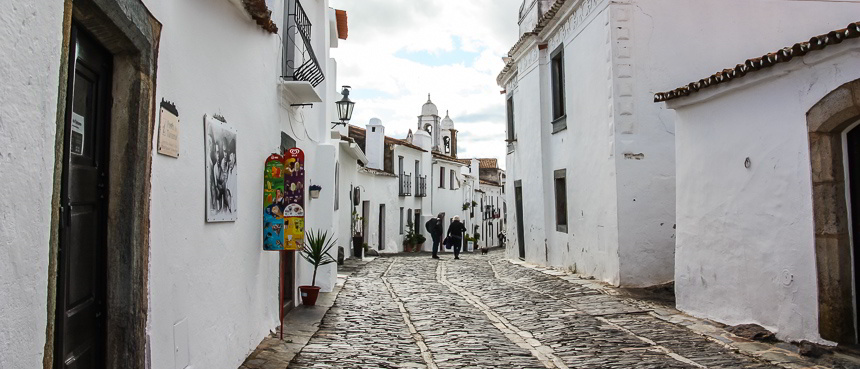 It is pretty much a full day trip, but the little hill village of Monsaraz with its castle is well worth the effort. It's an easy drive about 50 km. east of Évora and the castle and village can be discovered on your own. If you get thirsty, the Ervideria Wine Shop, right next to the main village church, has some great wine tasting. It is open 10:00 to 18:00 seven days a week. And if you have not had enough megalithics, check out the stone circle at Cromeleque do Xarez close to Monsaraz.
Eating Évora
When it comes to foods of the world, Portuguese is in the top tier and Évora has many excellent restaurants. Hanging out in the Parça do Giraldo main square in one of the several outside cafés is a must. For coffee and pastry try Gema D'Évora at Parca do Giraldo no. 16. There are many pastry options to choose from, including some yummy puff pastries. It's open every day from 7:30 to 23:00.
However, my favourite for sweets is the pastry shop Pastelaria Violeta at R. José Elias Garcia no. 47. This was my and my wife's go-to for a second coffee in the mornings, a Pasteis de Nata (or two) and take-away for a picnic or take-home for late night treats. It's open Monday through Friday, 7:30 to 19:00 and Saturday, 7:30 to 14:00, closed Sunday. It's kind of small and service is a little slow, but it's well worth the tight squeeze and wait.
One of the problems with dining out in Évora is that there are too many good options! Asking other travellers is always a good idea but you always get great reviews for every restaurant. Adega da Talha Velha at Rua Romão Ramalho no. 56, was excellent, especially the fish dishes. It was so good my wife and I ate there three times in one week. It's open Thursday through Tuesday, 12:00 pm to 23:00, closed Wednesday. The slightly upscale Dequst'Ar resturant at the hotel M'ar de Ar Aqueduto at Rua Candido dos Reis no 72, was a two night dine out. A few appetizers, split a main course, a nice bottle of Portuguese red wine and dessert too, will leave you more than satisfied. Dinner is served seven days a week 19:30 to 23:30.
You might not think vegetarian cuisine is popular in Portugal, but it is. Salsa Verde at Rua do Raimundo no. 93, was absolutely delicious with a great deal of choices including desserts. And it is a vegetarian restaurant, so it is all good vibes.
There are plenty of little markets around, so no worries about picking up supplies, and there is a main covered Mercado Municipal at Praça 1º de Maio no 28. There are plenty of fruits and vegetables in this market, but you must get there early. It opens at 7:00 and is closed on Mondays.
We rented a car and did some of our grocery shopping just outside of town at Pingo Doce. This is one of those big grocery stores that has everything including a lot of fresh fruits and vegetables as well as good selection of Alentejo cheeses, olive oils, and wines. And if you are into it there is plenty of Bacalhau (dried and salted cod) which is yummy any way it is prepared.
Sleeping in an aqueduct
Like restaurants, accommodations are plentiful in Évora. And like restaurants, they all seem to get great reviews and prices vary greatly from real, real cheap to rather pricey. All the web-based accommodations sites for hotels and vacation rental apartments provide most of the information you need, including being able to ask specific questions to the property owners or managers, which we often do. We like Booking.com because they have a number of options for changing and cancelling bookings and their reservation system, with mobile notifications, is pretty snappy.
We chose a rather unique self-catering apartment in Évora; it was built right into the aqueduct. Casa do Aqueduto da Prata has two floors with a little terrace on the roof. It was definitely an unusual experience sleeping right next to walls that were built in ancient times. But wouldn't you know it, one day we woke up to find that the water was shut off. Lesson learned; sleeping in an aqueduct does not necessarily guarantee you have water.
Getting there
By Bus or Train
Evora does not have a commercial airport, but trains, buses, or renting a car are all good options from Lisbon, which is where most travellers will originate. For the bus from Lisbon it is Rede Expressos from Oriente station (Lisbon Red line metro stop Oriente) or Sete Rios station (Lisbon Blue line metro stop Jardim Zoologica). It cost about 12€ and takes around two hours with several buses running each day. We took the Comboios de Portugal train from the Oriente station (Lisbon Red line metro stop Oriente) which does several trips a day. If you can get going early, there is one train that leaves at 7:02. It takes about one hour and 30 minutes and costs 10€. Note that student and senior discounts (65 and older) is 50% off normal fares are always available on Portuguese trains and do watch for special sale fares, which occur often. And no problem with online reservations and purchasing.
By Rental Car
You'll find all the major Car Rentals here, like Budget, Hertz, and Europcar. We chose to rent from Budget and pick up the car in Évora. Although Budget was on the outskirts of town, requiring a taxi ride from the Parça do Giraldo, Budget gave us some great care with an upgrade and chauffeur service back to our ancient, yet modern, aqueduct casa when we returned the car. And the main tips on driving in Portugal are: Drive defensively and always give way, because Portuguese drivers know where they are going, and visitors often do not know where they are exactly going.
We caught a late afternoon train to Évora from Lisbon. We opened a bottle of wine to share and exchanged travel ideas with other excited travellers. One of the first topic that came up was the Capela dos Ossos (Chapel of Bones). It sounded like this was pilgrimage spot that all travellers have to visit. And we did.
More info